This list changes as often as I change my hoodies, so I would take it with a pinch of salt. Looking over it, I realise it is very English, Spanish and Croatian heavy (in fact, the only other nations represented are the Czech Republic and Ivory Coast). As a matter of fact, nine of these ten dudes are Europeans, which probably betrays my predilection for European men. Anyway (from top left then clockwise), the men are:
Xavi and Iniesta (both Spain, both Barcelona). I often think of these two as the same player, such is their telepathic bond and brilliant link-up play at Barcelona and for their national team.
Frank Lampard (England, Chelsea). It makes me laugh when people, especially overweight middle-aged men, call Lampard "fat", because he has an amazing physique. The fact that he plays so well for my team, as well as sporting a sexy Romford accent, only makes him more irresistable.
Luka Modric
(Croatia, Tottenham). Little Luka, along with Crouchie, will probably garner the most laughter for his appearance on my list here. After all, the Croatian magician does have long blonde hair, a big nose, and
buck teeth
. That's not ordinarily considered attractive. But, I dunno. He is a
very
skilled footballer (if I could bring one player to the Bridge it'd be Modric or the later mentioned Adam Johnson), yet seems to be uncharacteristically humble, something which could be attributed to his being from Croatia (incidentally, a country I absolutely BUM). After all, they have an Island that looks like this!
Stunning!
Salomon Kalou
(Ivory Coast, Chelsea). Aww, sweet-faced, adorable, innocent Sala! What a cutie.
Niko Kranjcar
(Croatia, Tottenham). Har, the second Croat Spuds player in my list. To be honest, I was very close to including a third, the defender
Vedran Corluka
, but alas, I left him out. Well, of the three, Kranjcar is easily the most "stereotypically" handsome, with his gorgeous brown eyes, sexy bod and tanned skin. He doesn't seem to be playing that many games this season for some reason, but he does play, it's not his football I'm paying attention to. ;)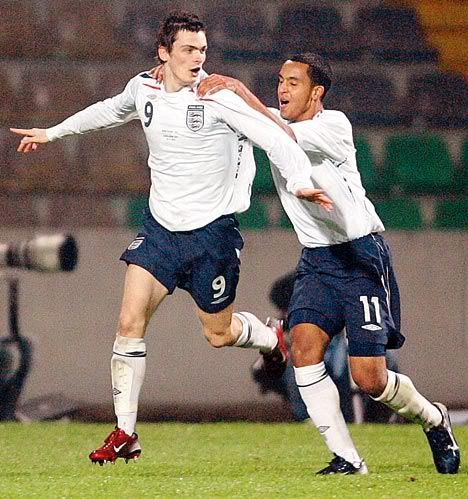 Adam Johnson
(England, Manchester City). Adam Johnson is, in short, one of England's most exciting prospects. I firmly believe that Capello was a fool for not selecting him (though, then again, this is the man who didn't start Crouchie enough in the World Cup, and
who knows
what could have happened if he'd played more). I watched Adam Johnson on
James Corden's World Cup
(he was just about the only good thing to take from that piece of shit show), and he was wearing a hoodie and speaking eloquently in his cute Tyneside accent. As with five of the other men in this list, I've actually seen Johnson in the flesh, when I went to
Manchester City vs Spurs
(I always forget this fact because I was too busy perving on Crouchie in that game), and he and Tevez were probably the only two City players in the game that showed true flair in their footballing. It's hard enough to establish yourself at big-spending City, even harder when you're the right side of twenty with considerably less experience and ego than your fellow teammates. But Adam Johnson's humility is to his credit, and it won't be long before he's made a name for himself - for club and country.
Iker Casillas
(Spain, Real Madrid). Oh, nothing more needs to be said, really. He is a huge, huge dish, and one of the best goalkeepers in the world.
Petr Cech
(Czech Republic, Chelsea). Speaking of talented goalkeepers, there is no-one I have greater pride for in football than Petr Cech. He came back from a horrific head injury in October, 2006 with Stephen Hunt, after which many questioned his form. In truth, it is possible that he may never
quite
reach the super-high levels he'd set himself before then, but I would rather have him as my team's goalkeeper than anyone else in the world. Intelligent, sensible, and so, very, very lovely.
Peter Crouch
(England, Tottenham). CROUCHIE =) =) I don't think I need to say any more, really, considering I've been worshiping him since his Liverpool days, and, as a staunch Chelsea fan, I don't make a habit of rooting for ex-Liverpool and Spurs players. But I just can't not. His funny robot dance, his other goal celebrations, his knack for
always
giving 100%, even if it doesn't necessarily pay off, makes him my #1.