Never one to fall behind on the latest crazes, Glee begins with Principal Figgins, in the deluded belief that vampires exist, bans Tina from dressing gothly due to her attire's links with Twilight and vampirism. Despite the Twilight craze being lost in Tina, "My mom won't let me watch Twilight; she says she thikns Kristen Stewart looks like a bitch", her and Mr. Schue's protestations are ignored, and all black clothing is banned in McKinley High. The rest of the Glee club offer her suggestions for different ways of dressing, bike chick, cowgirl, hoodrat, computer programmer, but Tina disregards them all. But Mr. Schue's assignment for the week - Lady Gaga - gives her, and all the rest of the girls (plus Kurt) some new costume ideas of their own.
I found this week's episode of Glee somewhat disappointing given all the hype built up for the episode. For one thing, I'd expected Lady Gaga to actually be on this episode, which she wasn't. Furthermore, for all the reputation it'd gained as the "Lady Gaga episode", there were only two covers of her songs - a fun, frenetic Bad Romance cover, and an acoustic rendition of Poker Face between Lea Michele and Idina Menzel. The former and the latter form the main plotline of this week's episode, wherein Rachel meets and tells her maternal mother of her identity, leading to some half-arsed soul-searching and lamenting over missed opportunities. Whilst there is a startling physical resemblance between Michele and Menzel - the face shape, the hair, the eyes, the two failed to summon any huge amount of chemistry when they were acting; the only real chemistry coming when they sang together.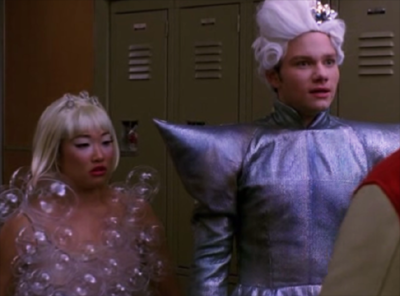 A storyline in Glee that is ongoing and one that I feel has outstayed its welcome, also, is the issue of Kurt being gay, and those around him being uncomfortable with it. In Theatricality, Finn's mother, who has been dating Kurt's father, moves in with them, and Finn is less than pleased to find himself sharing a room with Kurt (whom harbours feelings for his soon-to-be step-brother). Frustratedly cursing the decor that Kurt has so meticulously chosen, he disregards all the ornaments as "faggy". Of course he doesn't mean it with any real malice, but Kurt's dad is understandably furious when he overhears, thus throwing Finn out. Whilst it's good to see Kurt's father sticking up for him, the confrontation made for uneasy, somewhat cringe-inducing viewing.

Despite my foibles with the plot and storyline, the musical performances on Glee just about make it worth watching. The Glee club rise to the occasion commendably on the Lady Gaga uniforms front, Dianna Agron looking particularly head-turning in her pink number. (the pink streaks in her hair and the ball in her hand are a particularly nice touch).
As has been the way with Glee, things end on a predictably cheesy note. One of these days, I will probably tire of
Glee
, but for now, even when it doesn't get out of second gear, it still entertains me.
--
I was doing some research for my
Summer quest to lose weight
, and looking/envying the bikini bodies of selected celebrities. These particularly stood out for me:
Penelope Cruz
,
Whitney Port
,
Beyonce
,
Evangeline Lilly
, and
Hayden Panattiere
, the former of whom is the same age as me. Gar, so jealous. Though that said, I do commend her honesty in admitting that she has to deprive her body of carbs in order to remain in shape. I appreciate that kind of honesty- Girls Aloud expect us to believe they keep that fit by gorging on pizzas?! OK then.