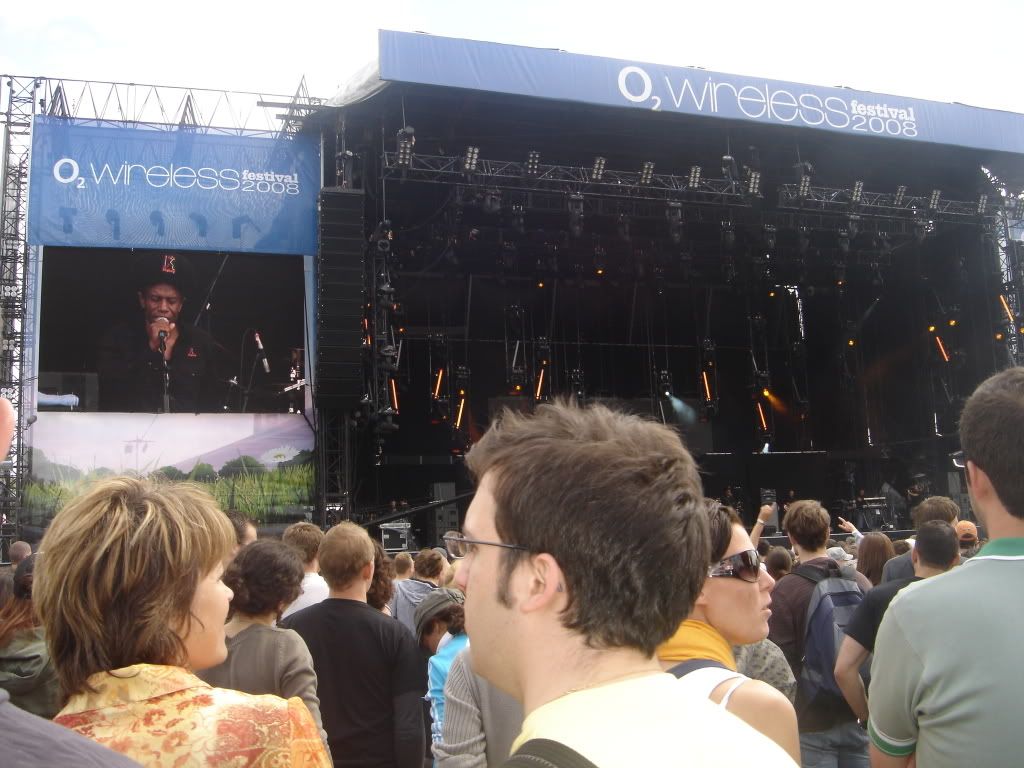 On Sunday, I went to the 02 Wireless Festival with my friend Hannah in Hyde Park, London. There were four sound stages, on which a wide range of artists, from Ben Harper, Powderfinger, Bowling for Soup, The Hold Steady, Joe Purdy, Donavon Frankenreiter, and the main attraction, Counting Crows, performed on. Here are my thoughts on the day and the acts I saw:
Magic Christian
– with a lead singer that looks like a cross between Jim Carey and Jackie Stallone, a band that were mediocre at best and song lyrics so hackneyed they wouldn't be out of place on the opening credits to Lizzie McGuire, we weren't all that impressed.
Luke White
– My friend and I chose to give young Lukey a chance in the hope that he may be related to the British R&B singer Keisha White, and treat us to a good soulful ballad like "The Weakness in Me". In fact, he turned out to be an inarticulate, androgynous waste of time and space.
Eddy Grant
– Absolutely incredible. Here was a man who was not only a good musician – he had a powerful voice and strummed the electric guitar like it was second nature - but knew exactly how to get the crowds' pulses pumping. Eddy Grant is a reggae singer who is best known for his song "Romancing the Stone" from the movie of the same title, as well as "Electric Avenue", which was played to great effect on a car advert. Eddy Grant performed both of these tracks and the energy and life that he exhibited was an absolute joy. He also sang one called "Hope, Joanna", which the crowd had a good time singing and grooving to.
Overall, his 45-minute gig was really entertaining and during it, the tumultuous weather calmed down and displayed a warm ray of sunshine. It seemed like the weather, like us, were rejoicing in Eddy Grant's presence.
The Goo Goo Dolls
– I have mixed feelings about this act. The lead singer had a strong voice and overall, the band were very together and knew their act very well. The Goo Goo Dolls really got the crowd going, but with the exceptions of a few songs, they kinda did the same thing throughout and didn't push my buttons. The bass player was CRAZY, and the lead singer kept changing his guitar in between every bloody song, which seemed a touch pretentious to me. That said, their performance of Iris (you know the song, it's real pretty and the one good thing about the naff movie "City of Angels" was stunning, everyone was swaying in awe and singing along. Overall, a lukewarm act with one good song, but the crowd loved 'em.
Amy Studt
– she was on the smallest stage, the "In association with MTV" sage, and the acoustics were terrible because the music from the main stage carried over and overpowered any of Amy's music. She herself was very mediocre and epitomized blandness. On stage with her was another woman playing drums and backing vocals, and a guitarist who had the enigma levels of a lab rat. Study kept telling the audience that she had a sore throat and that was bloody obvious through all her singing. As with Goo Goo Dolls, her songs were a bit same, though her rendition of "Misfit" was well done. Overall, a lacklustre set, not at all helped by the godawful acoustics.
Joe Purdy
- …. But a true musician wouldn't let a simple glitch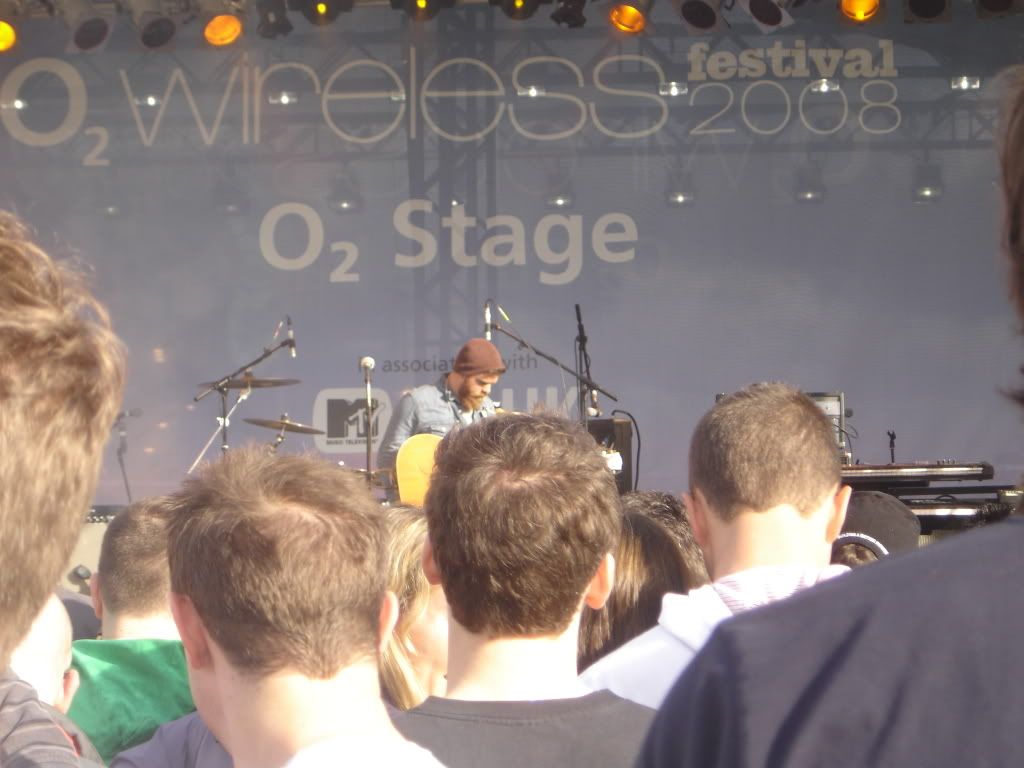 like that from letting them do their thang. Joe Purdy was on after Studt, using the same stage as her, and he was everything she wasn't – interesting, watchable, appealing and utterly wonderful. He had his acoustic guitar strapped on and his harmonica attached a la Bruce Springsteen and he performed a selection of his songs including the lovely "I Love The Rain The Most When It Stops", which he song beautifully, though sadly did not make the then downpour of rain disappear. Joe Purdy was quiet and ironic when he spoke to the audience, joking about how the noise from the other stage was interfering with his gig, but rather than whining about it like Amy Studt, he fought back, singing swoon-worthyly loud, yet still retaining the sensitivity and tenderness of his poetry. My only complaint was that he didn't sing "Wash Away", which is the song that I heard on the Lost soundtrack and got me interested in him in the first place. But, as he showed in his short and sweet performance, here was a man who was so much more than a one-hit wonder. I recommend you check him out if he comes to a venue near you.
Ben Harper
– No, not the grumpy dentist from My Family, the reggae singer! The second reggae act I saw on Sunday, and he paled in comparison to the soul and dynamicism of Eddy Grant, but he was by no means a disaster, keeping the audience lively throughout. I was seated during this, chomping my way through a Galaxy bar (our feets ached too much to stand and we needed to conserve battery power to dance to the Counting Crows), but I was still able to summon enough energy to sing along to his funky, sexy rendition of Bill Withers' Use Me.
Counting Crows
– Even though it was immediately transparent than lead singer Adam Duritz had had a pre-concert drink or five by the way he was falling all over the stage, this was still by far one of the best gigs I've seen. Counting Crows played their songs, but they didn't just play them, they performed them, messed with the timings so as to make it harder for the audience to sing along, and added new riffs and crescendos and stuff. It was cool. Their rendition of Colourblind was heartbreakingly emotional, with the lead singer getting tears in his eyes. Mr Jones was also sung very well, with the audience chanting happily along. The whole band were very together and exciting, with the pianist particularly
shining, as he got several moments to play beautiful piano solos. Similarly, the electric guitarist was quite special, bopping along to the music whilst he played a cadenza. As with Joe Purdy, I was real disappointed that Counting Crows didn't play one of their songs – Accidentally in Love – which is on the Shrek II soundtrack. At one point, it sounded like they were playing the opening to AiL and I jumped up, euphoric, but it suddenly modulated to another song, which I thought was kinda false advertising. Oh, and Big Yellow Taxi was done terrifically, everyone in the audience knew the words and we sang it together. Their last song of the gig, Spain, was a melancholy, wistful piece that was as close to a lullaby as you could get. Between the turbulent weather, getting updates on the tennis scores on the large screen and making sure my nice jeans weren't getting too dirty, it was a brilliant way to kick-start Summer 2008.