Now, it sort of goes without saying that I have atrocious taste in men, so take this supposed "hottest players in the World Cup" list with the smallest pinch of salt possible. I fancy Gareth Southgate, after all.
10-6: Mesut Özil (Germany), Cesc Fabregas (Spain), Robin Van Persie (Netherlands), Salomon Kalou (Ivory Coast) and Paulo Ferreira (Portugal)
05.
Xavi Hernandez
and
Andres Iniesta
(Spain)
I know, I know. Iniesta is balding and Xavi looks like a hobbit. But, when all is said and done, talent is very, very sexy, and both of these footballers had that in spades. Both were likely contenders for the accolade of Golden Ball (which went, in the end, deservedly to Diego Forlan), and have been consistent and the models of professionalism throughout the tournament. Plus the Iberian look is just hot, okay.
04.
Iker Casillas
(Spain)
My taste in men, as you'll have noted from the other names on the list, is questionable to say the least. But such is Iker's universal appeal, that despite him actually being handsome, he still made his way onto my list, which is otherwise choc-a-bloc full of players who normal people might call munts. But I just had to bung him on. After all, as Lady Gaga might say, I got lost in his brown eyes.
03.
Gonzalo Higuan
(Argentina)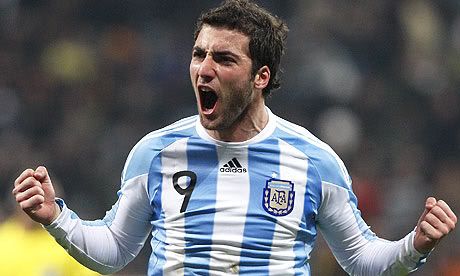 I won't lie, such is the premier-ccentricness of the football I watch that I didn't even know who this dude was prior to the tournament. But he caught my eye in his head-turning, hat-trick scoring perofrmance against South Korea, and his penchant for stripping faster than I can say "Argie Bargie" is very well received. That he established himself when fighting for a place against the likes of Messi, Tevez and Milito is one thing. That he is only 22 and has his best years still ahead of him is another. A very, very hot prospect, in more ways than one.
02.
Frank Lampard
(England)
Yet another disappointing World Cup for Mr. Lampard, but at least he didn't miss a penalty this time! Whey! Anyway, it's pretty much my duty to promote Lampard whenever I can, and that I do: I had my desktop background as a picture of him in an attempt to spread the Frank Lampard love. Instead, I got tonnes of stick for it, and in the end, gave up on what I saw was a lost cause. You could argue that Lamps (who at 32 is still smokin') felt exactly the same way about England.
01.
Peter Crouch
(England)
Yeah, I know. He played in this tournament for a grand total of about 40 seconds, but in my arrogant opinion, it should have been a lot, lot more. I'm of the belief that had Capello shown a little bit of faith in him, as Harry Redknapp did for Man City v Tottenham, Crouch would have reward him - and us England fans - handsomely. Instead we had Shrek leading our line, and once again, the overrated ogre underperformed for his country. I continually hear idiots whine about how Crouchie "only scores against crap teams". Well, well, well. Our so-called messiah Rooney didn't even do that. End of the day, Crouchie should've played, and we might have gone far. Instead, Rooney played, and we didn't. Sad.