I feel like a dick whining about my life, as in many ways, I have it pretty good. I live in the suburbs of London, away from the constant babble of noise and action that living in the capital can bring, but close enough to Central London that 15 minutes on the train can bring me to it should I so fancy it. Today, I did fancy it, as my best friend Anna was in London for a fashion shoot, so I thought I'd chill with her beforehand. In between giggling and bantering, I was able to bask in the busy hubbub and cosmopolitan vibe of London, which is what I love about this city so damn much, as well as enjoy some of the World Cup advertisments littered around tube stations, such as these ones: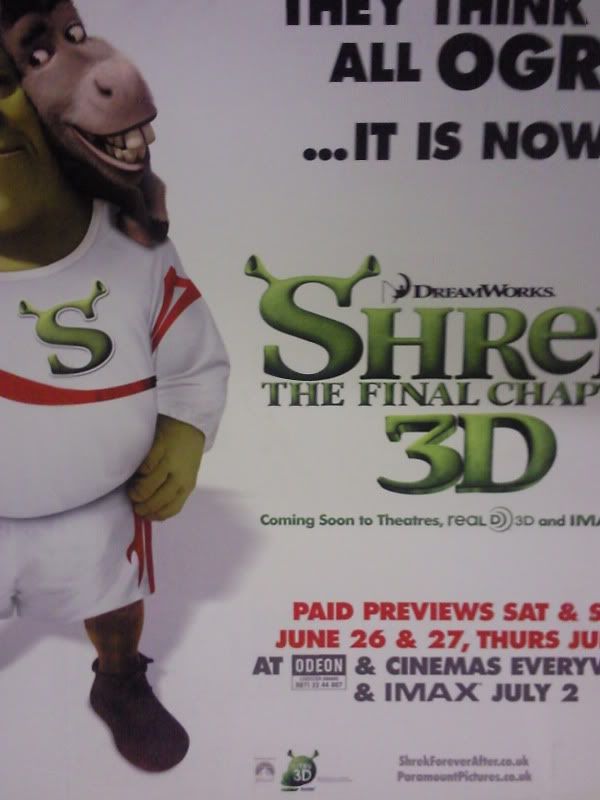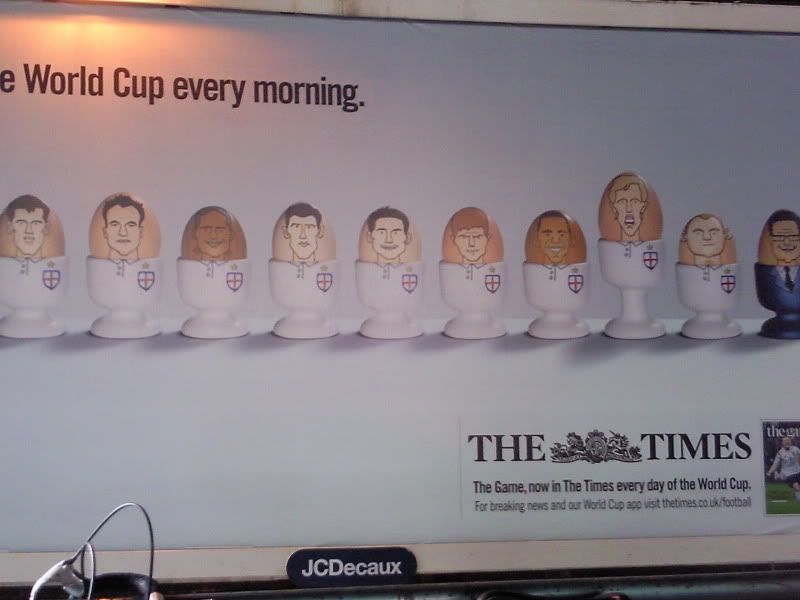 After that, Anna headed to her photoshoot and I hit the cinema to see the second film of my favourite TV show, Sex and the City 2. As reviews had warned me, it was, indeed, mighty disappointing. The script had none of the wit of the show, and whereas in the past, the repartee betwen Carrie, Sam, Miranda and Charlotte felt natural and smart, here, some of the dialogue left me physically cringing. Throw in some very dubious morals on the sanctity of marriage, crude racial stereotyping and even the cast looking like they couldn't be bothered, and I was left wondering why I'm still such a devoted SATC fan. But somehow, I still thoroughly enjoyed the film. The costumes were as stunning as you'd expect -the costume designer clearly had a good time enjoying the middle eastern theme and the four leads are kitted out beautifully throughout and despite the stupid things that they do (especially Carrie), I can't help but love them. So, all in all, a good day out for me.
However, all this meant that I missed both South Korea vs. Greece and Argentina vs. Nigeria, which I'm pretty upset about. After all, I'd spent so long getting excited about the World Cup, and, now that it's here, I don't watch the matches? That's just not on. I'm particularly sad I missed the former, as Park Ji-Sung scored. Despite him playing for my most loathed team Manchester United (I'm a Chelsea fan), I love Park a lot, for his work-rate and just how well he carries himself in a game full to the brim of dickish starlets. But whether or not I watched it, I'm delighted he scored.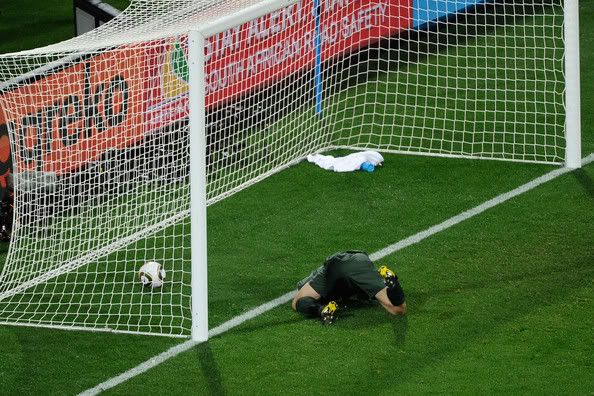 There were less delights, unfortunately, in the one game I did watch, in which my country participated; England vs USA. This game had been painted as quite the grudge match of late, with even politicans coming out to voice their patriotic support, and plenty of trash-talk occuring beforehand. One of my favourites was the front page of today's The Sun, which poked fun at the way Americans spoke. However, that jokey joke was one of the few things that could be enjoyed about the match. England went off to a great start - Heskey set up Steven Gerrard, who scored neatly and precisely within 4 minutes. The ITV commentators could barely hold in their excitement, "This could be fun!" they said with glee. I was more cautious, more wary. And lo and behold, my pessimism was rightly placed. With American slowly forcing their way back in the game, on 40 minutes, Fulham's Clint Dempsey fired in a speculative shot towards goal. Rob Green caught it. That he did. What he also did was drop it, as the ball bounced behind him and into the goal farcically, leaving him, and England, reeling.
The knee-jerk reaction would be to holler "GREEN OUT!", "ENGLAND FAIL" and various other trite phrases and, whilst his gaffe was unforgiveable, I'd like to make a small case for his defense. The man is young, not terribly experienced on the International scene, and, most importantly, the ball is apparantly a nightmare. This is the consensus amongst all the footballers in the World Cup, goalkeeper, forward, tall or short. Whilst I think that Joe Hart is a better goalkeeper than Green, I don't think benching Green is the solution to all of England's problems.
For one thing, whilst our midfield looked better than I'd feared (both Lampard and Gerrard showed promise and Aaron Lennon had bundles of energy), our defense is still crocked. John Terry cannot be trusted with Wayne Bridge's (not even all that hot) ex-girlfriend, let alone the defensive duties of his country, and despite all the shots we had, precious little of them had any chance of going in. Emile Heskey doesn't seem to know where the goal is, and Wayne Rooney still remains worrying volative. Little went his way today, and he seemed to think it was valid compensation to instead run around and look red-faced; his best Alex Ferguson impression.
Oh, and another thing: Crouchie should've started. Had he started, England would have won. He didn't, and we didn't.