Out of the eight matches that have gone on so far this tournament, I have, lamentably, only watched five. The first I missed was due to work, but the two others - South Korea v Greece and Argentina v Nigeria, were entirely due to my own folly; of choosing to swan around London on a football Saturday, and then watch SATC2. Tut tut. By all intents and purposes, I was actually abiding by this film poster: -
Anyway, of the five matches I did see, brief thoughts:
Group A
Uruguay (4-4-2): Muslera; Victorino, Lugano, Godin, A Pereira; M Pereira, Perez (Eguren 87), Arevalo,
Gonzalez (Lodeiro 63); Forlan, Suarez (Abreu 74)
Booked: Victorino, Lodeiro, Lugano.
France (4-3-3): Lloris; Sagna, Gallas, Abidal, Evra; Gourcuff (Malouda 75), Toulanan, Diaby; Govou (Gignac 83), Anelka (Henry 71) Ribery.
Booked: Evra, Ribery, Toulalan.
Referee: Yuichi Nishimura (Jpn)
Fighting Talk Going into this game, France had lost in a friendly game to China. That's right, China. As for their qualification at Republic of Ireland's expense, the handiwork of Thierry Henry has now been well-documented, many times over. Uruguay had won none of their previous 12 games in the World Cup with European sides. The statistics regarding both teams hinted at a cagey affair with few goals.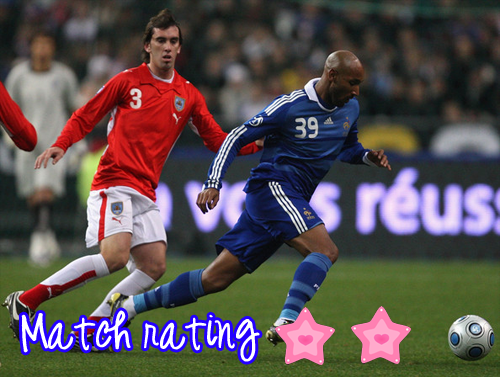 How it went down
There were indeed few goals, if few means "none", and even less flair on show. After a decent first few minutes, the rest of the first half fizzled out into nothingness as neither team found cohesion in attack. Raymond Domenech controversially benched winger Florent Malouda after an alleged bust-up in training, and the wizardry of the Chelsea man is much missed. There were two or three good half-chances in the first 45 minutes but not much else and though the game comes a little more into life when Henry stepped onto the pitch, neither team were able to find the net. Diego Forlan, breaker of Liverpool and Fulham hearts in the Europa Cup, looked particularly forlorn with his non-appearance. Uruguay will probably be more relieved of the two to escape with a point as they finished the match with ten men (Nicolas Lodeiro was sent off for two yellow cards), but the lack of creativity on display from two much-celebrated footballing countries was quite disappointing.
The good Despite the bee-like sound of the vuvulezas all over the pitch, there are still cheers aplenty to be heard; good to see the fans rooting for their countries.
The bad Nicolas Anelka strutted around the pitch looking even more po-faced than usual, very much in the vein of the apathetic Anelka I witnessed when he first joined Chelsea. You've played at countless clubs, you should know by now that rolling your eyes doesn't produce goals, mate.
The ugly After the match, Patrice Evra lambasted the vuvulezas and then the World Cup ball for France's below-par performance. Sigmund Freud might call such behaviour "displacement".
What this means It's all square in Group A, as South Africa, Mexico, Uruguay and France all draw. The World Cup host country will probably be most grateful with their point, but as it stands, there's everything to play for.
And the rest
Chris Toy, of
Studs Up
fame, said on twitter at half-time, "This game is tight, just how Ribéry likes it." I felt grubby for doing so, but oh, how I laughed.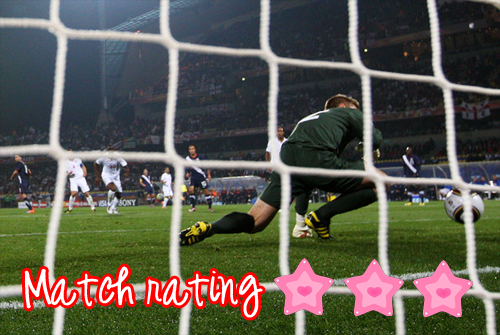 Group C
England (4-4-2): Green; Johnson, King
(Carragher 46min), Terry, A Cole; Lennon, Lampard, Gerrard, Milner (Wright-Phillips 30); Rooney, Heskey (Crouch 79).
Booked: Milner, Carragher, Gerrard.
USA (4-4-2) : Howard; Cherundsolo, DeMerit, Onyewu, Bocanegra; Donovan, Bradley, Clark, Dempsey; Altidore (Holden 86), Findley (Buddle 77). Booked: Cherundolo, DeMerit, Findley
Referee: C Simon (Brazil)
Fighting Talk Dubbed as an American-Anglo clash of international (well, duh) proportions, England fans took to baiting American ones by patronising their lack of knowledge about football, whilst they promised to get at us in the simplest way; by baiting Wayne Rooney. More than two years on from installing Fabio Capello as England manager and having missed out on Euro 2008, this was England's first tournament match since the disastruous 2006 World Cup, and expectations were through the roof.
How it went down England started well when Emile Heskey found newly-appointed England captain Steven Gerrard, who hit the net within four minutes. From there on for the next 20 minutes, England looked confident and capable in attack. America gave as good as they got, Jozy Altidore and Landon Donavon in particular having fun with the England defenders, and on 40 minutes, though England were leading, the game was pretty even. How nice of Rob Green, then, to do his bit for the Americans. With Clint Dempsey's speculative shot heading towards him, he caught the ball, then proceeded to drop it as it bounced behind him and into the net. All that was missing from that scene of vintage England goalkeeping was some clown music going "wah wah wah". Green pulled off a terrific save in the second half that prevented the Americans from going 2-1 up, but let's be honest, all that will be remembered of him from now on no matter what he does is his blunderous "Hand of Clod" moment.
The good Despite all my reservations about starting both Lampard and Gerrard in midfield, for once, both players were a credit to themselves.
The bad
It's pointless to dwell on it, but Rob Green's
mistake
really does need to be seen to be believed.
The ugly Wayne Rooney running with the ball. Wayne Rooney remonstrating with the referee. Wayne Rooney full stop.
What this means USA will be far happier with this result than England will, but a draw is not the end of the world by any means. England's inability to produce a second goal, however, is. For all the plaudits laid upon him, Rooney had a terrible game and another performance like this and I would seriously question his starting place. We won't win games through reputation. Just sayin'.
And the rest
Despite their National Team holding their own against the Three Lions, the American media still haven't understood the concept of a draw.
Oh dear
.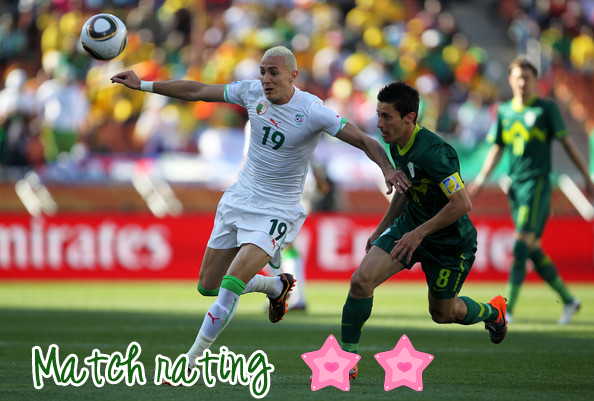 Algeria (4-5-1): Faouzi Chaouchi, Madjid Bougherra, Nadir Belhadj, Anther Yahia, Rafik Halliche, Mehdi Lacen, Karim Matmour (Rafik Saifi, 80), Karim Ziani, Hassan Yebda, Foued Kadir (Adlene Guedioura, 82), Rafik Zoheir Djebbour (Abdelkader Ghezzal, 58)
Slovenia (4-4-2): Samir Handanovic, Miso Brecko, Marko Suler, Bostjan Cesar, Bojan Jokic, Robert Koren, Valter Birsa (Nejc Pecnik, 84), Andraz Kirm, Aleksander Radosavljevic (Andrej Komac, 87), Milivoje Novakovic, Zlatko Dedic (Zlatan Ljubijankic, 53)
Booked: Radosavljevic, Komac
Referee: Carlos Batres (Guatemala)
Fighting Talk With England and USA drawing the night before, there was now more of a chance that the winner of this match - should there be one - could grasp the second place spot.
How it went down For 73 minutes, sod all occurs, except both sides producing what would be a perfect antidote to insomnia. In the 74th minute, the Algeria substitute Ghezzal, already on a yellow for a pointless shirt pull, commits his second stupid foul of the day with a handball, and is given his marching orders. Not long after, Slovenia capitalise with a goal by Robert Koren, though the shot itself was tame, it was more due to the failings of their goalkeeper Chaouchi, who let it bounce off his shoulder and into the net. Two matches from group C, and two hilarious bouts of goalkeeping.
The good The game ended, didn't it?
The bad The performances from both sides. Though Slovenia came out with the more attacking line-up, such was Algeria's compact midfield that they succeeded in shutting them down for most of it. As such, any creative flair was completely stifled, leading to one of the most boring matches I've watched for quite a while.
The ugly Whilst the quality of the football was low, but was even worse was the commentry supplied by the BBC, who kept arrogantly tempting hubris by asserting "based on this performance, England need not be troubled." It was them, rather than the vuvuleza sounds, that had be scrambling for the mute button.
What this means Slovenia must want the group stages to stay as it is; they sit pretty at the top of Group C, albeit with England ans USA yet to play.
And the rest Alan Hansen, BBC pundit, was particularly mardy during the commentary of this match. He turns 55 today. Unhappy Birthday to him.
Group D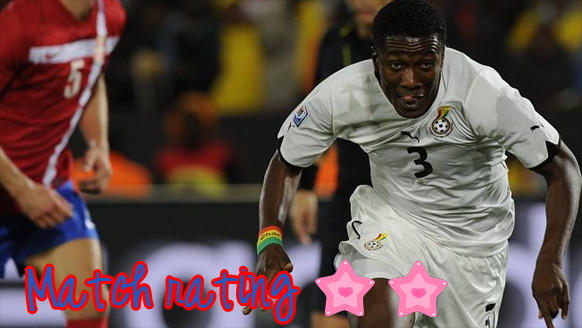 Fighting Talk The first game of six from Group D, one of the two Groups of Death (the other being Group G). In this group sit Serbia, Ghana, Australia and Germany, all four of which stand a fighting chance of making it into the knockout stages.
How it went down Another tightly contested match with the third red card of the tournament shown, which proceeded to turn the events of the game. Aleksandar Lukovic, receiving a second yellow for hauling down Asamoah Gyan, is given his marching orders around the 70th minute, and moments later Zdravco Kuzmanovic's handball in the penalty box leading to the penalty awarded to Ghana, which (the pre-mentioned) Gyan duly converted. The rest of the match was a mixture of misplaced long balls from Serbia and resiliant Ghanian defending, making Ghana worthy of their win.
The good The Ghana team performance, though lacking in much creative flair, was solid and cohesive, every one on their team had a strong game, particularly captain John Pantsil, Tagoe and Gyan, the latter of whom kept the Serbian defence on their toes throughout.
The bad Kuzmanovic, one of the Serbian substitutes, had barely been on the pitch when he conceded the first penalty of the tournament, and a totally needless one at that. That'll stick with him, for sure.
The ugly Lukovic's first half and second half performances were the very epitome of Jekyll and Hyde. In the first half, he looked composed and in control, but his needless second yellow in the second half meant he was essentially the architect of Serbia's downfall.
What this means At present, Ghana are top of Group D, Serbia bottom.
And the rest Nine of the Serbia starting XI had names ending in -ic.
Germany Manuel Neuer, Arne Friedrich, Holger Badstuber, Philipp Lahm, Per Mertesacker, Sami Khedira, Bastian Schweinsteiger, Mesut Ozil (Mario Gomez, 74), Lukas Podolski (Marko Marin, 81), Miroslav Klose (Jeronimo Baretto Cacau, 68), Thomas Muller
Australia Mark Schwarzer, Lucas Neill, Craig Moore, Tim Cahill, Jason Culina, Brett Emerton (Mile Jedinak, 74), Luke Wilkshire, Scott Chipperfield, Vince Grella (Brett Holman, 46), Carl Valeri, Richard Garcia (Nikita Rukavytsya, 64)
Booked: Moore, Neill, Valeri
Referee: Marco Rodríguez (Mexico)
Fighting Talk If the previous match between Ghana and Serbia (the former 17 FIFA places below the other) was any indicator, then an upset, with Australia placed 13 places below Germany could well be on the cards. In reality, this was said more in hope than expectation.
How it went down Car analogies were being thrown around our living room and me, having had 20 driving lessons once and gotten nowhere and having no car expertise at all, can only paraphrase what was said by my paterfamilia: that Germany performed like a well oiled, state of the art Mercedes-Benz S-type, and Australia were the 60-year-old Chrysler in need of an engine repair. Harsh, but true; Australia's defence were non-existent on some occasions and by the time Germany hit four, I was torn between awe for one team and pity for the other. Tim Cahill's tackle wasn't great but it certainly didn't merit a straight red and unless FIFA retract it, it means Australia's playmaker misses the next two matches. On the balance of this performance, it could well be Australia's last two in this tournament.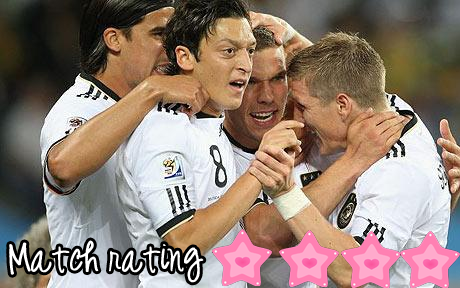 The good Make no mistake, Germany were very, very good. Philipp Lahm, a footballer shorter than most of my gal pals, wore the captains armband, and suitably quelled most of Australia's attack. He was also a persistent threat going forward, and swung in the cross that lead to Germany's second goal. Thomas Muller and Mesut Ozil were also integral components in what was a very well put-together machine. Ruthless and efficient will be two adjectives that will be churned out many a time when talking about Germany, but on their performance today, it's justified.
The bad It gives me no pleasure to say it, but Australia disappointed. Hardly anyone on their team shone, but Craig Moore and Vince Grella in particular had shockers. And the prospect of no more Timmy Cahill makes me very sad indeed.
The ugly The referee. Cahill's sending off was just one of the many bizarre calls he had. Australia lost the match on their own shortcomings, but the referee most certainly did not help things. Referees had been doing ok so far this tournament, getting most of the big decisions right (for example, refusing to award France penalties, and rightfully sending players off on 50/50 calls), but Marco Rodriguez let the side down.
What this means Germany have played one, won one, with a handsome goal difference of +4. Despite the one-sidedness, it proved a scintillating game and the only one so far (aside from the England, but I have a vested interest in that game, naturally) that genuinely thrilled me.
And the rest Both captains missing from teams at the top of Group D have first names Michael and play for Chelsea. (lol, I ran out of exciting facts so you'll have to make do with that one)

That's that from that. I work during the week, so I'll miss all the 12:30 and 3:00 kick-offs, though I'll watch the 7:30 ones. This does mean I missing the likes of Denmark vs The Netherlands and Ivory Coast vs Portugal. This makes me sad. But ahhh, that's what highlights are for!