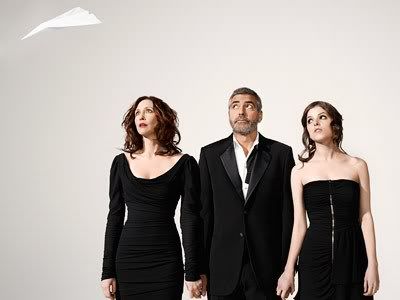 I have been woeful this year with my "analysing" the oscar categories; this is the first one. This is partly down to the fact that I haven't seen, nor do I have any interest in seeing, some of the Oscar nominated movies this year, hence I can't really form an opinion. However, having watched Up in the Air last night, I can finally get round to analysing at least one category, and luck should have it that it's one of my favourites.
01. Mo'Nique for Precious: Based on the Novel Push by Sapphire
Precious' mother, Mary Jones, sits on the couch all day, enjoying her telenovels, eating whatever she forces her daughter Precious to cook, occasionally getting up to abuse Precious, and living off benefits. She's a horrible monster; when Precious was first abused as a young baby, all Mary cared about was that the man no longer loved her, and every time she opened her mouth on screen, I shuddered. I didn't care for the film one jot, but Mariah Carey, Paula Patton and in particular Mo'Nique and Gabby Sidibe gave terrific performances, almost making the wretched experience worthwhile. Detestable as Mo'Nique's Mary is, she commands our attention, and her delivery of the final monologue blew me away; it no way made up for the sixteen years of torture she imposed upon Precious, but it offered a window (however twisted and wrong) into the depths of her twisted villainous logic, and the extent of the emotions depicted were so sincere and realistic, that we believed Mary thought she was in the right. With all the pre-cursors she's gotten; BAFTA, SAG, Golden Globe, various critic's awards, Mo'Nique will be a shoo-in to win, and to be quite honest, it's totally deserved. The other four nominations are all acceptable enough (save Cruz, ugh), but Mo'Nique knocks them all out of the park. One of a kind. A
02. Anna Kendrick for Up in the Air
Anna Kendrick, or "Her off Twilight" as she'll probably be better remembered in future years, surprised me with a cute and loveable performance as Natalie Keener, eager new yuppie in George Clooney's organisation (who's job it is to fly all over the states just to fire people), who is keen to demolish flying and instead do all the firings over webcam. Graduating top of her class and seeming to be extremely intelligent and focused, Keener followed her boyfriend around, leading her to this job, showing that all the degrees in the world won't teach you how to make good decisions. At the start of the movie she comes across as a know-it-all who thinks she's got it all sorted, a notion Clooney's character soon quells for her when they begin to do some firings together. Although it's not a hugely taxing role, Kendrick plays Natalie with sensitivity, particularly when her character begins to realise she doesn't have the answers to everything, and how easy things in theory can be difficult in practice. Kendrick also has some fine comic timing throughout the movie, as well as delivering a cute monologue about what she looks for in her perfect man. It's a character that I, as part of the twitter-and-texting generation, can emphathise with and enjoy; and her transition from naive kid to slightly-more-in-the-know adult is well channeled through the film. B+
03. Maggie Gyllenhaal for Crazy Heart
In a performance that has drawn obvious comparisons with that of Marisa Tomei in The Wrestler, Gyllenhaal plays a young reporter, Jean, who is drawn in to Bridges' Bad Blake, thus cementing the central romantic thread of the film. Blake is battling with alcohol addiction, Jean battling with loneliness. Together, the two make a good, if dysfunctional pairing, and the chemistry between really anchors what is otherwise a fairly run-of-the-mill "man on the slippery slopes finds redemption in good woman" tale. A good, believable performance, but nothing special at all by Gyllenhaal's own standards. B-
04. Vera Farmiga for Up in the Air
Vera Farmiga first made waves on my girlcrush radar in 2006's The Departed, wherein she spent a good deal of the movie running about in T-shirt and undies, looking pretty damn gorgeous for a woman of her age. In Up in the Air, her beauty is commented on twice, which made me happy, because she is, in my eyes, an unusual beauty. In Up in the Air, she gives one of her lesser performances, but is still charming enough to watch. As the mature, sensual older woman, she exudes class and sexuality in every step she takes, someone who knows what she wants and knows how to get it. Nothing overly special, but pleasant enough, especially in the scenes she shares with Clooney, which have witty reparte to the max. There's nothing particular about the things she says, but it's more the way she says it. It's a performance that's so good because of the energy she exudes, rather than any real acting she does. B-
05. Penélope Cruz for Nine
Don't get me wrong, I love Penélope, like 90% of the time. Even if I was somewhat underwhelmed by her performance in Broken Embraces, I still appreciated her talent for the most part there, and her performance in Volver ranks as one of my favourite of all time. However, her nomination for Nine? Nein. As Guido's mistress, her character is awfully written; directly shoved into the box of "shunned mistress", and Penélope suffers from the poor writing in her performance. Her dancing is very good, appropriately sultry and seductive, but the acting performance left me less than impressed. Men probably won't mind that her acting muscles weren't stretched as they had her in slutty clothes throughout the movie to make up for it, but to me, her clothes (or lack thereof), simply made an already difficult-to-like character even more dislikable. If anyone should have been nominated for this movie, it was Marion Cotillard, who really did evoke empathy from me as the wife who recognises all her husband's flaws. Cruz, for the most part, is a wonderful and lovely actress, but in Nine? Well, she ain't no Sandra Milo in 8 1/2, let's say that. D
Who will win: Mo'Nique, Precious
Who should win: Mo'Nique, Precious
Who deserved to get nominated: Melanie Laurent, Inglourious Basterds!!!!! Um, hello! She only have the fiercest performance of the year! Bad work, Academy, for missing out on this awesome performance.