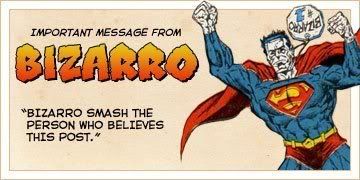 This post is in participation with Piper's
Bizarro
blogathon at Lazy Eye Theatre. If you believe any of what I am about to write, then, well, you haven't been reading this blog often enough. I'm not serious, OK?!?!?
I really admire
Sylvester Stallone
as an actor. Rocky Balboa was one of the best film characters I've ever had the pleasure of having witnessed, and I'm delighted that he continued to make twelve others. Each sequel is as good as the last. Rocky rocks!
So,
Hilary Duff
. She's like, so perfect. She can sing, dance, but best of all, her acting! I really don't know which of her performances I like the most, for she was incredible in Cheaper by the Dozen and A Cinderella Story. But I gotta say, it's Lizzie McGuire that was her deepest, most profound performance. Her honest, convincing portrayal of everyday girl Lizzie was like, so utterly inspiring! I want to go to Rome and become a singer like she did! Anyway, Hilary totally rocks.
An actress I like even more than "Hil" is the British Goddess that is
Emma Watson
. Honest to God, I can't think of a better girl to play Hermione. As Hermione, she's not at all annoying, and she is obviously so much better than Rupert Grint! People who say she merely acts with her eyebrows don't know a damn thing about acting, she's the Lee Strasberg of the 21st century, I tell ya!
… But I would turn down a friendship with Emma, point blank, if it meant I could meet my all-time idol,
Scarlett Johansson
. Honestly, could you get any more beautiful and talented than that girl? Her face never looks contorted, and her pouting is so beautiful. And her BAFTA win for Lost in Translation was immensely deserved, nobody does sitting around and looking cool than Miss Johansson! Oh, and that shag-in-the-lift episode with Benicio del Toro just shows how utterly classy she is; she's such a Goddess!
Wow, I'd been in quite a bad mood today, but that really cheered me up! I suggest you lot all participate in this blogathon and make hate love and love hate. Go on!