I did this last year and the year before, always giving up towards the end. Hopefully I can keep going this time.
The nominees are:
Bolt
(2008) - Chris Williams; Byron Howard
Kung Fu Panda
(2008) - John Stevenson; Mark Osborne
WALL·E
(2008) - Andrew Stanton
How I did: 67% (rightly predicted Kung Fu Panda and WALL·E, wrongly predicted Waltz with Bashir.)
01.
WALL·E
This time last year, I was getting a bit iffy regarding Ratatouille and how it was a clear lock for the Best Animated Film award. As much as I enjoyed it (and I did), I felt it unusual that I would find a Pixar movie overrated. However, 2008's Pixar outing, WALL·E, deserves every single ounce of praise and more. I watched it with my brother Tom when we were on holiday in the hole known as Bognor Regis, and the two times we went to the cinema (to see this and The Dark Knight) were easily the best, and only good things, about our holiday. WALL·E is a sci-fi romance for our time, where the protagonist, a lonely robot roaming the desolate and dirty streets of Earth, packing rubbish all day, one day comes across his Goddess: Eve. In being with her, he encounters the most magical emotions ever. WALL·E is mastery in cinema from head to toe, from the hand-holding, the scene with the umbrella, the ethereal score from Thomas Newman, the lush visuals, the flawless animation and the romance, which is one of the most refreshing, touching and innocent I've seen in film. There was something almost... Shawshankly about it. WALL·E might be the most nominated Pixar movie ever, but if it was up to me, it would have twice its six nominations, including one for Best Film. You couldn't escape the
beauty
if you tried.
02. Kung Fu Panda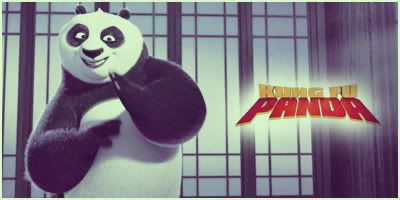 Jack Black, Dustin Hoffman, Jackie Chan, Michael Clarke Duncan, Angelina Jolie, that bloke off Pineapple Express & Knocked Up, and Lucy Liu are just seven of the reasons why you should see Kung Fu Panda. Another is that this is easily Dreamworks' finest film since
Wayne Rooney
Shrek, with brilliant fight scenes, moments of high (OK, not quite) comedy, and a lovely message that you don't need to be particularly svelte to kick arse. Kung Fu Panda II has been scheduled to come out in 2011, and, whilst I don't see it matching the fun and frivolity of its predecessor, I shall be keenly awaiting its arrival.
03.
Bolt
A very cute film about a famous dog, Bolt, who has played a dog with superpowers on screen, and thus thinks he possesses said powers off screen too. Sweet film and utterly beautifully animated, a definite sign that Disney can still make enjoyable films without Pixar, but it was too slight to make much of an impact other than "aww" on me. And Miley Cyrus is in it, which instantly loses points.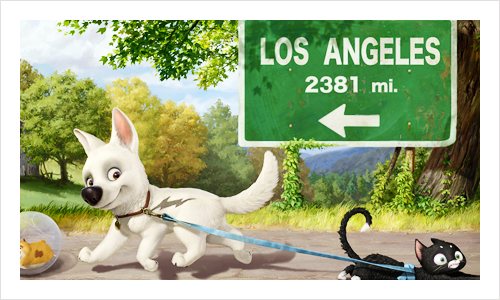 Who will win:
WALL·E
Who should win
: WALL·E
Who deserved to get nominated: Azur et Asmar