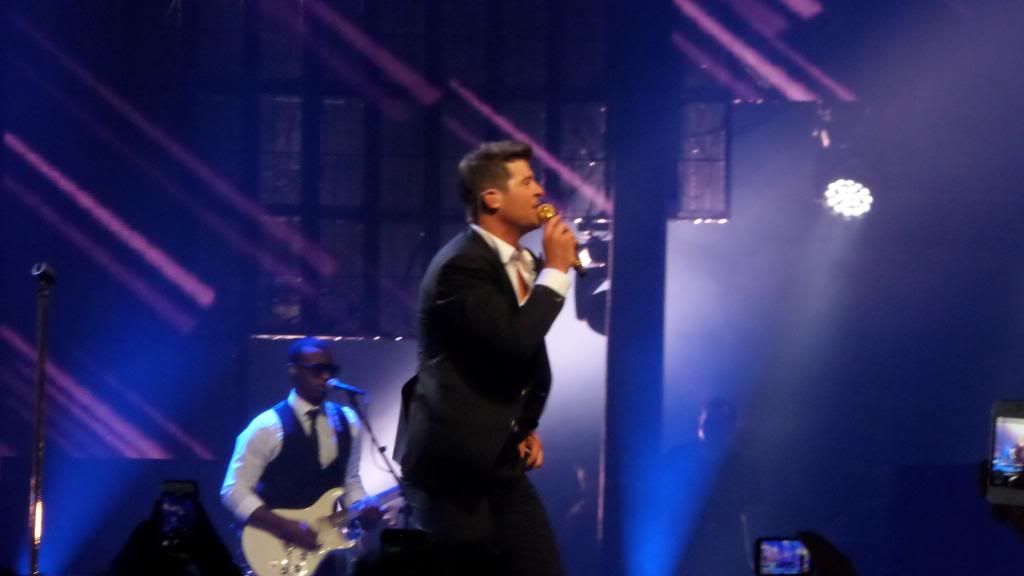 Most recently grabbing headlines due to Miley Cyrus grinding her half-covered ass in his crotch, Robin Thicke has really been loving life since the release of his quasi-rapey song "Blurred Lines". I must preface this review by saying that I am not at all a fan of his, and we won tickets to go see him in the Metro. Watching Robin Thicke live is not an activity I would normally pay money to do; quite the contrary – you'd have to pay me.
Credit where credit is due, he's well-dressed enough, coming out in a sharp three-piece suit (the outside of which he took off at one point and threw into a crowd of screaming girls) and aviator sunglasses. But whilst he looked the business, his performance was sadly lacking. Grunting "UH" repeatedly into the microphone as if he was romancing a particularly large woman and taking a breather to give the crowd a smarmy speech about how wonderful his life is, does not entertainment make.
Blurred Lines received criticism, in part because of the amount of nude women who pranced about in the uncut music video for it, and the "backing singers" of Robin Thicke's performance don't wear much more – just a croptop and pants to cover their dignity. This wouldn't be a problem if they actually, you know, sung, but, alas, that they don't, instead choosing to paw at Thicke, and bend over at suggestive angles for the audience. To be honest, the girls don't do a bad job of what they have to do, it is more the smug gurn Thicke sports throughout the show, obviously feeling that he deserves to be worshipped, oh he of God-like status. This is epitomised in how he will often drag a 3-minute long song to about 10 minutes, but hollering the last three words over, and over, and over, and over again.
A big issue is also that none of Thicke's songs are all that interesting, catchy, or just good. Thicke tried to engage the audience in his slower, more heartfelt love songs, but the lyrics of them were so generic that they simply felt cheesy. Magic was probably his best song, a passable blend of catchy jazz and lovey-dovey schmaltz, but I forgot the names of all the other songs he sang. He even wheels out the piano to show that he's a #musician at one point, but it's a lost cause really. This man epitomises slimey, and unless you somehow find that sexy in a man, you'll do nothing in this other than roll your eyes repeatedly.
Grade: E