As I mentioned before, I didn't get to watch the damned show live this year, due to needing to be up early the next day. But I obviously couldn't go through life without having watched the Oscars, regardless of how disgusted I was at the result. So, watch them I did!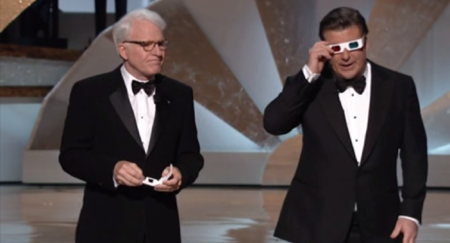 The ceremony opened, slightly bizarrely, with the ten nominees for Best Actor and Actress on stage, looking a bit awkward and clapping. They're introduced, then shipped off by people at the front, before the stage is left empty for Neil Patrick Harris, who is a relative B-listy by Oscars' standards, but not a total unknown due to his appearance in Dr Horrible's Sing-Along Blog and How I met Your Mother. Anyway, he does a little skit called "No-one wants to do it Alone", which is actually pretty damn hilarious (I lol'd at his "Prisoners dropping the soap" line). His song is surprisingly relevant, making a nod to the Twihards and the whole Team Jacob/Team Ed thing. Finally, he makes way for the two presenters tonight: Steve Martin and Alec Baldwin
The banter begins immediately. Alec Baldwin introduces Steve Martin reverentially as "Actor, writer musician, Grammy and Emmy winner, one of the most enduring entertainers of all time," and Martin repays the favour by simply saying, "And this is Alec Baldwin." The two actors both co-starred with Meryl Streep in It's Complicated, and Alec Baldwin picks her as the first topic of jesting, "No matter what, they nominate Meryl Streep". Steve Martin, feeling extra-facetious, notes that this also equates to the most losses. The next thing they joke about is the huge change of there being ten nominated Best Picture nominees as of this year. Steve Martin jokes that Hollywood don't know what 5x2 is. To be fair, I reckon Miley Cirus *doesn't* know. The next topic of joking comes when Martin asks Baldwin to explain what The Last Station is about, and Baldwin, having just said a simple synopsis, evokes a manic "You should have said spoiler alert!" from Steve Martin, a sly nod to how pernickety the internet world have become with spoilers and whatnot. Following jokes include mistaking "That damn Helen Mirren " with "dame Helen Mirren", which even she giggles a bit to. Elsewhere in the audience, I feel such a surge of pride whenever I see Gabby Sidibe, and Vera Farmiga's lipstick really matches her dress. When it comes to Mo'Nique, Alec Baldwin tells Steve Martin "They just don't give Oscars to stand-up comedians, like anyone has to tell you that". There's then some crappy CGI banter directed toward Avatar as the screen goes a bit weird and the presenters dub some less-than-glamorous CGI specs. In the audience, George Clooney looking like the smug git he is. Alec and Steve feed his ego by staring at him. The presenters say "and here's the "Inglourious Basterds" section", before adding, "and HERE are the makers of the movie", which is a bit simple, but entertained by greatly. They comment that Christoph Waltz' character is "A Nazi obsessed with finding Jews. Well, Christoph" and indicating to Hollywood, a highly semitic population, evoking huge belly laughs all around. Zac Efron and Taylor Lautner are the next topics of fapping, both looking extremely pleased with themselves. Ewww. "Take a good look at us, guys. This is you in five years" jokes Steve Martin. In the audience, we see The Dude himself. I see Proud Maggie Gyllenhaal sat behind him, with Peter Sarsgaard alongside her. He's bald, but they make such an adorable couple. Alec Baldwin pretends he doesn't know who's nominated for Best Actor, and George Clooney (acting or otherwise) looks dead angry about. Lastly, Steve Martin declares "If you'd like a transcript of tonight's show, then you should really think about getting a life" which is just mean, because I genuinely wouldn't say no to a transcript to the Oscars. This is kinda my life!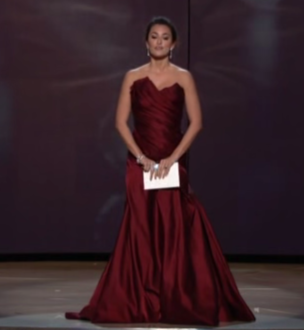 Penelope Cruz is the first presenter of the night, and she's accompanied by Nine's Be Italian, which brought back memories of that film (oh dear), but to redeem it, she looked absolutely stunning and I fondly remembered her awesome performance in Vicky Cristina Barcelona rather than the crappy one she was nominated for this year. The clips are shown – I'm yet to see Invictus, but from Matt Damon's Oscar clip, I can't promise that's going to change in the near-future, as I'm really not a rugby girl. In Christopher Plummer's Oscar clip, I spent more time staring at James McAvoy (nomnomnom) and shuddering at the prospect of Helen Mirren in a naked scene with him. I thought Stanley Tucci's Oscar clip was very well chosen; as I've said before, I hated the film, but he was amazing in the film, amazingly creepy, and the clip highlighted his reepiness perfectly. He rolls his eyes from embarrassment at the paedophilicness though. Christoph Waltz' Oscar clip is accompanied by Ennio Morricone's Rabbia E Tarantella, which played in the film, and when he's announced to be the winner. His acceptance speech made me so happy, he started off by saying "That's a uber-bingo", alluding to one of his finest lines in Inglourious Basterds, then he lists most of his co-stars, thanks Lawrence Bender and the Weinsteins, and mostly Quentin Tarantino, before walking off disbelievingly, as Penelope Cruz holds onto his arm. Aww, what a cutie (I love his Austrian accent), and one of the quirkiest, most absorbing performances of the 2000s, so I am delighted with his win. EPIC.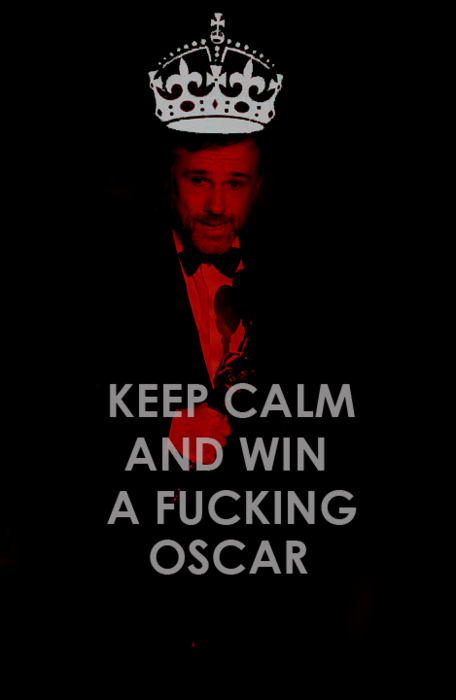 Next up, Sandra Bullock's The Proposal co-star Ryan Renolds, introduces The Blind Side, one of the ten Best Picture nominees. Standard as this is, it's really going to take quite a bit of time to get through all ten of the Best Picture nominees this year. Anyway, I quite liked The Blind Side, and greatly favour its schmaltzy cheesiness over Precious' grittiness. However, when it comes to Leading Actresses, Sidibe is better than Bullock by far! Grr.
Cue audience shot. One of the Basterds from Inglourious Basterds (the one that looks like a Culkin) is shown yawning, and Anna Kendrick also looks quite bored. Next up are Cameron Diaz and Steve Carrell to present Best Animated Film. Cameron Diaz is quite a bit taller than Steve Carrell, which amuses me. At first, I thought Cameron Diaz was stumbling over her lines, but then it was revealed that it was a bit, the joke being that Steve Carrell's were intended for Jude Law. Each of the animated movies all do a little "interview" first, which is cute, except it means I had to listen to George Clooney's voice as the Fantastic Mr. Fox. Apart from that, a more-than-satisfactory category (Up is my second favourite film of 2009, and I really liked The Secret of Kells and The Princess and the Frog). The winner, Up, comes as no surprise, but it's still wonderful to see, particularly as the director of Up, Pete Docter, looks quite lanky, and you know I like them lanky.
Steve Martin and Alec Baldwin then have a bit more banter about being hungover, before joking that Amanda Seyfried and Miley Cirus' youth mean that they have no idea who they are (to be fair, I wouldn't be surprised if Miley Cirus didn't know, dumb bitch). And, sure enough, Cirus stumbles over her line, before saying "This is our first time presenting. We're both kinda nervous." Really? I had no idea! Anyway, my favourite song by far in this category was "I'm Almost There," a song so cute that I cried a teensy bit during it. "Down in New Orleans", also from The Princess and the Frog, is another song I really liked. "Take it All" was one of the few things I enjoyed about Nine, mainly for Marion Cotillard's great pipes in her rendition of it. But alas, the award goes to Crazy Heart, which isn't totally bad as it means T-Bone Burnett wins an Oscar, and I absolutely adore other film tunes he's written. He's relatively taciturn in the acceptance speech though, saying nothing, letting the other guy do all the talking, who tells his wife that he loves her more than rainbows. Aww.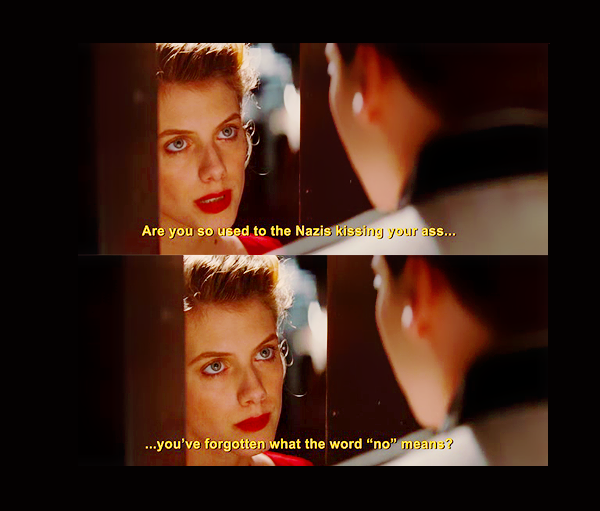 The next nominated Best Pic movie that gets a brief slot is District 9. I must admit this is another film I'm yet to see, because I was rather busy during the Summer holidays when it first came out, and afterwards I just forgot about it. But if I ever get the chance, I'll give it a look. Next up are Robert Downey Jr and Tina Fey to present Best Original Screenplay, the former of which Alec Baldwin, their introduction, has nothing but praise for. Downey Jr is wearing bizarre blue-tinted glasses to match his weird blue bow, and I am loving the banter between Fey and Downer Jr, she playing the role of the long-suffering writer, and he the deluded, self-loving actor. I love it! Anyway, Inglourious Basterds and Up are my #1 and #2 films of 2009, respectively, so in theory, I should love this category (particularly as I learnt the meaning of the word "equanimity" from the reading of he A Serious Man script), but obviously The Hurt Locker winning means that this category is more sour than sweet. Mark Boal's acceptance speech talks about his experience as a war reporter for Iraq. Jog on, mate. You got your oscar, you can get your Pulitzer a couple of decades later.
Molly Ringwald and Matthew Broderick. Molly Ringwald has no screen prescence whatsoever, it's so obvious she's reading off the autocue. Matthew Broderick just nods knowingly, but he does smilingly make a joke about his most cherished role – Ferris Beuller. There's a moving tribute to the films of John Hughes, who passed away last year, ending with a scene from The Breakfast Club and the bittersweet tune "Don't You Forget About Me." Some of the poignancy is taken away when stars who've acted with him come on stage, and Macualay Culkin looks stoned, I lol'd so hard.
The Incredibles' voice actor Samuel L. Jackson introduces Up as the third nominated Best Pic film. The musical track selected for the intro of the clip is the now already famous "Married Life". Love. Next, Best Short Film. I don't really ever pay attention to this category, so I switched off. Sorry.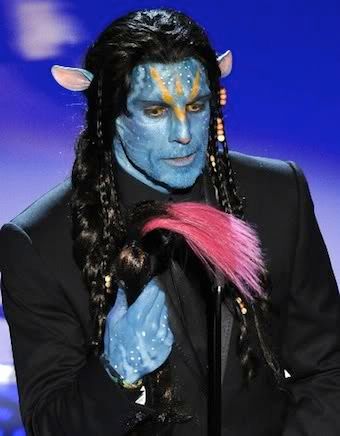 Ben Stiller comes on, in full Avatar mode, which made everyone laugh quite hard, chiefly out of embarrassment. He announces that he was to chose between this outfit or his Hitler uniform, but the ceremony was too "Hitler heavy". To be fair to the man, as lame as his stint is, you can't fault his dedication to the stunt, as he's donned the coloured contacts and everything. Anyway, I actually agreed with the nominees in this category. Faure's Pavane played to the clip from Il Divo and Emmy Blunt looked bungtastic in the clip from The Young Victoria. Ben Stiller faffs around with his tail for a while before announcing the winner, the rightful winner, to the Star Trek team. All three of the make-up team (one female, two male) are first time nominees and winners, and the woman does the majority of the talking, giving most of the thanks to Star Trek and Lost director JJ Abrams. Cue random shot of Kate Winslet in the audience playing with her hair.
The Dude himself, who is obviously no stranger to working with the Coen brothers, introduces the clip to the fourth nominated Best Picture film, a Serious Man. Due to 2008's shocking, shocking, shocking Burn After Reading (which surpassed even Ocean's 13 as my least favourite Clooney-Pitt collaboration, and that's saying something), I've shied away from A Serious Man, but it did look pretty awesome from the clips, and I'm a sucker for characters in movies whom I feel sorry for, and the protagonist in a Serious Man looks to be just that.
Rachel McAdams and "Academy award nominee" (should have been winner that year for Brokeback Mountain if it wasn't for that bell-end Clooney but whatever) Jake Gyllenhaal. Jake and Rachel are straight to the point and don't have any fun with their lines, Rachel just reads the scripty bits, before the Oscar goes to my least favourite nominee of the five –the Precious script. Ick. The winner dedicates his trophy to "Precious boys and girls everywhere." So, boys and girls who were molested from a young age and living with abusive parents – don't worry about all that rape and abuse – some guy dedicated an Oscar to you, so everything's ok!
Steve Martin arrogantly-yet-jokingly introduces Queen Latifah, announcing that working with him was, for her, "the highlight of her life." Queen looks stunning in a gorgeous pink, diamond-encrusted dress, presented the 2010 Honour awards, which, from the montage, just looks like a backpat for the likes of Ron Howard and Steven Spielberg. Um, guys? We already have the Golden Globes for that, yeah? Thank god we didn't have to watch the whole damn thing. Anyway, Lauren Bacall, who is never one to shy away from parading how fantastic she is, smugly stands up. But sits down again, which has probably done her arthritis no good, but that's no skin off my back. ?
Robin Williams comes on to present the award for Best Supporting Actress. This would ordinarily be the job of last year's Best Supporting Actor winner, but I do believe last year's winner had somewhat of a graver engagement on Oscar night, so, Robin was enlisted. Penelope Cruz's Oscar clips actually makes her performance look tolerable in the movie, but then I remember about the real atrocity that was Nine, and started feeling bitter about how she stole fellow European Melanie Laurent's Oscar nomination (though to be fair, that was also hugely down to the Weinstein's greedily pushing Melanie for Lead when she obviously wasn't), but then we see a shot of her sitting next to Javier Bardem and my heart is filled with love for Penelope again. Anna Kendrick's Oscar montage was adorable, as is she on Oscar night. Mo'Nique is, obviously crowned winner, and after she stands up I see how her dress is a slightly different shade of blue from Gabby Sidibe's (both look stunning). Her performance will probably be remembered as one of THE performances of 2009, and there's a standing ovation from a few in the audience. Mo'Nique's acceptance speeches through the awards season have all been heavy and worthy, but at least they're heartfelt, and two things she said in particular really moved me – firstly, she thanked Hattie McDaniels "For enduring all that she had to, so that I did not have to", and secondly she spoke of forgoing doing what is popular in order to do what is right. One of the few deserving wins of Oscar night.
Colin Firth, who starred in Nick Hornby adaptation Fever Pitch (one of my favourite activities on Oscar night is to work out who is cinematically linked by whom), introduces the 2009 film wot Nick Horby wrote, An Education. I watched An Education with my best friend Luke and I really, really enjoyed it, right from Rosamund Pike's ditzy performance to the depiction of growing up when we think we know what's best for us. Nice to see a British movie in the Best Film category.
After the break, Sigourney Weaver presents Best Art Direction, perhaps a bit of an obvious hint as to who is going to win. Anyway, Avatar had this locked, so there was no point me holding out any kind of hope that The Young Victoria or Sherlock Holmes, the two more deserving movies, would get it. The set directors of Avatar come on, be smug, claim James Cameron has a "deep" cinematic vision (lol, feck off!) and James Cameron has white hair. Tis fun.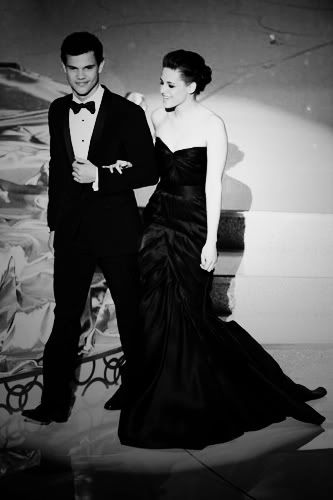 Before the presenters of Best Costumes come on, Alec Baldwin and Steve Martin have some fun with the wordplay involved with "Clothes whores" and "clothes horses." The presenters of this category are, according to Martin "He directed a Single Man and she looks a single pound" – Tom Ford and Sarah Jessica Parker, who does indeed look ruddy thin, but gorgeous nonetheless. Anyway, neither The Hurt Locker nor Avatar were nominated in this category, so another film receives recognition for once, and it is The Young Victoria – and rightly so, for its costumes were stunning. The winner, Sandy Powell, has won before for Shakespeare in Love and The Aviator, but she is wonderfully gracious and gives a shout-out to costume designers that do contemporary films and low budgets ones but work just as hard. I've forever been backing modern movies to get more recognition for its costumes (I wanted The Devil Wears Prada to win over Marie-Antoinette and it pisses me off that SATC wasn't nominated), so these words were music to my ears.
Charlize Theron introduces Precious (I can't think of her link to this film, so if you wanna help me out here). Obviously, because I'm a knob, I didn't like this film one bit, but I do greatly admire the performances in it, and I cried nonetheless at Precious' plight. The clips pretty much capture all that, without he uber-cheesy "Your baby loves you. I love you" scene.
For some reason, there's a tribute to horror movies, in which we watch a fairly-amusing video of Steve Martin and Alec Baldwin sleep-fighting/walking and generally indulging in a bit of gay banter. To introduce this tribute are the trees, I mean actors from Twilight, Taylor Lautner and Kristen Stewart. Both are bland, but mercifully, their screen time is short, to make time for the quite long montage of horror movie scenes, some of which actually include the climactic scenes of the horror movies. Being the sissy I am, I was pretty disturbed by that.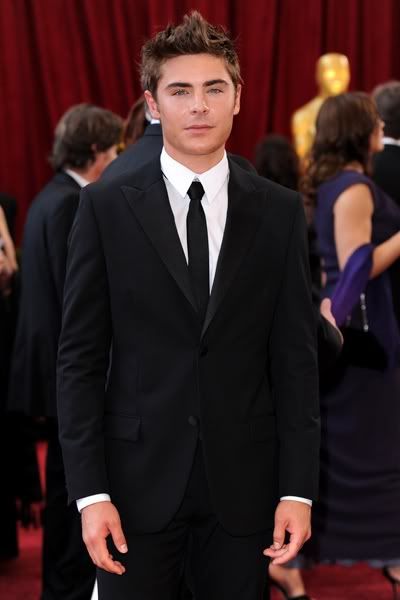 Zac Efron and Anna Kendrick actually make a really attractive couple, but nowhere near as attractive as the voice of Morgan Freeman, who's voice over is enlisted to explain the difference between Sound Mixing and Editing. We see that sound Editors get to smash windows as part of their backup work. Sounds awesome if you ask me! Best Sound Editing goes to The Hurt Locker, so I go off to the kitchen to eat some sundried tomatoes as the winner talks crap for a while. Avatar and The Hurt Locker are also nominated for Best Sound, so I know that Inglourious Basterds' nomination is nothing more than a novelty. And, sure enough, The Hurt Locker wins. One of the winners for Best Sound is the same bloke who won for Best Sound Editing, which kind of goes against what we've just been told that Editing and Mixing are completely different – if it's that different, how come some guy who clearly doesn't know what a good haircut is can do both?
Elizabeth Banks tries to be funny when she chats boring stuff about the sci-tech ceremony. Again, I slouch off to the kitchen, only for some chocolate this time. Thankfully, it was short-lived, and I got back into my room in time to see Pulp Fiction star John Travolta to introduce the clip for Quentin Tarantino's genuine masterpiece Inglourious Basterds. I love the clips they show, it sums up Inglourious Basterds perfectly, but after it ends, we see Tarantino basically bumming himself, and for a brief second, I don't like the movie as much.
Sandra Bullock comes on to present the award to Cinematography. I really loved that Harry Potter and the Half-Blood Prince was nominated. I really don't love that Avatar won, but, like everything shit in my life, what can you do? Demi Moore talks about how some people die, but interestingly, the Academy choose to let James Taylor perform "All My Life" by The Beatles, live, whilst images of the likes of Brittany Murphy, Patrick Swayze, Jean Simmons, Ken Annakin, Budd Schullberg (he wrote my #2 film of all-time, you know) and David Carrdine fill the background. It's a wonderful song choice, and his melancholy vocals give a real sense of poignancy to the montage. Like with in the 2004 Oscar ceremony when the Academy had Iztack Perlman play each of the nominated scores on his violin to the backdrop of scenes from the movies, it's a gutsy call, but the amalgamation of music and images are beyond beautiful. <3
Jennifer Lopez and Sam Worthington are the presenters for Best Score. The Legion of Extraordinary Dancers are picked to dance to the five nominated scores, which sounds weird, as you know, some of the scores just weren't put to dance moves, but it shows that with the appropriate level of skill and creativity, you can pull anything off! There was a range of contemporary, ballet, tap and street dance moves on skill. The lighting used also helped the visual pyrotechnics lot (eg bright colours during Sherlock Holmes, ominous blues for The Hurt Locker). It short, it generally pays off when Oscar do kooky things like this – the Diversity-esque dancing to The Hurt Locker's score is probably my most endearing memory of the movie! The three main dancers on centre stage for the clip from Up was also gorgeous, a stunning amalgam of ballet and hip-hop dancing, and there was lots of awesome backflips during the music from Avatar. Best Score is one of my favourite categories ever, and I love that Up won this, and that it was given the amount of presentation it deserved. Films are hardly ever about just the stars who act in it, yet sometimes it feels like they're the only ones people give a damn to. Music matters too, people!
Anyway, Jennifer Lopez is about the 34983904th person to person to pronounce "Desplat" wrong, but Michael Giacchino wins, so that doesn't need to be said again. Anyway, I get to hear Michael Giacchino speak, something that I don't actually think has ever happened before, despite me loving his music to Lost and Ratatouille. He gives an absolutely lovely acceptance speech, but it reveals that he did a rather sheltered life – he played with video cameras from a small age and was told it was never a waste of time. Wish I could say the same. Anyway, he tells us that it's "not a waste of time", which I know is just words, but is nice to hear nonetheless.
Gerard Butler and Bradley Cooper announce the winner for Visual Effects. The clips shown from Avatar are accompanied by a James Horner score that sounds suspiciously like the music in Titanic, but maybe that's just me. The winner is Avatar, naturally.
Arrested Development, Juno and Up in the Air actor Jason Bateman presents Up in the Air, which he describes as "funny and had a great heart". I'm not disputing this or anything, but the way I see it, Inglourious Basterds also had heart, and that heart was in the form of Melanie Laurent. And she didn't even get a poxy nomination. Not bitter at all, guys. Seriously, don't you worry about me. I won't burn anything down.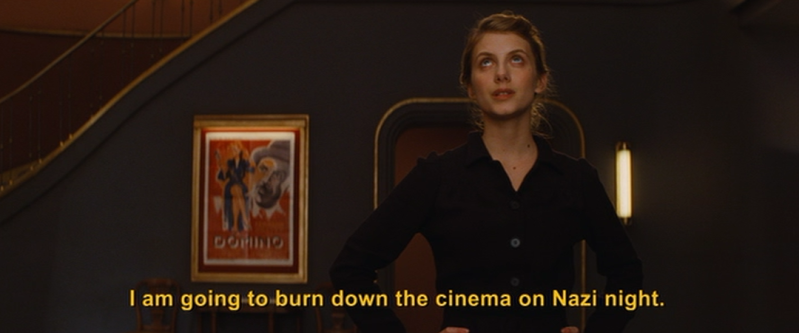 Matt Damon comes on to announce the winner for Best Documentary, which goes to The Cove, or as I like to call it, that movie with the dolphin killings. Meanwhile, Film Editing goes to The Hurt Locker. There are an awful lot of whooping in the audience tonight, which makes the Oscars more like a high-school graduation, but I quite like it, it gives it a more personal feel. The two editors of The hurt Locker do at least give a moderately engaging speech, very unrehearsed – they keep interrupting each other, which is actually quite cute.
Speaking of which, Keanu Reeves is picked to introduce The Hurt Locker. I think you all know my feelings towards this movie by now, so I'll just shut up now.
One of my all time legends, Pedro Almodovar comes on next, along with Quentin Tarantino, who both backpat each other a little. They're there to announce the winner of Best Foreign Language film. Quentin Tarantino goes through each of the nominated films, which is a bad idea if you ask me, because two of the nominated movies are in Spanish and he, for all the languages spoken in IB, is not really much of a linguist. Surely Almodovar would have been better. Somewhat surprisingly (I'd thought it'd be down to The White Robbon or A Prophet), The Secret in Their eyes wins. The winners seem very humble, and part of their acceptance speech is thanking the Academy for letting them go to the luncheons and meet all the film stars, which, to be fair, would be high on my priorities. :D Rudely, they're ushered off the stage a la orchestral music.
Steve Martin then references the fact that Alec Baldwin got nominated in 2004 for The Cooler. Who won over him? Tim Robbins. Lovely. Alec Baldwin, however, is less than pleased that this fact is mentioned. Meanwhile, Titanic actress Kathy Bates tells us that Avatar promotes "peace, harmony and conservation" as a montage of clips from that film is shown.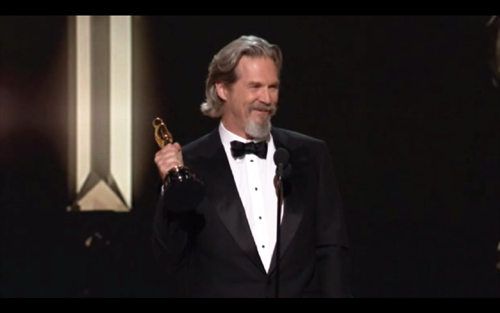 Time for the big guns. Best Actor. Jeff Bridges, George Clooney, Jeremy Renner, Colin Firth, and Morgan Freeman's various baity clips in their performances are displayed. Also a first for this year, five auteurs- Tim Robbins, Colin Farrell, Vera Farmiga, Julianne Moore and Michelle Pfieffer come onstage, standing in height order (my Timmy is tall!) and share their anecdotes on working with the five nominated actors. Pfieffer (looking babely in red) talks about Bridges' lack of vanity and dedication to his performances, and how much she enjoyed working with him during The Fabulous Baker Boys. Vera Farmiga is clearly nervous, because she tries too hard to be charismatic – and not succeeding - when talking about Clooney, but that suits me just fine, because it means I can focus on Farmiga fail rather than listen to her empty words about how supposedly wonderful George is (I know I've ragged on Clooney quite a lot tonight, but what can I say? It's in my disposition to loathe people who's name rhymes with "ooney") Julianne Moore talks about how despite not knowing Colin Firth for long, she still loved spending time in his company. But despite Julia being my favourite living actress (tied with Streep), the only person I care about right now who's on stage is Timmy Robbins, because he's here to talk about his time with Morgan Freeman on the set of only like, my favourite film of all-time – The Shawshank Redemption! I love the anecdotes he shares, and the sight of Robbins looking at Freeman only makes me think about how much I love the film even more.
Anyway, they all bung off the stage for Kate Winslet to come on and announce the victorious party to be five-time-nominee Jeff Bridges. It's an enjoyable, sweet, dedicated performance, and I'm happy for Bridges, though my favourite performance from Bridges is still by far his first ever nominated one – in The Last Picture Show. His speech is exuberant and genuinely ecstatic, which is genuinely heart-warming to see. He thanks his wife last – they've been happily married for 33 years, which is a real rarity in the divorce-centric Hollywood.
As with Best Actor, Best Actress features a compilation of the five nominated performances. Carey Mulligan was feisty, Gabby Sidibe broke my heart, but I was left wanting more with both Bullock and Streep's turns. Anyway, the five people to wax lyrical about the actresses this time are Forest Whitaker, Michael Sheen, Peter Sarsgaard, Oprah, and Stanley Tucci. Michael Sheen, who played Tony Blair to Helen Mirren's Elizabeth II in Stephen Frears' The Queen, goes on for quite a bit about how sexy he found Mirren when starring alongside her, but I don't mind a jot, for he is one of my favourite actors, and frankly, he should have been nominated in the Actor category for his work in The Damned United. Peter Sarsgaard, who has acted opposite Mulligan on stage and in An Education, pays tribute to her complex and youthful grace in An Education. Oprah Winfrey obviously has never acted opposite Gabby Sidibe, but she tells us about how Sidibe was a student trying to raise funds for college, skipping school to audition for the film. On Monday, she auditioned, and by Wednesday, she was told she'd gotten the role. Sidibe has tears in her eyes as Oprah talks about her; I genuinely couldn't love this girl more. What a sweetheart! As Oprah says, she truly is a Hollywood Cinderella. And Stanley Tucci, who starred alongside Streep in both Julie & Julia and The Devil Wears Prada, gives her a bit of bant about being nominated too much, which she takes to very well.
Sean Penn, inarticulate in public as he was sweaty in that episode of Friends he was in, comes on to announce the winner. A result which will surprise absolutely no-one, Sandra Bullock won. I don't want to be a bell-end, but I just don't get it! The film, I liked. The happy ending, I liked. The character, I liked. But the performance? It was sassy, sometimes moving and perfectly ok, but in no way, shape or form, was that better than Gabby Sidibe in Precious. Still, her speech amused me, she mentioned the other four nominated actresses, before going on to more predictable territory and thanking the people whom the film was based on. Also, apparently George Clooney threw her into a pool years ago. So there's your… something. The tears come out at the end when Sandra thanks her mother, who brought her up well, and taught her that everybody is deserving of love.
Barbara Streisand comes on to ramble on about the "milestones" that could come about the Best Director categories this year. Surprise, surprise, The Hurt Locker gets it. I have to say, crappy as the film was, Kathryn Bigelow looks SMOKIN' for a woman of her age: tall, thin, and just generally gorgeous. Didn't pay attention to a word of a speech though. And my oh why, what was up with the friggin' standing ovations that night?! The whole point of standing ovations are that they're given to someone truly special. If everyone was going to stand up for every Tom, Dick or Harry that won an Oscar, then they make as well remove seats from the auditorium. Just saying. Speaking of Toms, Tom Hanks announces The Hurt Locker as winner of Best Film. Which I'd resigned to in my mind by now, but it really ticked me off that he dared name it in the same sentence as Casablanca. Casablanca was sort of like, a good film, you know? Anyway, idgaf. FML.
So that was that. The Oscars this year were a lot more watchable than I'd thought they'd be, despite disappointing results in Best Film, Director, Actress and the Screenplays. I absolutely loved the tributes to Best Original Score. Some of the jokes were ok, and it was just an all-round pleasure to see the shiny faces of Hollywood. Because at the end of the day, much as I love to bitch about things, my life would not be the same without these people there to make stunning, stunning films for me to watch and love. And shitty ones for me to lol at and whine about. ;)