I love to laugh. Whether it be at some lame inside joke with my mates, laughing at silly lines in old episodes of Friends or laughing uproariously at stand-up comedy, I believe that laughter is terrific for the soul. Sadly, it isn't all fun and games in my top 10, where there are 9 drama/romances and just the one comedy. And even the comedy, by the director and star's standards, are surprisingly somber at times. The movie in question? The Apartment.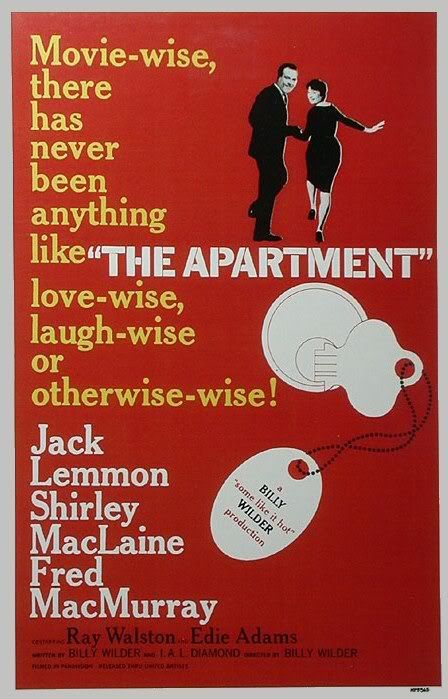 It's 60s New York City and the protagonist, the kookily named C. C. Baxter (Jack Lemmon) has a dead end job and an even more lamentable love life. He has an apartment on the Upper West Side (there's your Sex and the City-style location referencing), which he lends the key out to four of his managers, so that they can take their mistresses there and bung without their wives finding out. It's not a position C.C. particularly enjoys being in, but he's not one for confrontation so he expresses his displeasure by purposely mixing up his workmates' liaisons. Meanwhile, C.C. finds his eye caught by Fran Kubelik, the elevator operator from where he works. C. C.'s apartment earns him glowing reports from all four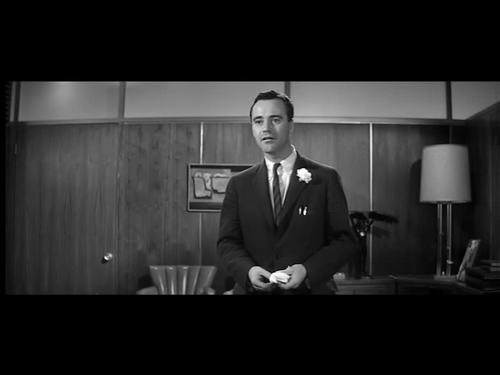 managers and following that a promotion, though his director Mr Sheldrake suspects something. He allows for the promotion, only on the condition that he can also use the apartment, to which Baxter, delighted with his promotion, acquiesces. It probably won't surprise you to hear that Sheldrake arranged the apartment to use with Fran Kubelik, thus making for a very dysfunctional love triangle.
At the time of its release, the themes of infidelity depicted in The Apartment meant it made for uncomfortable watching amongst American audiences, who until then had led a sheltered cinema-going experience where all is well and the only bad things in a marriage is when the wife undercooks the breakfast. As such, the film received pretty bad reviews. By today's standards, however, the film is an extremely smart satire on the working world and the so-called "sanctities" of marriage, and one only needs to look in a local workplace or an ailing marriage and a husband with a wandering eye to know how this cynical film hits the nail on the head.
The wonderful thing about C.C. Baxter and Fran Kubelik is that they're both far from perfect, getting themselves into some sticky situations, but the joy of it all is that they can get themselves out of it. Jack Lemmon, in one of his best roles, is wonderful as the mild-mannered, exploited Baxter, who's sense of moral values leave him with precious little. But the star of the show is easily Shirley MacLaine, who shows the world that she's more than just a pretty face. Her acting skills are truly tested as the complex Fran; smart and together at the start, a complete wreck in her confrontation with Mr Sheldrake, but sharp and getting some of her swagger back by the end. It's a glowing and multi-layered performance that cemented MacLaine's place as a true auteur. Fran likes C.C., for his kindness and warmness, but her feelings aren't quite as ardent as his towards her, and it is both refreshing to see a film wherein it is the woman who is the more disinterested party, yet equally frustrating, because C.C. is a much better match for her than Mr Sheldrake ever could.
As you'd expect from a Billy Wilder film, the screenplay is flawless, taking us from one genre to another. The dialogue feels unforced and natural (C.C. Baxter could be the guy in the supermarket who you've known for ages), at the same time holding some wonderful repartee and sparring. Shirley MacLaine once revealed in an interview that much of The Apartment was improvised by the actors as they went along. It's these little touches – along with the strong plot based on the script – that elevate this film out of "standard romantic comedy" territory, such as Jack Lemmon humming as he prepares the meatball sauce. There are moments in the film when things turn extremely sour and the tone is almost desperate, but Billy Wilder, being the expect director that he is, knows how to balance these emotions perfectly and make light of even the deepest sadnesses.
Like many of the films in my top 10, The Apartment is a romance. Unlike the other nine, it is a comedy. But within the comedy, there is also tragedy. We see good people compromising their principles in order to get a step up in the working world, as well as how love can lift you up, then, just as you're feeling nothing can bring you down, give you a gigantic kick in the bollocks. In this love story there is duplicity, infidelity, depression, loneliness and despair aplenty. The Apartment doesn't sugarcoat things like plenty of other films from that era did, and its honesty – and cynicism is invigorating. Because, at the end of the day, love ain't all a bed of flowers, but Fran's ambiguous closing line hints that she may or may not be willing to give it another chance.