Ever since I've started this movie blog, it's been a tradition for me to write a full report of the BAFTAs, (
2009's
,
2008's
,
2007's
and
2006's
), but I honestly don't have much to say about tonight's show. Jonathan Ross was efficient if not excellent as a presenter and some of the guests caught my eye with their stunning outfits/looks - Anna Kendrick had a beautiful dress (and her Jimmy Choos! I want) and Matthew Goode looked so damn bungable even if he did pile on the hair gel way too much. The worst acceptance speech was easily Kristen Stewart's; I couldn't tell if she had diarrhea or a stinkbomb in her mouth, but she looked so uncomfortable and her pseudo-modesty simply pissed me off further. Bitch looked anaemic. I genuinely shouted with glee when I saw Christoph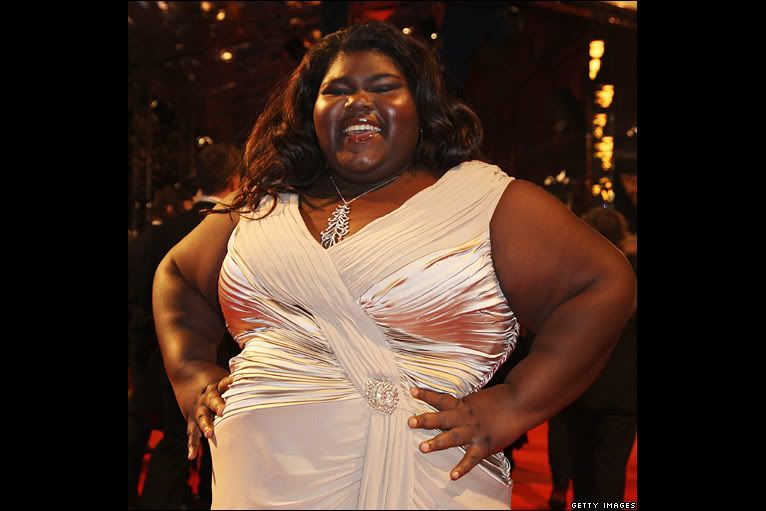 Waltz, beard and all, and Saoirse Ronan carried herself well too. The most entertaining acceptance speech fell when the translator for the director of
A Prophet
was blatantly bananawasted. Har. Bonnie Wright in Prada made me almost chunder the chocolate
cake
I'd consumed earlier today out; get the f_ck out, bitch, you have no talent and are only famous for shagging someone off Twilight; come back when you've had some acting lessons. That said, I liked the double Brit winning duo of Carey and Colin for Actress and Actor respectively. Mulligan should have kept her hair brunette though. I noted Colin Firth get a celebratory back pat from Stanley Tucci; apparently they're mates; I find this absolutely precious! Also, though I usually switch off by the time we get to that "BAFTA Fellowship" bollocks, this time I was genuinely fixated and thought Vanessa Redgrave's speech was very moving. Gabby Sidibe smiling throughout was rather heartwarming; you can tell she's a healthy, happy girl. Um, not much else to say really; I did squee pretty hard at the start of the show when I saw Anne-Marie Duff, Gabby Sidibe, Saoirse Ronan, Matthew Goode, Jonathan Rhys-Meyers and various other celebrities I like arrive on the red carpet. As much as I love Romola Garai, her multi-coloured
"dress"
was not a good idea. Vera Farmiga, on the other hand, looked downright
gorgeous
, whilst Robert Pattinson looked like he really needed a shave. But it was definitely one of the lesser BAFTAs; classy rather than heart-stopping. As ever, they proved to be nowt much but a dry-run for the Oscars. Except in London tonight, it wasn't even dry.
I don't know why, but I seem to have a fair bit of apathy towards the awards season this year. It doesn't make sense as I love Inglourious Basterds as much as I loved Slumdog Millionaire last year. But all this hoo-ha over Avatar vs. The Hurt Locker (the former of which I haven't seen, but if Titanic was anything to go by, oh dear, and the latter I saw last week and left me nodding off at the parts when I wasn't downright irritated) is actually boring my bollocks off. Of course, there's excitement to be had in predicting the acting categories, some of which are wonderful - even though I loathed Precious, even I can tell that the performances in them were stellar. And Christoph blimmin' Waltz; legend! But I dunno. George Clooney, James Cameron, Katherine Bigalow, Lee Daniels and various others are all people I'd probably bung on a dartboard, and hence, the prospect of seeing even more of them makes me want to curl in a ball and diaf.