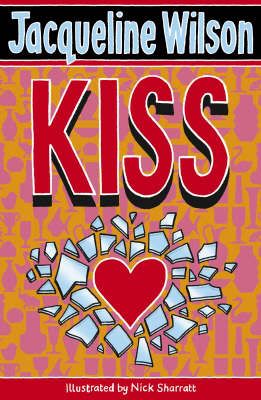 13-year-old Sylvie has been best friends with Carl since childhood, with there being a more-than-friendly love coming from her part. The two are very good friends and keep up their close bond even when Carl changes secondary school and the two don't go to school together. But recently, Sylvie has noticed that Carl has become more distant, shut off in his own little world. Unsure as to the motives for this distance, it only works to make her more hung up on him. Unfortunately for Sylvie, she soon discovers that Carl, too, is in love. But not with her, with somebody else. A boy.
Jacqueline Wilson disappointed me with her last few novels, her moral ambiguity in "Love Lessons" being the most reprehensible (impressionable young girls who get crushes on their teachers could be influenced into doing as the protagnist in that book did and pursuing it), but with Kiss, she has gone back to the kind of novels that used to win me over. Her treatment of young love and sexuality is moving, poignant and intelligent. Carl, being so consumed by his feelings for Paul, tries to kiss him, and this act is the architect of Carl's ensuing downfall, illustrating that in the cruel world of schoolchildren, not everyone is as accepting as the PC brigade would like to think. Similarly, Sylvie's all-consuming crush on Carl, whilst irritating to read about, is realistic as it is sad, in knowing that it is unrequited. There is a third wheel to this - Miranda, Sylvie's bolshy and attention-seeking classmate who befriends her (chiefly because she is so beguiled by Carl) - and although Miranda encourages a lot of bad qualities in Sylvie (playing truant, underage drinking, whoring), she is the model of open-mindedness and acceptance when she too discoveres Carl is gay, marking her a likeable character.
Well-written, occasionally funny and surprisingly shocking for a Jackie Wilson book, Kiss is recommended.