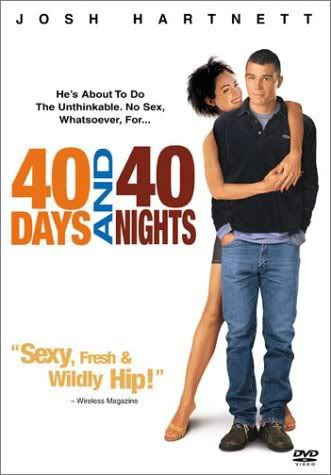 Matt Sullivan (Josh Hartnett) has just come out of a messy break up with his heartless ex Nicole. He tries to liberate himself from the memory of her through a string of meaningless of one-night stands, but to no avail. Discovering it is Lent, he decides to give up sex for Lent in an attempt to detach himself from the wave of ridiculous and destructive emotions that sex emotes. Deciding to go for it fully, he disallows himself sex in any way, shape or form. But, soon, and completely unsurprisingly, he discovers that that is much easier said than done. Things are complicated a whole lot further when he meets a girl genuinely worth bunging, only for her to discover that he can't. Not for the next month or so, at least.
Josh Hartnett's pretty face is more than a little photogenic, but sadly for him he is far less blessed in the acting stakes. The poor writing is just accentuated with his wooden delivery. The supporting cast, thankfully, is more fun to watch. Glenn Fitzgerald is great fun and Maggie Gyllenhaal's line deliveries are hilarious. Shannyn Sossamon, as the genuinely loveable Erica makes for a likeable and spirited heroine, and she and Hartnett are able to summon a commendable amount of chemistry. Though, perhaps, not quite enough to make one almost unfeasibly silly scene – in which Hartnett's character gives Erica a love explosion using just a flower – work.
The underlying message that the film is trying to sell – that sex isn't the be all and end all in a relationship – is nice, but the delivery is where it fails. The sex jokes, when they come, are extremely crude and it's hard to believe a world where the adults could all be as immature as the ones we see in this film. Furthermore, one scene, in which his ex Nicole sets about bunging him through extremely foul means, shocked and disturbed me (I wasn't aware rape constituted as lulz) and was extremely dubious morally. The film has its moments, but overall, not one to watch again.