My beloved
bessie
Anna, has seen it all from me. Knobbish behaviour, bitchiness to the extreme, depressed!Emmabung... you name it, the poor girl has been there with me. I love her more than life itself, which makes it rather fail that I don't know all her favourite songs and films off by heart. Thus, I got her to list 'em, and I thought I'd give every one a review. Starting with the songs: -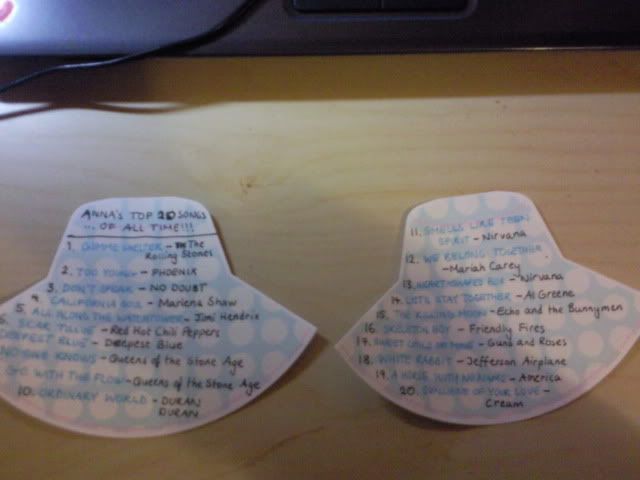 01.
Gimme Shelter
- The Rolling Stones - it's OK
02.
Too Young
- Phoenix - I bloody LOVE this song. Pity it was played in Lost in Translation, but such is the strength of the song that I'm willing to overlook it!
03.
Don't Speak -
No Doubt - Gwen Stefani's vocals are amazing.
04.
Marlena Shaw
- California Soul - BRILLIANT song. I actually didn't know this was what the song was called, I just knew I've heard it lots of times and appreciate it a lot.
05.
All Along the Watchtower
- Jimi Hendrix - s'ok
06.
Scar Tissue
- Red Hot Chili Peppers - there are some great lyrics in this song.
07.
Deepest Blue
- Deepest Blue - don't see what all the fuss is about
08.
No-one Knows
- Queens of the Stone Age - sexy chorus, everything else meh
09.
Go with the Flow
- Queens of the Stone Age - I just don't see the Queens of the Stone Age jizzing, I guess
10.
Ordinary World
- Duran Duran - an absolutely stunningly deep song
11.
Spells like Teen Spirit
- Nirvana - inventive title, not much else rocks me
12.
We Belong Together
- Mariah Carey - not my favourite Mariah song (that's Fantasy), but definitely up there. Excellent singing and tune.
13.
Heart-Shaped Box
- Nirvana - affecting, but depressing
14.
Let's Stay Together
- Al Green - lovely song, one of the best love songs ever written.
15.
The Killing Moon
- Echo and the Bunnymen - the instrumental part in this song is pure sex
16.
Skeleton Boy
- Friendly Fires - surprisingly catchy!
17.
Sweet Child Of Mine
- Guns and Roses - "oh-oh-oh sweet child of mine"! Great one for dancing to.
18.
White Rabbit
- Jefferson Airplane - there is some absolutely class guitar playing in this song. The vocals aren't bad either.
19.
A Horse with No Name
- America - hehee, I got this song with one of those "Rock legends" CDs I got for free with Saturday papers. OK song.
20.
Sunshine of your Love
- Cream - the riff is catchy but the rest sounds raggady and crappy to me
All in all, there are some class selections on here, but I'm a music idiot and love me my Rihannas and Kanyes. So yeah. <3 Anna, though. x