Coraline
(Henry Selick, 2009)
Coraline Jones is a young girl who has recently moved in to a new house in an unfamiliar town. Ignored by her busy parents, she finds a door into what seems to be a parallel world which also has her mother and father, but much more warm and receptive to her. The only foible? Everyone in the world has buttons for eyes, and the parallel world is not all it appears to be.
Coraline is directed by the same man that directed James and the Giant Peach and The Nightmare Before Christmas, and he has again created a film full of whimsy and wonder. However, I couldn't help but feel distinctly underwhelmed by Coraline. The two fat ladies in it were almost Lynchian, and the dark twist ran throughout, so the shock, when it came, felt predictable, and Coraline was so whiny and irritating that, frankly, it would have been better if she had been trapped in the parallel universe forever. Teri Hatcher doing both the voices of the mother and the evil spider-lady was cool, and Dakota Fanning's obnoxious voice suited Coraline's spoilt character perfectly. My brother liked it, me, not so much.
Sex and the City Movie
(Michael P. King, 2008)
Despite this film coming out only last year, I've seen it thre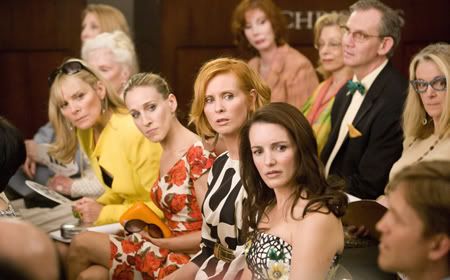 e times already, which, along with Forgetting Sarah Marshall, makes it my most viewed 2008 release. And I couldn't get enough of Carrie, Sam, Charlotte and Miranda, who are all just too awesome. The film itself is not as good as any of the episodes of Sex and the City I've watched, and didn't play true enough to the four characters - I thought the way Sam ended it with her sweet boyfriend was a shame, I couldn't see Steve ever cheating, etc, but it's still massively entertaining nonetheless, with a fun soundtrack (Jennifer Hudson, who co-stars in the film, croons a big ol' tune), brilliant costumes and the occasional funny moment. Kristen Davis is adorable as ever as Charlotte and Kim Catrall is as unashamed and big-mouthed as ever. I am wary about how the 2010 sequel will pan out (frankly, having one film is overkill), but, who am I kidding? I'll be there the day it comes out!
New York Minute
(Dennie Gordon, 2004)
Seriously, seriously, seriously shit. The Olsen twins don't have an ounce of talent between them and even usually talented performers - such as Eugene Levy - just behave like goons in this film. There was a time when I was quite young and idolised the Olsen twins in there "So little Time" days, but I'm older and (hopefully) wiser now, and the simple fact that they could make New York seem like an undesirable destination speaks volumes about how garbage this film was.
Hunger
(Steve McQueen, 2008)
Hunger is a film that I can admire more than I can appreciate. It was intense, grim, powerful and featured some very strong acting, but throughout, I was just really bored. Michael Fassbender is well worth his acclaim as Bobby Sands, IRA prisoner who goes on a hunger strike and believes his cause worth dying for. His scene with the priest was well-directed and appropriately talking, and the harsh prison violence is unflinchingly brought to life, but this film left me feeling detached and not altogether all that interested.
Dark Matter
(Shi-Zheng Chen, 2007)
Curiously under-seen film about a talented Chinese university student from humble roots living in the US, whose aspirations of a Nobel prize are dashed by inter-school politics. This makes him bitter and sets off a sequence of catastrophic actions. Ye Liu is amazing as Liu Xing and the sequences which show the poverty and hardship of his family back at home ring true, which makes his character turning sour even more difficult to watch. Meryl Streep is as efficient and watchable as ever. A bit melodramatic at times, but heart-wrenchingly sad too. Recommended.
An American in Paris
(Vincente Minnelli, 1951)
Gene Kelly is Jerry Mulligan, an artist living in Paris who catches the eye of Nina Foch's Milo Roberts, a wealthy divorcee, who starts championing him. At the same time, his head is turned by Leslie Caron's Lise Bouvier. Trouble is, Lisa's attached to her lifetime guardian Henri, a man she feels too indebted to leave. Cue lots of confusion, tap-dancing, and massive musical numbers orchestrated by George Gershwin. I wasn't at all won over by how the romance panned out in the film - it was shoddy, predictable and far too pat to ever come true in real life, but Gene Kelly can tap-dance like a mofo, and the theme song is lovely. Oscar Levant is also rather good fun as the grumpy concert pianist.
Lolita
(Stanley Kubrick, 1962)
One of my favourite books, and the only film I really like from Stanley Kubrick. There are flaws, of course - Sue Lyon simply is not Lolita - she's too blonde, too old and nowhere near cruel enough. The chemistry between Mason and Lyon - or lack thereof - pails in comparison to Irons and Swain in the 90s version. That said, it's still a highly enjoyable film; Kubrick chose to blur over the whole paedophilia theme and a none of the naughty bunging is shown; 'tis all implied. James Mason is appropriately hapless as Humbert, and his good looks make him a convincing enough schmuck and male predator bunged in one. One of the biggest differences from the book is Quilty. Peter Sellers makes a hilarious Quilty - neurotic and humorous, when, in the book, he was a whole lot more sinister. It is Sellers' turn as Quilty that sets the tone of this Lolita as something a bit lighter and a lot funnier than the later version. Both are brilliant, tough.
Push
(Paul McGuigan, 2009)
Dakota Fanning is such a knob, her character here is a mentor
-type role, and she clearly relishes being able to act all "cool" and say "shit" now and then, which she does so by strutting about across the screen with a lame haircut and a look of such arrogance on her fact that it rivals Emma Watson. However, Denzel Washington she ain't, and she just doesn't have natural swagger
like us
that truly cool performers have. Her attempt at drunk-acting was awful. The rest of the film is over-stylized, nonsensical and just plain weird. I was not a fan. Plenty of unintentional lulz, though.
I also watched three quarters of
Porco Rosso
, which I enjoyed a fair bit, although it's not one of Miyazaki's most memorable. Pig was funny.
Oscars of the week ...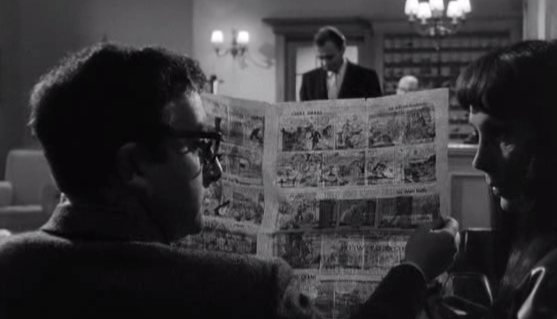 Best film
Lolita

Best actor in a leading role
Ye Liu,
Dark Matter

Best actress in a leading role
SJP,
Sex and the City Movie
Best actor in a supporting role
Peter Sellers,
Lolita
Best actress in a supporting role
Nina Foch,
An American in Paris
Best direction
Miyazaki
for
Porco Rosso
Worst film New York Minute
Worst actor in a leading role Chris Evans, Push
Worst actress in a leading role Mary-Kate and/or Ashley Olsen, New York Minute
Worst actor in a supporting role Andy Richter, New York Minute
Worst actress in a supporting role Dakota Fanning, Push
Best direction Dennie Gordon for New York Minute