As far as bad days for screenwriters go, it's turning out to be a pretty terrible one for Joe Gillis (William Holden). Up to his eyeballs in money problems, he returns only to be chased by two repo men who want his car. His tyre bursts in the ensuing fracas and as a result, finds himself in a new region. Hearing a woman's voice, he investigates. This woman is Norma Desmond, a jaded, great star of the silent movie era. Initially, she thinks him an undertaker, but when she learns he is a writer, she enlists him to read lines with her for a movie she is planning on making a grand comeback with. And that's just the beginning.
One of the most atmospheric noirs of the 50s, much of the grimy, dark look of the film is due to the terrific cinematography of John F. Seitz. Wilder, who had worked with him before on The Lost Weekend and
Double Indemnity
, knew his work well enough to trust him to let him get on with it, and it is Seitz's vision that is responsible for many of the memorably ominous shadows and seen-through-projectors images of the film. As with in Double Indemnity, he sprinkled dust in front of the camera to give the film an even mustier look. The script is perfect. Wilder and Brackett had penned their first version of Sunset Blvd. in 1948, but didn't feel satisfied with their result. In the August of that year, D.M. Marshman Jr, a critic who had impressed them with his thoughts on a previous film of theirs, was enlisted to develop the plot. We have the signature voice-over, which at the start of the film, says to us that, on seeing a dead body in a pool, "Let's go back about six months and find the day when it all started." What ensues is a drama, a twisted love story, a satire and perhaps even a horror film, of obsession, self-preservation, desperation and humanity (or the lack thereof), and Wilder and Brackett do not get a word wrong – a remarkable feat considering the whole spectrum of genres that are visited in this film. Similarly, the technical side is also surprisingly advanced for its day, with the lighting, sound and editing all top-notch, and the film begins in a spectacular fashion and ends in one equally mind-blowing.
The cast are utterly sublime. William Holden has the party-cynical screenwriter, part-rent boy, down to a T. In his nuanced performance we see a writer who, like many others in Hollywood, is increasingly powerless against the major machine, and will settle for leading on an old woman to make ends meet. As their professional relationship develops, it becomes increasingly apparent that Desmond is also taking a personal interest in Joe, and she exhibits this by buying him heaps of presents. Joe, whilst uncomfortable with her liking for him, does nothing about it, thus leading Desmond to believe, in her own twisted way, that the two have some sort of love. Gloria Swanson gives one of the strongest female performances as Norma Desmond, the deluded silent movie star lying around doing nothing except living in the memories of her illustrious past. One can't prise their eyes away from her bizarre and frankly, pitiful character, and Swanson's extravagant mannerisms render her utterly magnetic. She is not just deluded in her visions of grandeur as an actress, but also that Joe has any feelings aside from mercenary ones toward her. When she announces these feelings, Joe, disgusted, rebuffs her and leaves the mansion, triggering a suicide attempt on Desmond's part. Gloria Swanson was, herself, a faded movie star from the silent era, and, when first asked to submit a screen test for her role, she, not in a manner not dissimilar to the character she plays, was disgusted. As Betty Schafer, newcomer Nancy Olson has a commendable wide-eyed naivety to her, that contrasts starkly to the soul-sucking backdrop of Hollywood. As the butler, Erich von Stroheim is also rather fantastic. His character is somewhat of an enigma – he is Norma Desmond's ex-husband in a line of many and also her director.
Sunset Blvd
. does not only delve beneath the veneer of the seeming perfection of Hollywood, it utterly destroys it. In its "behind the scenes" of sorts, we see Hollywood as a dog-eat-dog, ruthless, deceitful place, full of soulless, delusional and self-absorbed individuals. Poor Norma Demond is forever living in the past, reliving her former glories. On Joe commenting, "You're Norma Desmond. You used to be in silent pictures. You used to be big", Demond replies, "I am big, it's the pictures that got small," and she continuously plays her old movies in her gothic mansion, watching and rewatching her glory days. Our narrator Joe Gillis seems to see the place for what it was, remarking wryly, "I used to have talent. Now I'm trying to make a living." Sunset Blvd. says so, so much about the film-making industry, and these issues are sadly still all too prevalent today. With an entire array of stars-cameoing-as-themselves, including Cecil B. DeMille, Paramount Studios itself, scandal writer Hedda Hopper, Buster Keaton and H. B Warner.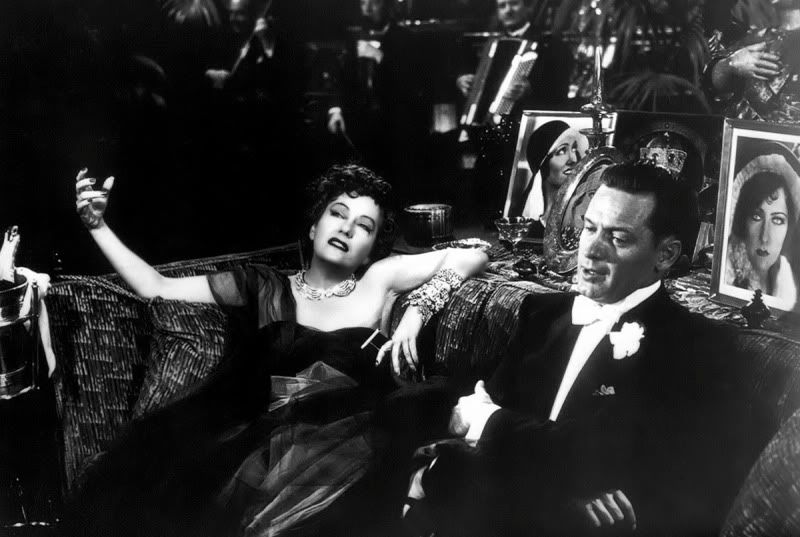 1950 was a revolutionary year for films. Up until then, movies had been entertainment. Grand entertainment, granted, but entertainment and very little food for thought, and in particular very little light was cast upon the process of being a star, which was regarded as some glamorous, perfect thing.
All About Eve
and
Sunset Blvd
. changed this. The former is a look at the cut-throat way in which an aspiring actress will get to the top, the latter is a look at her sad decline after she has been there and no longer wanted. Darkly comic and very, very sad, the finale scene – as Norma Desmond descends the stairs, the camera panning to her face and she utters her lines – renders this a film for the ages.