Sorry, what I mean is, here's my review of Harry Potter and the Half Blood Prince (David Yates, 2009)
16-year-old Harry Potter is now in Sixth form at Hogwarts. However, with Voldemort still at large, now with a growing entourage of Death Eaters out to get him, he could be forgiven for putting academics at the back of his mind. Danger is brewing aplenty, including a very ominous meeting occurring between Narcissa Malfoy, Draco's mother, and the ever-ambiguous Professor Snape. What's more, the teenagers Harry, Ron, Hermione and Ron's sister Ginny struggle with their feelings for each other, causing a complicated mess of emotions. Dark times, indeed.
As with all five of its predecessors, Harry Potter VI is suitably pretty to look at, a masterclass in the art of gliding cinematography. Filmed in ominous navy hues, it lacks the strokes of life that the earlier films' bright colours evoked, though, with such grim themes as death, murder, power and hidden secrets, it seems about fair, and makes me wonder in what colours the final installment will be painted. Handheld camera is employed in the odd scene and this gives the film a grainier edge, which is done well. At times, one wonders if David Yates fancies himself a bit of a Terrence Malick with the odd lingering shot too many, and on the whole, it contributes the the visual flair of the film, which is surprisingly sensual at times, yet harshly austere at others. One cannot fault the CGI, however, which intricately creates some of Rowling's best ideas - the dreams sequences are atmospheric and chilling, Weasley's Wizarding Weezes looked like a place that every child wants to go to. Sound also plays a big role in Harry Potter VI; in a few crucial scenes it is employed to create a menacing presence and the claustrophobic, nauseous sound effects, coupled with the images, do just that.
The cinematography, however, is not the only reason I derived pleasure from looking at this film. On a superficial level, there are two other rather nice things to look at in Half-Blood Prince, and I do believe their names are Tom Felton and Rupert bunging Grint. Rupert Grint gives yet another stellar comedic turn; without giving too much away, a scene where he consumes something intended for Harry and bears the consequences is one of the funniest things you'll see in the cinema all year, and it is Rupert's impeccable timing that gives it such warm humour. On the other end of the spectrum stands Tom Felton. Rather, stands Tom Felton in a black suit, hair gelled back, an expression on his face that is both terrifying and terrified. In Half-Blood Prince the novel, I felt real pathos for Draco, no matter how nasty a person he was, and thankfully this has translated onto screen. Felton gives a terrific performance, in one vital showdown we see the side of him that has hidden behind the bullying demeanor for so long.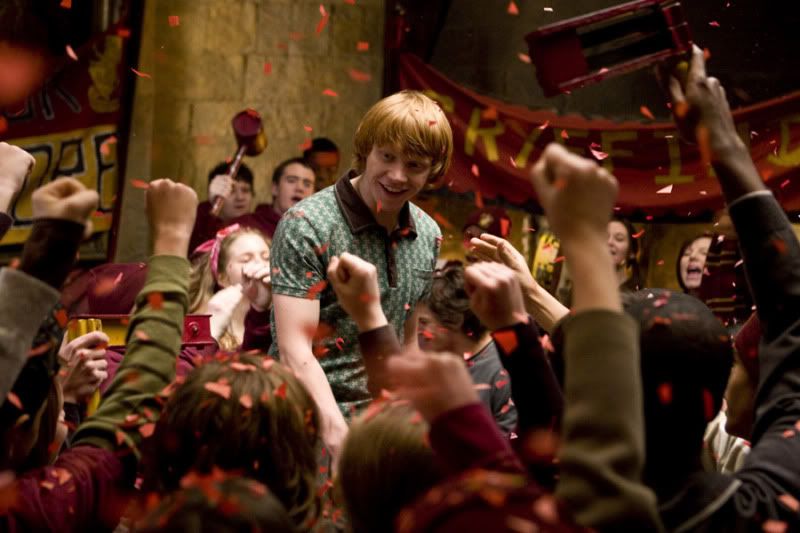 Sadly, the rest of the cast are not so talented. Emma Watson, after many years, still has no clue how to act. It's very sad because in the books, I absolutely adore Hermione, and in the sixth book I found her loveliest, both caring and perceptive to Harry's feelings for Ginny as well as vulnerable in her own love for Ron, as well as completely oblivious to just how amazing she was, which of course made her even lovelier in my eyes. Emma Watson conveys absolutely zero of this, and instead spent the entire film getting on my tits. Speaking of which, Miss Watson's babylons give a supporting performance in Slughorn's Christmas party, which should please the lads. Emma Watson will be pleased to hear that another actress has surpassed her poorness in acting. Whereas Watson overacts to the point of incredulity, Bonnie Wright is so dull that she could put out a fire just by looking at it. Her lack of chemistry with Radcliffe is absolutely embarrassing. Daniel Radcliffe himself seems to be battling against the waxwork model of himself at Taussads for the accolade of being most wooden actor. There are some scenes in this film which require a level of emotional maturity and empathy, and Radcliffe just reverts to what can only be reading the lines off the autocue. Nice.
Thankfully, in a world where badness is balanced out by good, there are some truly talented performances in Half-Blood Prince. Everything Miss Evanna Lynch touches is magic, her Irish accents only contributes to her sense of whimsical charm, and I thought it inspired for the filmmakers to kit her out in a lion costume pre-Quidditch game; she looked adorable. You can tell Helena Bonham Carter is having a whale of a time as Bellatrix, as she reeks havoc all round and generally brings the house down, and Jim Broadbent captures Professor Slughorn very well. The screenplay is a bit duff, the film feels too episodic and disjointed and as ever, too much of the novel has been omitted. However, the episodic nature is not totally bad; in a few scenes, we see Draco lingering around the sidelines menacingly, which is a nice little touch. The humour, when it comes, is welcome - Rupert Grint the court jester, and Jessie Cave, as Lavender Brown, his clingy girlfriend, is utterly hilarious. There are also moments which genuinely scared me. Therefore, I find myself saying what I always say when another Harry Potter movie comes out: I was entertained no end, I laughed and giggled, I fancied Rupert Grint and despised Daniel Radcliffe and Emma Watson. Except this time, I have two more things to add: Tom Felton is completely beautiful and when we were treated to that Tarantinoesque shot of his feet I just wanted to bung, and omg, someone get Bonnie Wright an acting lesson. And a meal or two. And a decent haircut. When all is said and done, however, it sits my favourite film of 2009 so far.