Didn't see anywhere near as many films as I wanted to due to having work, and any spare time I did have was spent watch episodes of Sex and the City (am faintly addicted to New York right now), so, yup.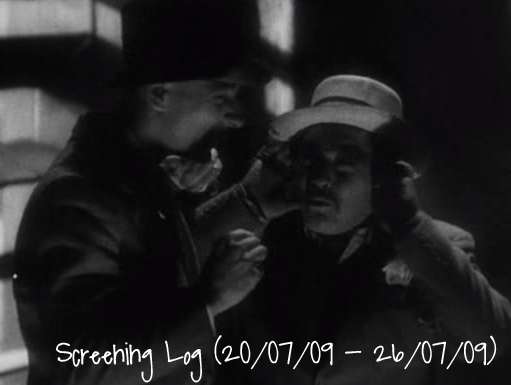 Secret Agent
(Alfred Hitchcock, 1936)
Rather underwhelming Hitchcock outfit in which an unlikely motley crew of John Gielgud, Peter Lorre and Madeleine Carroll are chosen as those to kill a foreign agent, and the ensuing espionage and twists that follow. The best performance of the movie is by Robert Young, as a man who initially seems to be as romantic suitor for Carroll's character, but turns out to be a darker figure. Gielgud is rather bland considering he was the biggest star in England at the time, and Peter Lorre gives one of his masterclasses in hamming it up. Despite the slow pace, the obvious technical shortcomings of the 30's and the rather pat eating, the master's direction keeps Secret Agent just the right side of thrilling.
Mansfield Park
(Iain B. MacDonald, 2007)
Pleasant-but-vapid adaptation of Jane Austen's novel by the ITV. Though I found Billie Piper quite annoying in the lead and Blake Ritson made a terribly impassive Edmund, Hayley Atwell (Keira Knightley's one-time lesbian playmate and husband-stealer in The Duchess) was a deliciously irresistible and Machiavellian Mary Crawford and it was fun to see Maggie O'Neill in a bitchy role. The film itself has a very different interpretation of things than in the book, but as a stand alone low-budget romance, it suffices.
To Die For
(Gus van Sant, 1995)
Comedy painted the blackest of black, To Die For stars Nicole Kidman as a ruthless, power-hungry weather girl who's determined to become famous, and will let nothing stand in her way. She certainly has no qualms about using her feminine charms to canoodle a young, dumb Joaquin Phoenix into killing off her husband Matt Dillion.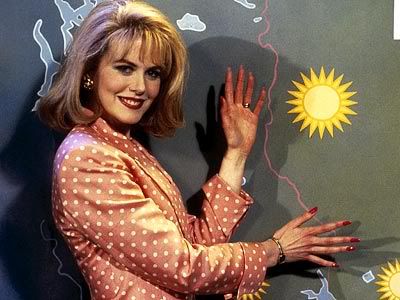 The film was entertaining, scathing, exciting and choc-o-bloc full of terrific dialogue. Nicole Kidman gives off the impression of sugar, spice and all things nice on the outside, but one can see those eyes hiding a mind of real evil, and Joaquin Phoenix is really pitiable as the slow-witted and enamored Jimmy. Casey Affleck is entertaining and indie actress Alison Folland is the film's moral centre as gullible teenager who, like Phoenix, falls under Kidman's spell. The cruel, comedic edge runs throughout but I'm happy to say justice is done, marking To Die For to be a thoroughly enjoyable movie.
The Devil Wears Prada
(David Frankel, 2006)
The book bored me to tears but the big-screen adaptation is entertaining, funny and under the fluffy exterior, has a lot to say about the (again) ruthless nature of the fashion world. There's quality aplenty in the film, whether it be from the stunning wardrobe, which realistically transforms Anne Hathaway's Andy from frumpy college graduate to grade-A fashionista, Meryl Streep's astute portrayal as the taciturn and hard-to-please Miranda, a woman so cold that her two words - "that's all" - could freeze hell, and best of all, English rose Emily Blunt's breakout turn as anorexic, bitchy, and quite desperate Emily. From the first moment we see her, sporting green eye shadow, not a hair out of place, we - and the world - know we are facing a star. A film much cleverer than it looks.
Sunshine Cleaning
(Christine Jeffs, 2008)
Indie flick starring Amy Adams as Nora, a one-time high-school sweetheart who has fallen from grace and now finds himself cleaning houses for her ex-classmates and having an unfulfilling affair with Steve Zahn and being single-mother to her son, who is facing an ultimatum of being put in "retard class" or expulsion from school. Vying to put him through private school, Adams decides to switch to cleaning up after dead people. Enlisting the help of her deadbeat sister Emily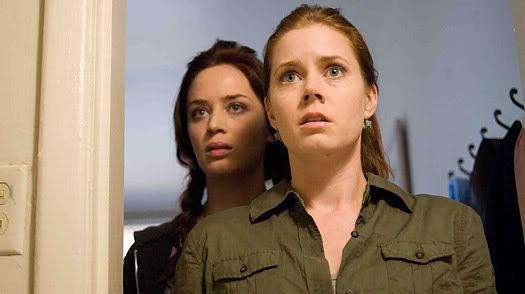 Blunt, the two do their thing, and face some unresolved family tension along the way.
I didn't really know (and still don't) quite how I feel about Sunshine Cleaning. Amy Adams and Emily Blunt are both beautiful, talented, amazing women and I'd always wanted to see a movie with them together, and it was great to see them play against type, and do so so well. Alan Arkin was OK; he basically played the exact same character as in Little Miss Sunshine, and it was a pleasant surprise to see Clifton Collins Jr bung up as this one-armed man. There were moments of real poignancy and some beauty in the minutiae, but overall, the film felt too slight for me, epitomized in the abrupt ending.