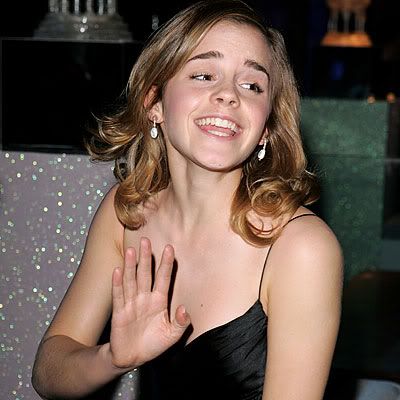 Now, as you may have noticed, Bung here can't seem to turn down an opportunity to lay into Emma Watson. So much so, in fact, that I'm willing to believe sensationalist tabloids just because they're ragging on her:
Of all the "Harry Potter" stars, Emma Watson always has been the most "testy," according to a production staffer who has worked on most of the films based on J.K. Rowling's super-popular novels about the famous boy wizard.

But word coming from Wales -- where "Harry Potter and the Deathly Hallows, Part 1" is being shot (back-to-back with "Part 2") -- has the young actress being "more of a pain than usual."

Daniel Radcliffe, Rupert Grint and the rest of the cast "are a dream to work with," said the source Wednesday, "But Emma is even more moody than usual. ... She's always complaining, showing up late and has upset both cast and crew members with her rudeness. ... She's really become a big diva. ... Everyone's sick of it."

• Based on the final book in Rowling's amazing publishing franchise, "Harry Potter and the Deathly Hallows, Part 1," is scheduled for release Nov. 19, 2010. "Part 2" will come out July 15, 2011. Before all that, of course, "Harry Potter and the Half-Blood Prince" opens July 15
Source
Yer hear? Rupertbung was a joy to work with, whereas Emma, apparently, was a right lil' madam. Figures.
And before you ask, yes I am jealous. Very jealous, OK? Emma Watson, as I've said many a time, is the success story that I will never be. Plus she's pretty with a killer wardrobe and all that, and basically everything I ain't, and every time I see her I see what I shall never be, and hence, Bung's entitled to be a bit bitchy, yes?