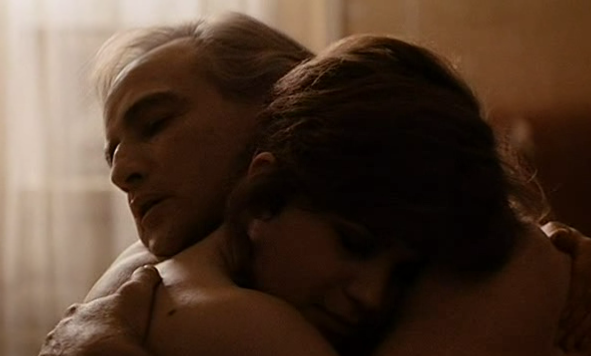 Last Tango in Paris
(Bernardo Bertolucci, 1972)
Grief-ridden at his wife's unexpected suicide, Marlon Brando's Paul embarks on an extremely physical and ultimately destructive affair with Maria Schneider's Jeanne, a confused and neglected girlfriend of Jean-Pierre Léaud's self-absored filmmaker. I desperately, desperately wanted to like this film as I am both a massive fan of 1970s Bertolucci as well as Marlon Brando (well, he is my favourite actor, after all), but it was all I could do from laughing at this. The "human interaction" was embarrassing - the dialogue was extemely poor, the direction was still and self-obsessed and the sex scenes were the second most manky thing I've witnessed this week. As ever, Brando puts his heart and soul into it - his monologue to the corpse of his wife is as affecting as I've been told to find it - but this was far from his best performance of all time, and Maria Schneider's constant floppy line-reading degraded the quality of the acting further. Sloppy and shitty, only watch if you enjoy seeing people using butter as lubricant (which hopefully you don't. So basically don't watch it.)
Knocked Up
(Judd Apatow, 2007)
Highly disatisfying and uninteresting "comedy" about how fat bum Seth Rogen gets Katherine Heigl's high-flying career girl pregnant after being too lazy to bung on a condom, and the ensuing bonding/whining/supposedly hilarity that arises from her being pregnant. The film wasn't totally awful; I really liked Forgetting Sarah Marshall's Jason Segel's turn in it, and I've been told that a
drunken
Emmabung physically resembles Charlyne Yi, so I guess I like her too. Plus there were moments when Rogen's loser of a character did excude a kind of charm, in a so-much-of-an-excuse-for-a-human-being-that-you-have-to-pity-him kind of way. But the two leads have zero chemistry and it's just not a very interesting premise at all.
Lie to Me
(John Stewart Muller, 2008)
Concluding the trilogy of rubbish films, Lie to Me is about a couple in an open relationship who find their bond tested when they find themselves falling for other people. Um... that's about it really, badly acted, written, directed, and a bit of an all-round fail.
Not the best selection of films last week, I'm afraid. Hopefully next week will hold better viewing options.