An amazing line-up of one of my favourite categories this year, with two of the five making my own ballot, and two others being very close.
The nominees -
Amy Adams -
Doubt
Penélope Cruz -
Vicky Cristina Ba
rcelona
Viola Davis -
Doubt
Taraji P Henson -
The Curious Case of Benjamin Button
Marisa Tomei -
The Wrestler
Rankings: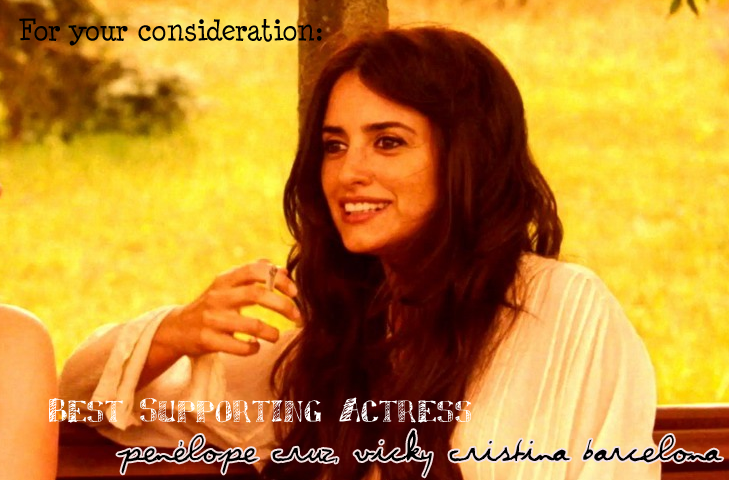 01.
Penélope Cruz, Vicky Cristina Barcelona
As the fiery and rather unstable Maria Elena, Penélope Cruz gives one of her fiercest performances. Every time she's on screen, we can't not watch her, whether it be argue with Javier Bardem, undermine Scarlett Johansson, or wave her cigarette about. Cruz has always been at home with acting very well in her mother tongue, then turning out disappointing performances when required to speak English, but that is not the case here. The script fits her character like a glove, and exhibits the many facets of her character and personality. The most enjoyable performance of the year. Me
waxing lyrical
about Penelope's performance.
02.
Amy Adams, Doubt
In small bursts, Adams' character of Sister James, a naive young nun who finds herself in over her head, could be construed as irritating. That trembling lower lip, those reproachful large eyes, all signs of the stereotypical innocent schoolkid-type performance. But Adams shows that there is more to Sister James than that; caught in the middle of a power struggle between Streep and Hoffman, she's a kind of unwilling go-between, wanting to see the good in Hoffman but finding her mind being invariably poisoned by Streep. Towards the end, I truly felt for her in her plight.
03.
Taraji P. Henson, The Curious Case of Benjamin Button
The Curious Case of Benjamin Button is not, as many hormonal teenage girls may have been hoping, a three hour long romcom where Brad takes his top off at a whim. That said, there is comedy - Fincher's comic retelling of each of the seven ways one of the characters has been struck by lightning, as well as Henson's soulful, heart-warming performance. She plays Pitt's adoptive mother, a woman who, at the start of the film, cannot conceive children of her own, so gives her maternal love to Pitt's manchild. Henson is giving some of the funniest lines in the film, and she's an adorable watch.
04.
Marisa Tomei, The Wrestler
Tomei plays Cassidy, the stripper who catches Mickey Rourke's jaded wrestler's eye, and whose time may soon be up in the lapdancing stint, paralleling Rourke and his misadventures in boxing. Refusing to conform to "tart with a heart" type stereotypes, Marisa Tomei captures every edge of her character: hot and cold, high and low, in and out, up and down.
Apologies, it's playing on my iTunes.
She's great throughout, but her delivery of "I'm here now" - and the subsequent walking away of Rourke - bought tears of sadness to my eyes.
05.
Viola Davis, Doubt
On initial viewing, I was amazed by Davis - and her character's ambiguity regarding her son's potential abuse. But, on reflection, I reckon that, whilst it was an aptly powerful performance, I could definitely see that she was acting.
Who will win:
Penélope Cruz, Vicky Cristina Barcelona
Who deserves to win:
Penélope Cruz, Vicky Cristina Barcelona
Who deserved to be nominated: 1)
Hannah Schygulla, The Edge of Heaven
; 2)
Misty Upham, Frozen River
; and, most controversially, 3)
Mila Kunis, Forgetting Sarah Marshall
. Right, Luke's going to give me beef about t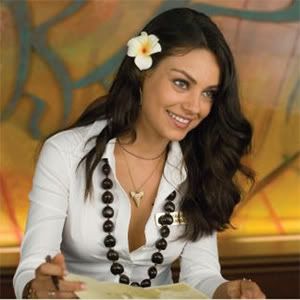 he latter tomorrow over the roast dinner so I shall attempt to justify it. Yes, she did just look pretty 90% of the time she was on screen, as with Freida Pinto in Slumdog Millionaire, Rebecca Hall in Vicky Cristina Barcelona and Amy Adams in Miss Pettigrew. But in Kunis' eyes I also saw a whole history of sadness and being knocked about a bit, a history that, when she retells to Jason Segel's protagonist, she does without any trace of self-pity and resentment; here is a woman that is shaped by his mistakes and has learnt to appreciate the good in the world; something that the main character soon does. Particularly when contrasted against Kristen Bell's self-involved Sarah Marshall, Kunis' humble charms and neat comic timing make you want Segel to make the right choice and, well, forget Sarah Marshall immediately. I thought she was lovely.