Here's a playlist he compiled: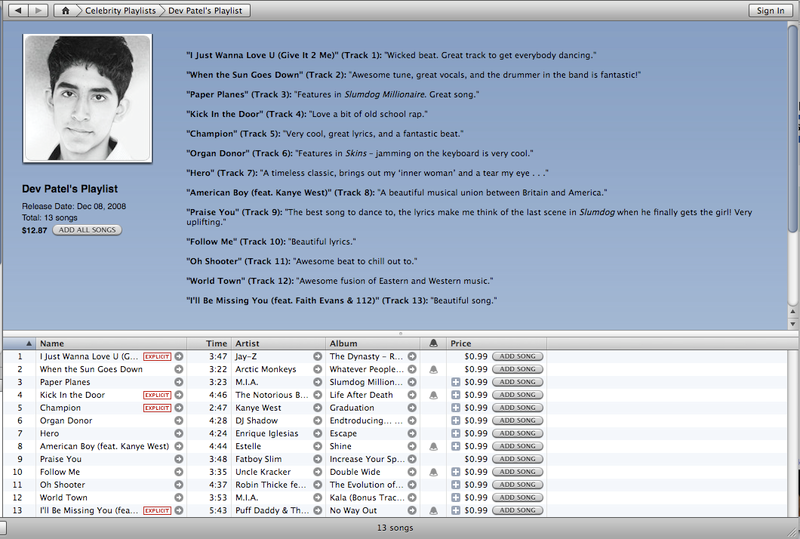 1.
I Just Wanna Love You
/Jay-Z. Haha, a very Anwarish choice.
2.
When the Sun Goes Down
/Arctic Monkeys. I remember hearing this and singing along to it in XL last Monday. We all need a good song about prostitution!
3.
Paper Planes
/M.I.A. Of course I'd be furious if this wasn't on there, a brilliant song in its own right, and is the song that I'm my life by. And of course, I love it more having heard it played twice in SM.
4.
Kick in the
Door/Notorious B.I.G. My my, Dev Patel fancies his gansta rap, don' 'e?? I like this tune, but it's not my favourite from the Notorious B.I.G.
5.
Champion
/Kanye West. Ditto, this is far from being my favourite Kanye West song (Homecoming! Hey Mama! Welcome to the Heartbreak!), but it's still an insanely catchy song in its own right. "Yes I did."
6.
Organ Donor
/DJ shadow. Dev goes for a short instrumental here, and it's very snazzy indeed, an artistic, meandering experimental ditty
7.
Hero
/Enrique Iglesias. Um... yeah. I like Underneath your Clothes by Shakira so I can't really judge too much, but, hmm. Odd choice. Good to know he's a softie at heart though.
8.
American Boy
/Estelle ft. Kanye West. It makes me very happy to think that Dev likes his Kanye!
9.
Praise You
/Fatboy Slim. Dev Patel claims this is the "best song to dance to", but I personally find it hard to dance to dance tracks like this, paradoxically.
10.
Follow Me
/Uncle Kracker. Aww. An adorable song, I didn't see Dev Patel picking this one, but 'tis a good choice.
11.
On Shooter
/Robin Thicke ft. Lil' Wayne. It's got good beats.
12.
World Town
/M.I.A. - the second M.I.A. song in this list has an amazing riff.
13.
I'll Be Missing You
/P Diddy & Faith Evans. A beautiful, heartbreaking song
for the stalker in me
So yay, Dev has got good taste overall!
Here's
a crappy playlist for this week that I put together. They're the songs that sum me up at the moment.