Emma Roberts' Poppy is a right little madam. She lives in a massive bedroom in a massive house and always gets her way; that way generally being of hedonistic spending on Jimmy Choo and Gucci. At the start of the movie, she ruins in for herself when she sabotages her dad's girlfriend's moving in; crossing a very thin line and getting herself sent to boarding school in England as punishment.
On arrival in Abbey Mount School, she wastes no time in making enemies with the Head Girl Harriet, as well as getting into bad books of the head teacher, who, nonetheless, determines to see the good in her. After some amusing episodes at the school, including a Western-style face-off with lacross sticks against Harriet and getting a bucket of dirt poured over her head, Poppy decides she'd rather not deal and sets about getting expelled so she can head back home to be with her bessies in Malibu. And the sure-fire way to get expelled? Why, to snog Freddie, the head's son, of course.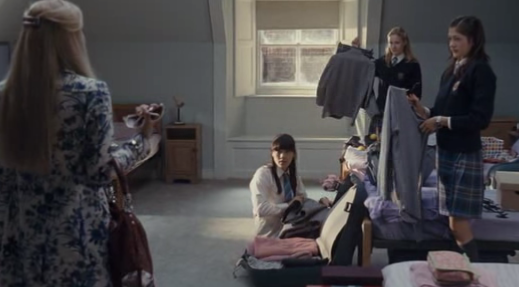 Wild Child does pretty much everything it says on the tin – provide 90 minutes of decent entertainment. As a teenage girl, I saw elements of myself in more than a few of the characters, even in the spoilt lead, and the moments when Poppy's dorm mates speculate over her sexual history raised a wry smile of recognition within me. There are some genuinely funny moments – a throwaway comment about dwarf-prostitutes inadvertently brought memories of In Bruges, Poppy putting "Call Me" cards in a local phone booth leading to the Head Girl getting naughty phone calls, as well as Nick Frost's cameo as a hairdresser who's camper than a row of tents, sporting the line, "And I need a back wax and a night with Michael Buble, but we don't always get what we want". Wild Child won't tax the brain cells in any way, shape or, form, but it's pleasantly enjoyable as writer Lucy Dahl (daughter of Roald) practically spells the plot out for us– Poppy gets reminded to log off her e-mail; one wonders what will happen the instance she forgets(!)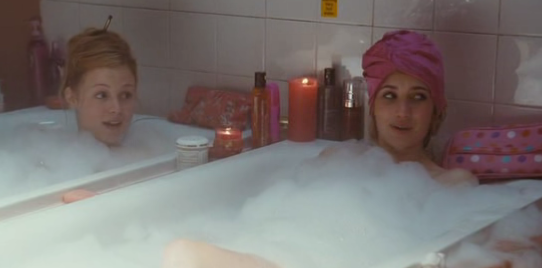 Emma Roberts as Poppy Moore is one of the most grating teens on celluloid. The idea is that her character mellows and becomes a better person as the film progresses, but no amount of dying her hair brown and unconvincing epiphanies about her inner soul could lead me to like her. Likewise, Alex Pettyfer is a complete and utter waste of space as Freddie, both in terms of eye candy value (gimme a footballer, any day), and acting talent, of which he possesses none. The lack of the latter is accentuated with the weak writing in the romantic moments, when we as the audience must really suspend belief that any human not taking the piss would really spout some of the stuff he does. Few on-screen couples have made me want to gag less.
Fortunately, the rest of the cast are an unequivocal joy. My favourite characters
were Kate and Drippy, played by Kimberly Nixon and Juno Temple. They are Poppy's roommates, who slowly but surely become her friends and accustom her to the ways of boarding school life, as well as embracing the fun in her as well. Nixon, who is next to be seen in Cherrybomb with Rupert Grint, is the role of compassion throughout the film, and Atonement's Juno Temple is a fine, fine comic actress who's candyfloss hair and big eyes are a compelling watch throughout. Poppy's room-mates are those that provide much of the girly fun. There's also laughs to be had with the intense smarminess of the Head Girl Harriet, who's hilariously deluded herself into thinking that a) Freddie returns her feelings of love for him and b) she looks like Keira Knightley. Her cronies are somewhat more graceful versions of Crabbe and Goyle, and, like Crabbe and Goyle, they're minions that provide entertainment.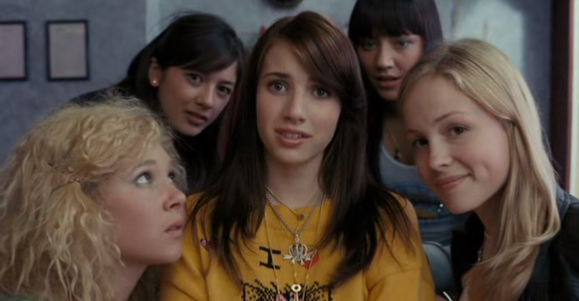 The "I am Spartacus"-style scene, along with the film's attempts to strike emotional resonance made me groan, but on the whole, the larfs I got from the film
were
intentional. It's no Mean Girls and probably won't go on Working Title's back catalogue of masterpieces, but as a fun watch that says a thing or two about who your real mates are, Wild Child certainly suffices.