Let's do this, because...
THE SCREEN ACTOR GUILD AWARDS ARE HERE!
I shall be watching the SAGs on a grainy 4-inch stream, but bitching my way through the night. There are only five film-related categories, but I'm still up for it; it shall be good fun, looking at the clothes, perving on the hot men and generally whining/agreeing about the wins.
If there's anyone else out there, do join me, this is the first time I've attempted to do anything live, so it will probably be a massive fail. Humph.
Alrighty...
12.47:
the show itself is yet to start, and I have bunged my chips + chicken into the oven, and am just looking at the wardrobes tonight. Anne Hathaway looks like J-Lo around 2 years ago in her dress. She has nice hair. And how freaking
thin
is Evan Rachel Wood?
12.51:
Regarding everyone else on the red carpet, Diego Luna looks a complete
mess
with greasy curly hair. Penelope looks absolutely gorge, I am loving the
dinky ruby earrings.
Laura Linney's been brave to wear such a
bright colour
, but I reckon it's paid off.
1.03:
oh Lord, that was a fecking hassle. My own laptop's raping me up good and proper, suddenly refusing to show the SAGs all of a sudden so I literally ran into my friend Anna's bedroom and stole her's, with a brief explanation. But now I can watch it, yay.
1.06:
Kiefer Sutherland and a woman I don't know present Best Actress in a Comedy Show, and the nominees are Christina Applegate, America Ferrera, Tina Fey, Tracy Ullman and Mary-Louise Parker. Tina Fey wins, as she did in the Golden Globes.
And
fuck
, my chips are still in the fucking oven! brb.
1.12:
alright, forget the chips (I may as well have. They're all burnt and charred and the char has gone onto the chicken, which, incidentally, is undercooked, because, despite being a mathematician, I can't freaking synchronise my bloody oven times.) Alec Baldwin wins Best Actor in a Comedy series and the light theme tune of the show plays. In his speech, Baldwin says "it's so nice to see some old friends", and that he doesn't know he'd rather make out with, Tony Hopkins or Diane Lane. Heehe.
1.14
: OK, that was the first half. Rather brief, but then I was swearing at a bottle of vinegar during Tina Fey's speech, which means I missed seeing her talk. This saddens me, because she's pretty much my definition of the perfect woman. Bah. Viola Davis, btw, looks really good in
yellow
, I think the dress brings out her skin tone so well.
1.19
: Evan Rachel Wood comes on in a dark blue/turquoise number. I like the brooch on her shoulder. She's on to present a montage of actors. I see Jodie Foster in Taxi Driver, Haley Joel Osment in The Sixth Sense, and then, I lose count.
1.22
: That was a really random montage. Claire Danes swans on in a slinky red number. She makes a fairly amusing analogy relating to the economy, and then the nominations for Best Esemble Cast, Comedy. They are: 30 Rock, Desperate Housewives, Weeds, The Office and Entourage. The clip for Desperate Housewives, featuring Edie being bitchy about Gabrielle's weight, has Teri Hatcher and Eva Longoria smiling at each other smugly. And for Entourage's clip, they've used exactly the same clip as was used in the Golden Globes, relating to Shia Labeouf in Disturbia.
1.26
: It's 3 out of 3 for 30 Rock!
A familiar looking woman with a plunging neckline that proudly displays her B-cups does the speech (oooh, I remember where I've seen her - from Ally McBeal!), and all I can remember about her speech is that she wore a red dress and another woman wore a blue one, whilst the rest of the cast were in black.
1.28
: Frank Langella and Michael Sheen come on to present a clip for Frost/Nixon. They are a great double act, Langella amusingly pretending to forget his lines and Sheen finishing off his sentences for him. By the by, there was a quick scan of the audience and, random thoughts: loving the jewels on Anne Hathaway's neckline, Kate Winslet's dress is a lovely colour, and Marisa Tomei really should have worn make-up.
1.31
: Kate Winslet looks absolutely gutted with the clip they've shown for Best Supporting Actress. She wins nonetheless, hugging the woman directly in front of her first, before making her way up to the podiukm. She's not looking too ecstatic, truth be told.
1.33
Another commerical break. Soooo, of my predictions, I'm currently scoring 0/1. I was pretty sure that Viola Davis would win actually, and am rather disappointed for Penelope Cruz, not least as Kate Winslet was
so
freaking lead! That said, when she did give her speech, it did seem to mean a lot to her, "I thank you all from the bottom of my heart."
Also, for Amy Adams' clip, without seeing the film altogether, one could be forgiven for thinking her character a whiny turd. That clip they showed "you just don't like him... you're using that to accuse him of something terrible!" reminds me of the CBBC news programme newsround, which always amused me because they always skirted over child abuse cases and said things like "the parents were accused of being mean to the children." Um, that's one way of putting it, I s'pose.
I love Amy Adams' maroon coloured lipstick. It suits her and she is looking so purdy!
My chips are absolutely minging, by the way. That's what I get for throwing 'em in the oven just before a show starts.
1.38
: Christina Applegate (emerald green dress and oversized hoop earrings, I quite like) and Taye Diggs (with glasses, intellectual), come on to present the award for Male Actor in a Dramatic Series. Nominees: Michael C. Hall, John Hamm (audible whoops as his name is read out), Hugh Laurie, William Shatner (who's top button is undone and looks really fat), and James Spader (who's nowhere near as hot in Boston Legal as he was in Secretary.)
The Actor goes to Hugh Laurie.
1.43
: Laurie's speech was classy and erudite, with a nice touch of that good ol' British humour (he claimed to have bet $300 on James Spader, saying, "it's just not my night"), but my favourite thing about his win was that the soundsystem blared Massive Attack's Teadrop as he walked up.
1.44:
The same category, but for women, is now being presented. The nominees are Mariska Hargitay, Sally Field, Elisabeth Moss, Holly Hunter and Lyra Sedgewick. The five clips shown for each actress are all rather intense; it's a pity we get hardly any of these shows over here.
The Actor goes to Sally Field. I connotate two performances with Sally Field: as Robin Williams' ex-wife in Mrs. Doubtfire, and the inspirational Norma Rae in Norma Rae.
Her voice does grate though, as she litanizes all the cast and crew she wants to thank, though she does make a good point, "the actors work hard, but the crew works twice as hard, let's face it." A very good point; it is often easy to forget tha it's those behind the scenes that do the most work.
Also, Gary Oldman is wearing glasses. Hee.
1.47
: OK, Josh Brolin doesn't do it for me, but yesplease! to both Emile Hirsch and James Franco, who accompany him onstage to present a clip for Milk. These two boys look so good in tuxedos! Emile, darling, you could do a lot better than
that.
Anyway, the clip selected is pretty standard. Sean Penn is growing a goatee.
1.49
: from really good-looking men, we go to a sublimely beautiful woman, Emily bunging Blunt. She and Eric McCormack present Best Ensemble in a Drama series. Nominees: Boston "fat cast" Legal, The Closer, Dexter, Mad Men, and House.
The Actor goes to the cast of Mad Men.
1.57:
Absolutely fucking gutted, those three minutes I spent in the kitchen? That was when Dev Patel and Freida Pinto came on to introduce the clip for
Slumdog Millionaire
. I am saddened by this. It's like watching a football match for the full 90 minutes and missing the winning goal because you were on the bog. I am absolutely gutted, and want to go to sleep now.
2.00
: Pardon my French btw, of late, I've begun to swear like an absolute trouper and I know it's not very becoming of a girl, but eh, I can't help it. Alan Rosenberg is rambling away, absolutely lapping it up and pausing every now and then so that the audience can whoop him. Yawn.
2.02:
Forest Whitaker is so moving and sincere in his tribute to James Earl Jones, whom the lifetime achievement award goes to. The camera cuts between Whitaker and Jones, and it's really nice.
2.05
: Wow! I had no idea that James Earl Jones used to have a stutter. Who says you don't learn anything from TV? Also, watching the tribute to him has given me a craving to watch Dr. Strangelove.
2.18:
Ernest Borgnine presents Best Actress in a TV Movie/Miniseries. The nominees are Laura Dern (She has red hair in her role?), Laura Linney in John Adams (she has an accent in her role?), Shirley McLaine in Coco Chanel (she has a cigarette and a crap make-up job in her role), Phylicia Rashad in A Raisin in the Sun and Susan Sarandon for Bernard and Doris. Susan Sarandon's dress really flashes her boobs, by the way.
Winner: Laura Lovely Linney.
2.23:
Laura Linney's speech was nice but nervy, she said "um" an awful lot, but thanked all the usual people and sounded as gracious as usual.
Next, Amy Adams and Viola Davis come on to present their clip from
Doubt
. Amy Adams is wearing a maroon dress which is a nice colour but I'm not sure about the shape or the bow, but her earrings and lipstick suit it so well, plus I like how neatly her hair is tied up in a bow.
2.24
: Marisa Tomei comes on. We see Freida Pinto sitting in the audience, smiling. Now that I've gotten over the initial shock of seeing Tomei, make-upless, I've decided that she doesn't actually look that bad. As Mickey Rourke's character in The Wrestler would say, she looks "clean". She's presenting Best Actor in a Miniseries/Made for TV movie, and Paul Giamatti's clip has him saying "country!" over and over again, but it his character keeps placing emphasis on the first bit, and sounds like another word. Heehee.
2.28:
Susan "boobies" Sarandon (which reminds me, where on Earth is Timmy Shawshank? His bessie Sean Penn's here, and his partner is presenting, so he should be all suited and booted and here as well!) comes on to present the sombre in memoriam, which eulogises everyone that was taken from us last year, including Kim Chan, Majel Barrett, David Groh, Stanley Kamel, Havey Korman, Edie Adams, Paul Scofield, Sam Bottoms, Cyd Charisse, Dick Martin, Paul Benedict, Gil Stratton, Isaac Hayes, Evelyn Keyes, Earth Kitt. Paul Newman is last, and he gets (deservedly), the longest clip. This vids make me sad.
2.37
: Kudos to Kristin Scott Thomas for wearing a trouser suit rather than a dress. She looks rather quaint, with her long hair down and an appropriate amount of bling. She's presenting Supporting Actor. I need to see
Tropic Thunder
. Philip Seymour Hoffman yells a bit. Heath Ledger scares me. Dev Patel's clip is so crap, even he knows it, as he is shown in the audience, smiling awkwardly. I'm in love though! I wanna bung him!
To nobody's surprise, Heath Ledger wins, and not to my own surprise (the shots of him in the audience, after 3 times, kinda hinted at something), it's Gary Oldman that accepts the prize for him. Everyone stands up. "I'm quite emotional", admits Oldman.
2.41:
Eww, Brad Pitt's moustache borders on a lip-tache, although I do think Taraji P Henson (so
that's
how you pronounce her name), has a cute haircut, it's Victoria Beckhman, with a little less rigidity.
2.46
: I really am revolting, but, from this angle, Winslet's boobies looking massive!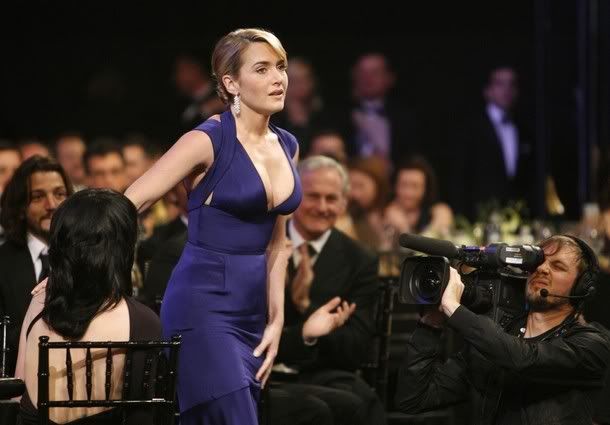 2.47
: Ralph Fiennes comes on to announce Best Actress. Aww, Anne Hathaway looks so proud and happy after they show her clip. Angelina Jolie looks straight at Brad after her's is shown. Melissa Leo (cool hair btw) looks kinda bashful after her clip is played, Meryl Streep exchanges a loving kiss with her daughter. And Kate Winslet looks a wee bit constipated.
The winner is... Meryl Streep. She looks surprised and grabs her daughter, some bloke, Amy Adams, then goes a bit crazy like her character in Mamma Mia! when she saw Colin Firth, Pierce Brosnan and Stellan Skarsgaard together. Standing ovation again.
2.51
: "I didn't even buy a dress!" Streep exclaims, shocked. And it's true, she's wearing what looks like a v-necked kaftan, slightly customized, probably by her daughter. Cue shots of Amy Adams and Anne Hathway, still clapping fondly. "I'm so proud of us girls," says Streep, and the audience share a loud cheer. Even Angelina Jolie's smiling! Nice stuff, even if Streep's character was a bit of a bitch and the performance nothing out of ordinary as far as she's concerned, her gracious and smiley speech makes it impossible not to like her.
2.54:
oh My, Katie Holmes really has gone into Victoria Beckham-copying overdrive. The figure hugging brown dress, the haircut... it's got Posh Spice written all over it. She comes on to announce the winner for Best Actor. The clips are all quite expected, though the sight of Brad Pitt as an old man does make me involuntarily larf a little. Mickey Rourke is slightly less trampy than he was in the Golden Globes.
Sean Penn wins, and the hall erupts into cheers. This is his first win; as he didn't win in 2003 for Mystic River. More standing ovations, and we see Michael Sheen in the audience, looking rather bungable. My God, I'm a horny bung tonight. *sips more alcohol*
2.59:
He gave a good speech, and the audience loved it. The Best Actor race has become quite interesting now.
3.00:
Anthony Hopkins comes on to announce the final category: Best Ensemble. The nominees, as you probably know, are Slumdog Millionaire, Frost/Nixon, Milk, Doubt and The Curious Case of Benjamin Button.
The Actor goes to...
SLUMDOG FUCKING MILLIONAIRE!
zomg, even as a Slumdogger myself, I didn't and couldn't see this one coming. Um... what?!?!
3.04:
I'm in a teensy bit of shock. The SAGs have ended, and I'm probably gonna end up in a loony-bin one of these days because I have actually been sat here, conversing with myself for the last two or so hours. I still can't quite believe
Slumdog Millionaire
won Best Ensemble though, as much as I loved it, it wasn't an "acting" piece, so I really didn't expect that. Anwar was looking mighty fine in a suit though. And I'm so happy for the little kids in the movie. And um, yeah. It's gone three and I'm mildly tipsy but not overly so, so perhaps I shall just go to sleep now, and dream happy dreams about
Slumdog Millionaire
. Bung!