(Oi, I know it was on Sunday night, but only now have I watched the ceremony, so my thoughts shall go on now.)
"This is the Golden Globes, so let's get right to the awards," says Jennifer Lopez, sporting a rather alluring gold number, and so she does, announcing the nominees for Best Supporting Actress. There's a bit of a blunder on her part at first when she stutters over Amy Adams' name, leaving the ginger actress pulling a weird-but-adorable facial expression. The shots of the five nominated actresses show them in all of their glory; each of them look beautiful in their own way. Kate Winslet looks a little put off at first when it's her name that's announced, but she finds her way onto the stage and gives a nice little speech, thanking all the appropriate people, and apologising that "Sorry, I know this is going on a bit". Her speech ends on a bittersweet note, when we remember that Anthony Minghella and Sydney Pollack, both of which produced the movie, never got to see the finished product.
Sting needs to shave. He comes on to present Best Original Song. We get little clips of every single song, and I feel inwardly grateful knowing that "Once in a Lifetime" from Cadillac Records doesn't win, because, bloody hell, there were a heck of a lot of people involved in that song! Anyway, the winner is Bruce Springstreen, who saunters onto stages, grinning, "The only time I've been in competition with Clint Eastwood", and thanking Mickey Rourke for inspiring him to write the song.
Eva Longaria and someone I don't recognise but who's apparently on Desperate Housewives come on, first to point out Rumer Willis as the Miss Golden Globe of 2009, who waves shyly in the corner. Then, they announce the winner for Best Supporting Actor in a TV Programme. There's shots of all five nominees in the crowd, and my my, Tom Wilkinson's getting on a bit. Speaking of which, he wins. His speech is fairly brief but succinct, and we get shots of various people in the audience, including Renee Zellweger's terrible barnet.
Eva and that bloke come back on to announce the winner for Best Supporting Actress in a TV Programme. One of the nominees is Melissa George, who looks an alarming lot like Mena Survive. Laura Dern wins for her performance in Recount, and celebrates a quick smooch with the man sitting next to her. She's sitting very far away from the stage and as she walks up to it, we get a good few shots of her, and she's got a great figure! In her speech, she thanks director Jay Roach, which opens my eyes quite a bit; I thought he only directed Meet the Parents style things, not political TV dramas!
Don Cheadle's had his head shaved. He's also wearing a very shiny looking tie. Throughout the night, the 10 films nominated for Best Drama and Best Comedy. His film to talk about is Burn After Reading, which, he notes, is directed by the Coen brothers, two people who have never asked to work with him. Anyway, he has a bit of banter with his Ocean's 11/12/13 co-star Brad Pitt sitting in the crowd about his character being a thickie, before wrongly branding BAF an "original comedy masterpiece". And then they show a clip from the film, again reminding me how much I dislike it.
It's not everyday you get to see not one, but two annoying young actors together on stage, but that's what we get when Hayden Panettiere and Zach Efron saunter up to the stage. "One of the most prestigious categories on the show", says Panettiere, who brings to life Claire from Heroes, one of the most annoying TV characters.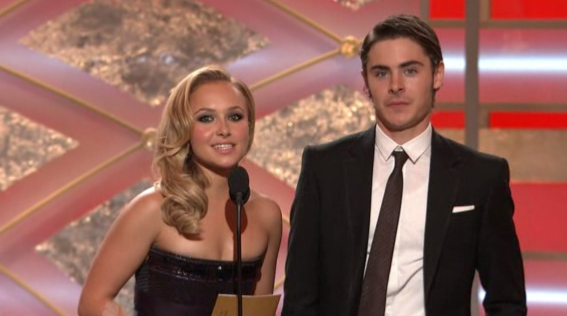 Gabrielle Byrne is the winner, and he hasn't bothered to show up, and Zach Efron hasn't bothered to remember what he's supposed to say when the winner isn't there. Oh, and Panettiere gets lost on the way off the stage.
Zachary Quinto manages to plug his upcoming Star Trek movie before announcing Best Supporting Actress in a TV show, though not before denying it, "We're not here to talk Trek tonight." When saying the names of the nominees, we get treated to shots of the stars in the crowd. January Jones is really pretty, though you can see from her eyebrows that she's died her hair. Kevin Bacon has a receding hairline and a really greasy face. Anyway, Anna Paquin wins.
Next up is Ricky Gervais, to present the clip for Happy-Go-Lucky.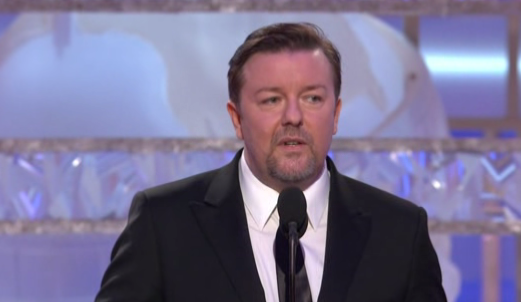 Is it me, or has he put on weight? He's got an alcoholic beverage in his hand, and that seems to drive him to do a little stint on stage, first singling out Kate Winslet, with a cheeky little reference to the episode of Extras that she appears in, wherein she says "do a holocaust movie and the Oscars will just come your way", which goes down a storm with her. Gervais pushes it a bit too much with the Holocaust jokes, in my opinion, because there are sparse laughs when he says "the problem with doing a holocoast movie is that you don't really get a gag reel on the DVD." Hmm. Anyway, the clip from Happy-Go-Lucky is annoyingly short; it deserves way better than that.
The Jonas brothers come on to present Best Animated Movie. Wall-E wins it, and rightly so, and Andrew Stanton, who has now made three of my favourite films (A Bug's Life, Finding Nemo and Wall-E), gives a rushed but comprehensive speech.
Johnny Depp, last year's winner for Best Actor in a Comedy/Musicial, comes on to announce the winner of Best Actress in a Comedy/Musical. When Meryl Streep's name is said, we get a shot of Amanda Seyfried clapping proudly, as if Streep's her real mum or something. Daww. Sally Hawkins is the rightful winner (take note, BAFTA), and the win clearly means a lot to her; she cries a bit as she finds her way to the stage, and then a bit more when she's on stage.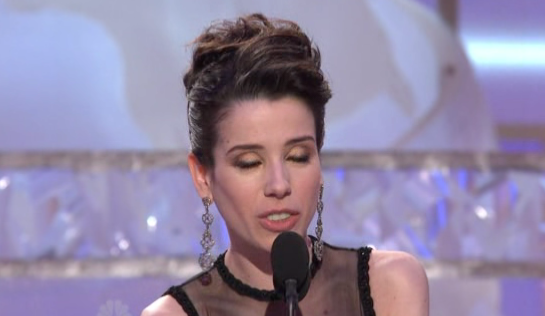 She names her rivals in her category "Goddesses", and has a bit of a smoochy moment with Emma Thompson in the crowd, which is absolutely adorable. It's one of the best Golden Globe speeches I've heard (to be fair, I've only started watching the Golden Globes since 2006, but w/e), her last thanks going to "the special guiding light Mike Leigh", and a sign of what we could have to look forward to if she gets a rightful Oscar nomination.
Next up it's my baby Jake Gyllenhaal, as blue-eyed and beautiful as ever. I'm not too sure about the goatee, though, Jake. He's here to present a clip from The Curious Case of Benjamin Button, and in doing so, pronounces "Alexandre Desplat" a bit wrongly, but, we can forgive that; he's hawt!
Drew Barrymore and Jessica Lange swan onto the stage, and they share a very cosy moment onstage, which is nice to see. One of programmes nominated for Best TV mini-series, A Raisin in the Sun, surprises me, because it has none other than P Diddy in it! Also, John Adams has got Laura Linney, Paul Giamatti and Tom Wilkinson and Recount has got Kevin Spacey and Tom Wilkinson. I might give a few of these shows a watch if they ever come over the UK. John Adams is crowned the winner, and yet another star is revealed to be involved with the film – Tom Hanks, Exec Producer. He is very Hanksy, giving an entertaining and shouty speech.
Demi Moore uses her time on the stage to tell her daughter Rumer not to slouch, which is amusing because my mother says the exact same thing to me! Tom Cruise, who's nominated for his performance in Tropic Thunder, is looking very dapper, all shaved and suited and booted in the audience. When Heath Ledger's name is first said, and subsequently announced as the winner, there is a very loud round of applause and everyone stands up. Chris Nolan comes to accept the trophy, and a scene from The Dark Knight where Heath is particularly creepy is played. Nolan then speaks a few words, of how Ledger's death is "a hole ripped in the future of cinema". Heath will be "eternally missed, never forgotten."
Frost/Nixon is the next clip to be presented, and it has nominations for the screenplay, which is done by British screenwriter Peter Morgan, who had a double whammy of good writing in 2006, The Queen and The Last King of Scotland. What amuses me quite a bit, by the way, is that they play "Death is the Road to Awe" as the backing track to clips from the film. I do love that track.
The Golden Globe for Best Foreign Film goes to Waltz with Bashir, though Colin Farrell has a slight gaffe in trying to open the envelope to tell us this. "It's not what it used to be," he says. Cue shot of Brendan Gleeson-lookalike in the audience. In Bruges was funny.
Two stars of The Dark Knight, Maggie Gyllenhaal and Aaron Erkhart come onto stage to give the award for Best Actress in a TV Drama. Catherine Keener's hair is a frizzy mess, though she still looks rather sexy. Similarly, Laura Linney's looks like it could do with a good brush or too, but she, too, is still pretty. Laura is the winner, and Maggie seems particularly happy to say her name. In her speech, she says that John Adams is a project that was "extraordinarily special", and that she's thrilled with everyone associated with John Adams.
Gerard Butler, who I recently watched in 300, comes on stage and smothers us with his thick accent. He's here to show the clip from In Bruges, and I realise, feeling rather silly, that the Brendan Gleeson-lookalike I'd spotted earlier in the audience, um, actually was Brendan Gleeson. Lulz.
Seth Rogen and Elizabeth Banks present Best Screenplay, and I noticed that one of these nominated writers wear glasses. I find this promising. The actual winner, Simon Beaufoy, for Slumdog Millionaire, doesn't, but he's ecstatic with the win, as is Anwar off Skins. Heehee. Simon Beaufoy is nicely British and gives a quick, good speech, telling the story of the development of the writing of Slumdog Millionaire, and thanking Danny Boyle, who, by the way, is also wearing glasses.
Patrick Dempsey and some blonde woman come onstage next, and it's Best Actor in a Comedy series. Alex Baldwin, Steve Carrell, Kevin Connolly, David Duchovny and Tony Shalhoub are the nominees, Alex Baldwin is the winner. He won two years ago for the same role, we're told. Pity I have no idea what the show's about, and also, that the acoustics are so crappy that we can't hear much of his speech. That said, we do see him thanking Tina Fey, who waves him off. Her prize is coming.
Before they leave us for the ad breaks, we get shots of the Hollywood stars intermingling, and it's really endearing to see America Ferrera get cosy with Selma Hayak, Clint Eastwood chatting with Glen Close, and Anne Hathaway sharing a kiss with someone who I really can't recognise -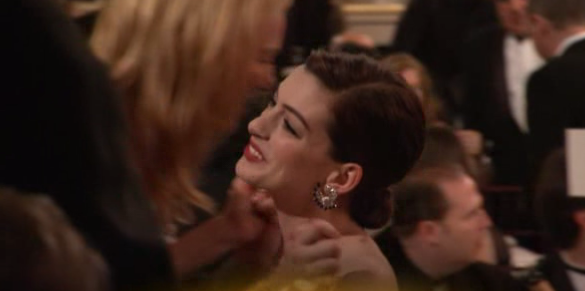 Renee Zellweger's costume designer had an absolute 'mare, because she looks frigging awful. The clip from The Reader that she's come on the present makes me lol, because's it's rather steamy compared to the others so far, and Kate Winslet herself cringes.
Megan "Skanky" Fox and Terrence Howard come on to announce Best Actor in a TV Series, the Golden Globe going to Paul Giamatti for John Adams. The crowd seem very happy that he's won. Right, I need to see John Adams.
Laurence Fishburne and Glenn Close come on next, and I still can't get over how absolutely awful Close looks. Just… no. They're here to announce the winner of Best Comedy/Musical, and I must say, from the clip (which features the skinny bloke off Forgetting Sarah Marshall) of 30 Rock, I quite want to see it. The clip for Entourage is also quite funny, "you have the same role as Shia Labeouf in Disturbia, you look scared, kiss the chick, and you're on your way to the next Indiana Jones movie." The Golden Globe goes to 30 Rock, and Tina Fey, who looks very alluring and feminine, leads the way with the rest of the cast to accept the award. As star, executive producer and writer, is there anything this woman can't do? She hands the award over to another producer of the show, who says that he's doibng all the speeches now that Barack Obama is president. It's a riotously fun and spirited speech, full of soul, flavour, and asides to Jay-Z.
Pierce Brosnan is the next host, and he talks about Mamma Mia! for a while. Watching the montage, I realise how utterly cheesy the film is, but I still feel like watching it again.
Kate Winslet and P Diddy come on to present the award for Best Score. Not, as P Diddy keeps calling it, "Best Soundtrack." Score and Soundtrack are not the same fricking thing, beetches. Oooh, it must have passed me by the first time I saw the Golden Globe nominations, because I was not aware that Defiance had been nominated. Some people in my flat are going to watch that tonight. Slumdog Millionaire is declared winner, and A.R. Rahman, an adorably short Indian bloke saunters up on stage to collect his award.
The nominees for Best Actress in a TV Comedy/Musical are Christina Applegate, America Ferreira, Tina Fey (who's name is shouted out, as opposed to said), Debra Messing and Mary-Louise Parker. Applegate and Ferreira are sat next to each other. Tina Fey wins, and despite not looking too chuffed about winning, we all know she's loving it really. She's quite beautiful, in her own little way, and I envy her courage for wearing a dress with such a massive v-neck. Must come with the territory.
"When I think of Steven Spielberg, I think of history", says Martin Scorsese, presenting the Cecil B. Demille award. I saw Scorsese and Spielberg sitting together in the audience, and thought it absolutely quaint. Scorsese waxes lyrical about Spielberg, and he has a way with words that he does with images, because his description of Spielberg, whilst hyperbolic, is right on the money and well-said. We then get a montage of all of Spielberg's best work so far. It's very well put together but I've seen so many similar ones before that I'm not really paying it all that much attention. That is, until the track in the background modulates to Theme from Schindler's List, and then I start watching. I do heart that tune. In his acceptance speech, Spielberg tells us about how his viewing of Demille's own The Greatest Show on Earth at the cinema made him want to become a filmmaker. It's a great anecdote and a terrific insight in what makes one of our most influential filmmakers tick. And the sight of him and Scorsese walking off, arm in arm, was beyond gratifying.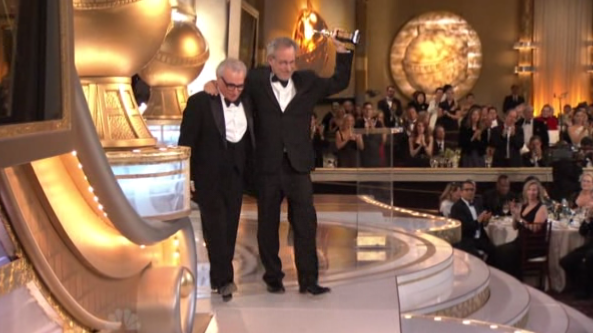 Emma Thompson and Dustin Hoffman appear next, and Miss Thompson absolutely laps it up, adoring the attention.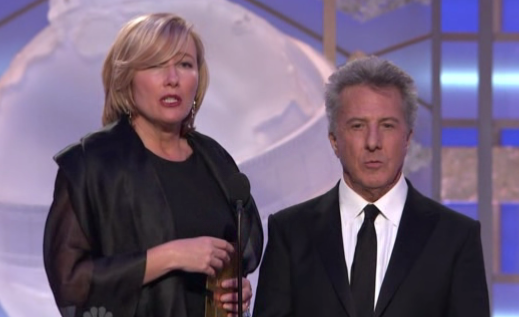 Best Director goes to Danny Boyle, and he reels off the usual litany of people that you thank, which allows me a nice shot of Dev Patel standing in the audience, in a tux. Yummy yummy.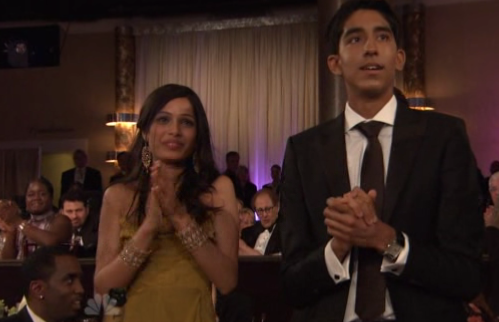 It's a bit naff that I haven't seen so many of these films. Must correct this straight after my last exam on Monday. One of them to see is Revolutionary Road, which stars my beloved Leo (who is looking more like Kate's other half than Sam in the video, I must say). Sigourney Weaver presents the clip for the film, which makes it look somewhat melodramatic, but definitely meaty.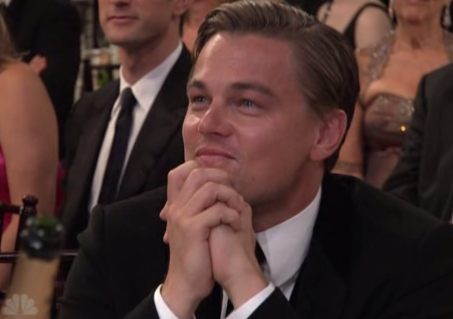 Sandra Bullock has her tongue firmly in cheek when she lists the five men nominated for Best Actor in a Comedy Musical. Javier Bardem, she notes, "gets to use his brush on Scarlett Johansson, Rebecca Hall and Penelope Cruz". The winner is Colin Farrell, who, not learning from fellow Irishman Daniel Day Lewis' gaffe last year, is sporting an earring. Two earrings, actually, one in each ear.
He talks for quite a while, but that's OK by me because I like Irish accents, and there's the odd shot of Brendan Gleeson looking really happy in the audience. And Farrell notes that In Bruges bears the "sweetest, sweetest redemptive qualities." Not sure about that, but I do like the word redemptive.
Rather predictably, it's Salma Hayek who presents the montage for Vicky Cristina Barcelona, and she really goes to town with describing Maria Elena, casting many a loving look at her bessie Penelope Cruz in the audience.
Sacha Baron Cohen makes a cheeky nod to botox when he comes to present Best Comedy/Musical. He comments on how the recession has affected all the celebrities; "Victoria Beckham hasn't eaten for three weeks. Martin Sheen has to have sex without paying for it. And Madonna has to shed one of her personal assistants. Our thoughts go out to you, Guy Ritchie." There's a resounding "oooooh!" when he says the last line, but I don't know why they're so shocked; I foresaw that punchline a mile ahead. In any case, it's true. Vicky Cristina Barcelona (Cohen pronounces Barcelona "Barthelona", the right way, which, annoyingly, is not how I'm allowed to say it because when I used a Spanish accent for Spanish names in the company of my friends, I'm accused of being poncy. Bung) takes the prize, and most of the cast and crew of the film haven't actually bothered to show off; Cruz being the only recognisable face on stage.
Bollywood legend Shahrukh Khan and Slumdog Millionaire babe Freida Pinto present a clip from Slumdog Millionaire. As you have heard me whine many a time now, I'm still yet to see this film, but the clip that is shown – Jamal phoning a friend and the friend in question rushing to get to the phone and getting there just in time – gave me hot flushes for some reason. My, my, I really can't wait to see it!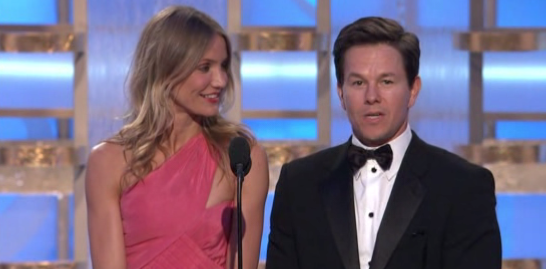 Cameron Diaz and Mark Walberg indulge in a bout of saying "hi", "hi", "hi," "hi," to each other over and over again, which makes me smile because that is something that someone I know does all the time. Kate Winslet wins Best Actress, and Sam Mendes gets absolutely owned, because Kate turns to Leo to hug first.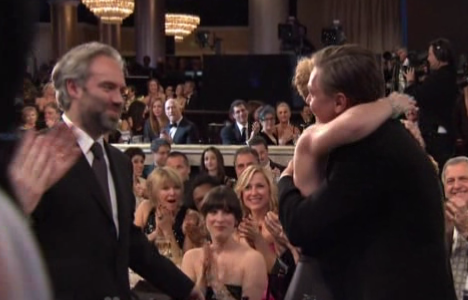 Fair enough really; after all, they are responsible for the romance of Titanic, one of the most iconic romances of all time, but it just made me smile. What also made me smile was how Kate Winslet tried to repeat what she did with Supporting Actress and thank her fellow rivals, only this time, not having a list, and resorting to "Oh God, who's the other one?", when she forget Angelina Jolie. Jolie was not amused, but I sure as hell was. Also, I was terrified for a moment that Winslet had gone and spoilt Revolutionary Road for me when she said to Sam Mendes in her speech, "Thanks for killing us…", but then continuing "everyday by making us work so hard", so I don't know how it ends. I shall find out for myself.
Blake Lively and Rainn Wilson hit the podium next, and the latter proudly announces, "We're TV actors." He also tries to make a joke of how he auditioned for the same part as Blake in gossip girl, but the joke kinda fails because he said "I would have made a great gossip girl", and Blake Lively does not play the fricking gossip girl off gossip girl. Grrr. Oh, and Mad Men wins, and they're a sparkling, happy bunch onstage, save the one off Desperate Housewives, who is literally growling. Just look –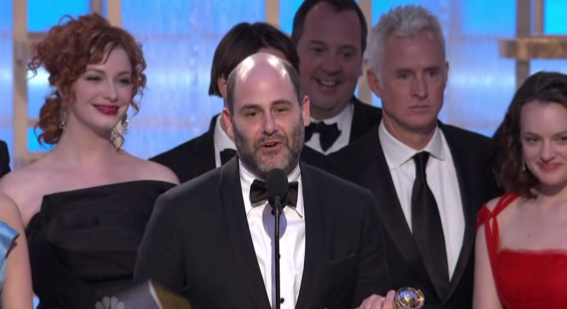 Susan Sarandon gets straight to the point when announcing Best Actor, which goes to Mickey Rourke. Rourke takes his sweet time getting on stage whilst Evan Rachel Wood and Marisa Tomei clap and look a lot happier about the win than he does; and no amount of $30,000 Armani suit can disguise the fact that he is an absolute hobo.
He just looks like a bit of a mess, really. That said, it's talent, not looks that matter, and from what I hear, he's got talent in spades in his performance in The Wrestler. I've said it before, and will say it again, Darren Aronofsky giving him the finger: lulz. Marisa Tomei looks really old, sitting in the audience. And when Rourke thanked his "dogs", I thought he was being derogatory over his previous shags, but no, he meant it literally. He was thanking his pet dogs.
Tom Cruise does the biggest honours of the night; presenting the award for Best Motion Picture – Drama. Winner, Slumdog Millionaire. "Jai Ho" from the soundtrack blasts over the sound of the cheering and clapping. The producer does the speaking, and he reveals that he's had a few Martinis, and finds it hard saying Hollywood Foreign Press Association. His accent gets progressively more cockney as his speech goes on, and before it goes on too long, he's cut off, but not before he slips in "thanks to my girlfriend, for only dumping me once", and then Tom Cruise gives a quick "good night everybody", to cut off a frenetic, fun and starry night, and one that will certainly do no harm whatsoever to Slumdog Millionaire's Oscar chances.
Bloody hell, I wrote a lot. What were your thoughts on the 2009 Golden Globes, then? (Writing this has given me a craving to go and listen to "Jai Ho" a few times.)