Firstly, I'm so annoyed that I didn't watch the Golden Globes. I could have caught it on an online stream, but meh, it would have gone on until the early hours of the morning, and, with me having exams, I decided against it. However, I feel I've missed quite a bit of entertainment in doing so, because this year's golden globes had some of the best costumes I've seen for a while, interesting sounding celebrity presenters, not to mention their good ol' montage at the start, this time set to "When I Grow Up". (I remember, in 2006, they had a montage to "Dontch'a", so maybe the producers have a thing for the Pussycat dolls?
Anyway, here are the winners, and the presenters too. Just so I can fully see what I was missing out on.
OPENING MONTAGE
Set to the song "When I Grow Up"

FILM SUPPORTING ACTRESS
Presented by Jennifer Lopez
Winner: Kate Winslet - The Reader

FILM ORIGINAL SONG
Presented by Sting
Winner: "The Wrestler" - The Wrestler - Bruce Springsteen

MISS GOLDEN GLOBE (Rumer Willis)
Introduced by Simon Baker and Eva Longoria

TV SUPPORTING ACTOR
Presented by Simon Baker and Eva Longoria
Winner: Tom Wilkinson - John Adams

TV SUPPORTING ACTRESS
Presented by Simon Baker and Eva Longoria
Winner: Laura Dern - Recount

FILM CLIP FOR "BURN AFTER READING"
Introduced by Don Cheadle

HOLLYWOOD FOREIGN PRESS ASSN. PRESIDENT (Jorge Camara)
Introduced by Eva Mendes

TV DRAMA ACTOR
Presented by Zac Efron and Hayden Panettiere
Winner: Gabriel Byrne - In Treatment

TV DRAMA ACTRESS
Presented by Chris Pine and Zachary Quinto
Winner: Anna Paquin - True Blood

FILM CLIP FOR "HAPPY-GO-LUCKY"
Introduced by Ricky Gervais

FILM ANIMATED FEATURE
Presented by the Jonas Brothers
Winner: WALL-E

FILM COMEDY ACTRESS
Presented by Johnny Depp
Winner: Sally Hawkins - Happy-Go-Lucky

FILM CLIP FOR "THE CURIOUS CASE OF BENJAMIN BUTTON"
Introduced by Jake Gyllenhaal

TV MOVIE OR MINISERIES
Presented by Drew Barrymore and Jessica Lange
Winner: John Adams

FILM SUPPORTING ACTOR
Presented by Demi Moore
Winner: Heath Ledger - The Dark Knight

FILM CLIP FOR "FROST/NIXON"
Introduced by Tom Brokaw

FOREIGN LANGUAGE FILM
Presented by Colin Farrell
Winner: Waltz with Bashir (Vals im Bashir) - Israel

TV MOVIE OR MINISERIES ACTRESS
Presented by Aaron Eckhart and Maggie Gyllenhaal
Winner: Laura Linney - John Adams

FILM CLIP FOR "IN BRUGES"
Introduced by Gerard Butler

FILM SCREENPLAY
Presented by Elizabeth Banks and Seth Rogen
Winner: Slumdog Millionaire - Simon Beaufoy

TV COMEDY ACTOR
Presented by Patrick Dempsey and Amy Poehler
Winner: Alec Baldwin - 30 Rock

FILM CLIP FOR "THE READER"
Introduced by Renee Zellweger

TV MOVIE OR MINISERIES ACTOR
Presented by Megan Fox and Terrence Howard
Winner: Paul Giamatti - John Adams

TV COMEDY SERIES
Presented by Glenn Close and Laurence Fishburne
Winner: 30 Rock

FILM CLIP FOR "MAMMA MIA!"
Introduced by Pierce Brosnan

FILM ORIGINAL SCORE
Presented by Sean Combs and Kate Beckinsale
Winner: "Slumdog Millionaire"- A. R. Rahman

TV COMEDY ACTRESS
Presented by David Duchovny and Jane Krakowski
Winner: Tina Fey - 30 Rock

CECIL B. DEMILLE AWARD TO STEVEN SPIELBERG
Presented by Martin Scorsese

FILM DIRECTOR
Presented by Dustin Hoffman and Emma Thompson
Winner: Danny Boyle - Slumdog Millionaire

FILM CLIP FOR "REVOLUTIONARY ROAD"
Introduced by Sigourney Weaver

FILM COMEDY ACTOR
Presented by Sandra Bullock
Winner: Colin Farrell - In Bruges

FILM CLIP FOR "VICKY CRISTINA BARCELONA"
Introduced by Salma Hayek

FILM COMEDY/MUSICAL
Presented by Sacha Baron Cohen
Winner: Vicky Cristina Barcelona

FILM CLIP FOR "SLUMDOG MILLIONAIRE"
Introduced by Shahrukh Khan and Freida Pinto

FILM DRAMA ACTRESS
Presented by Cameron Diaz and Mark Wahlberg
Winner: Kate Winslet - Revolutionary Road

TV DRAMA SERIES
Presented by Blake Lively and Rainn Wilson
Winner: Mad Men

FILM DRAMA ACTOR
Presented by Susan Sarandon
Winner: Mickey Rourke - The Wrestler

FILM DRAMA
Presented by Tom Cruise
Winner: Slumdog Millionaire

The HPFA are quite keen on Kate then, it seems. As I've seen The Reader nor Reservation Road, I can't actually comment on the performances. I am quite a fan of hers, but I just would have liked to have seen some other performances win in one of the other two categories.
Also, Slumdog Millionaire seems to be a firm favourite of the HPFA; receiving their three most important awards – last year, though Atonement took Best film, Screenplay went to No Country for Old Men and Director went to The Diving Bell and the Butterfly, splitting the main prizes more evenly. Equally, in 2007, thought Babel took Best Film, Direction went to Scorsese for The Departed and Screenplay went to The Queen. It was only in 2006 that Film, Director and Screenplay all went to the same film. Guess which. (Hehehe, I mentioned that that on purpose.) Either way, I'm sure Slumdog Millionaire are celebrating –
Aside from that, there were no major surprises. I did better on the predictions than I thought I would – predicting Sally Hawkins and Colin Farrell were seriously just random bits of wishful thinking – although I am kind of sad for Alexandre Desplat. And does the Golden Globe win for Rourke now make him frontrunner ahead of Penn? Or was he frontrunner all along? Which reminds me, add this to your list of things you don't see everyday - Darren Aronofsky giving Mickey Rourke
the middle finger.
Lastly, allow me to be a teensy bit jealous that the Jonas brothers presented Best Animated Film. Even though criticizing them makes me a big dirty hypocrite as I listen to their music (their covers of Busted's What I Go to School For and Year 3000 are adorable), I just don't think it's right that they're allowed to give an award to Wall-E, when they probably don't love the film as much as me, and don't understand how lovely that film is. Especially as one of the Jonas brothers is two years younger than me, peh.
Anyway, as I'm yet to see a good portion of the films (but don't worry, I will), I don't have anything else to say about the wins, so, photos from the night!
I'm not loving Sally Hawkins' haircut, from some angles she looks like Daniel Day-Lewis; not good.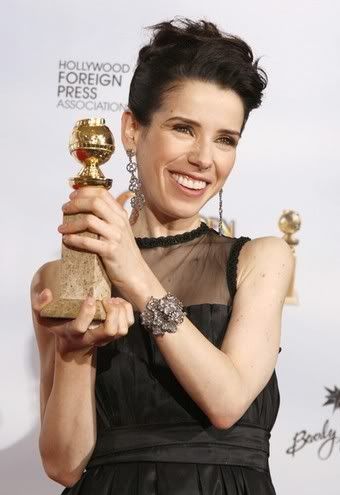 They're gonna have a sexy time. (Mature, real mature of me.)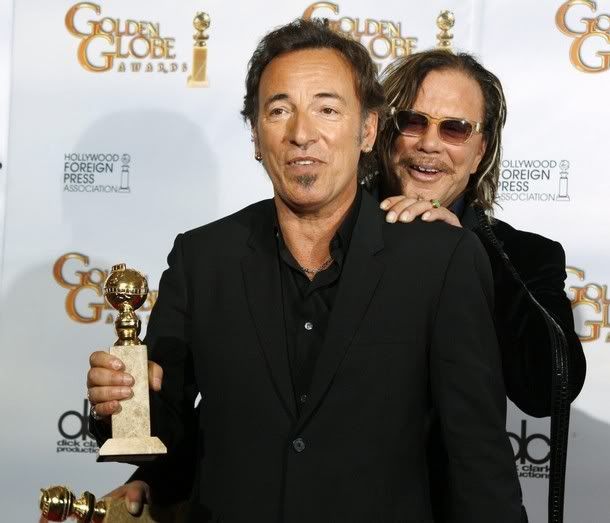 The cast of Mad Men;
Kate and Sam and her two awards: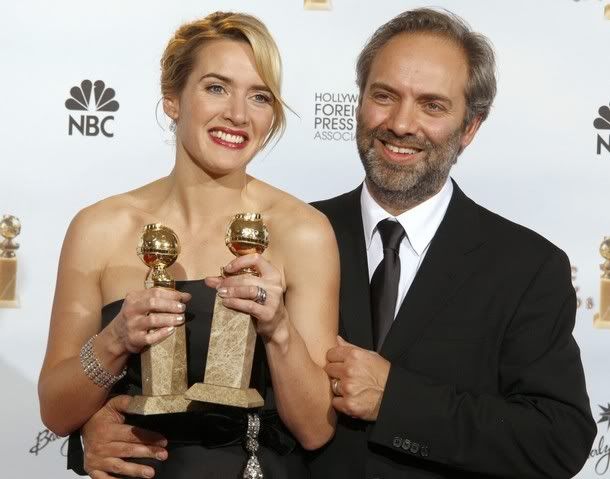 The Slumdog Millionaire lot –
Colin Farrell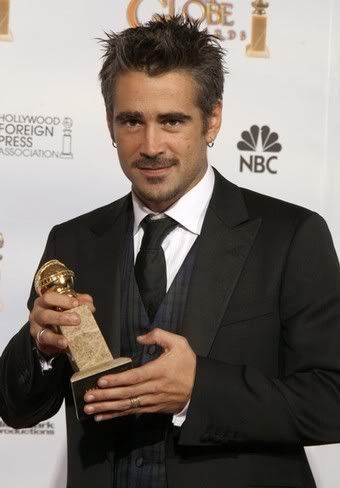 My nomination for worst dressed of the night:
Glenn Close.
And this Ryan Seacrest fella from the US does bring some lulz, methinks. He called out to Angelina Jolie and Brad Pitt from the red carpet last night and they ignored him (
watch here
), and he later called her "cold" for not replying. I larfed like a bitch when I watched that vid. He's one of
those
, that think no one must dare miss them. lulz.