Post in participation with the
Supporting Actress: Class of '08
blogathon over at StinkyLulu's.
"Life is a work of art" reads the tagline to Woody Allen's 2008 Summer hit, Vicky Cristina Barcelona, which tells the story of two young women, Vicky and Cristina, their Summer in the Catalan capital, wherein in the former looking for art, they both become entangled with the smouldering, sexy and disturbed artist Juan Antonio, and, invariably, his mercurial and downright unstable ex-wife, Maria Elena. It is Penélope Cruz's performance as the latter that is the standout performance of the film; a character driven to dangerous places due to her passion for Juan Antonio, and Cruz goes to town with her, giving one of the most entertaining and certainly the most vibrant performance of the year.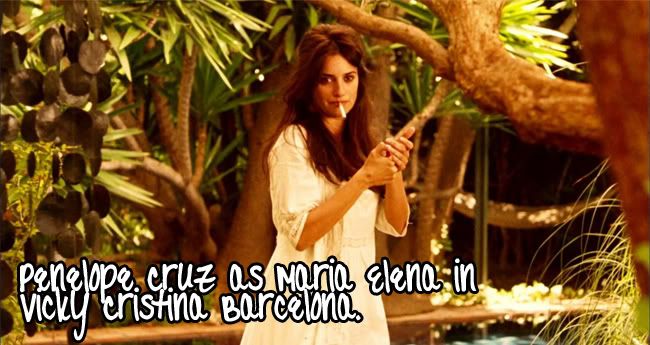 Woody Allen cleverly keeps Maria Elena out of the frame until a good half of the film has gone; characters mutter surreptitiously about her thunderous relationship with Juan Antonio and rumours are thrown about who hit whom – but no-one really knows for sure. The anticipation for her appearance builds and builds, and when the entrance comes, it's everything we were hoping for: her moody bitch really puts Scarlett Johansson's Cristina in her place, whilst simultaneously giving her ex-husband a severe talking to in her mother tongue Spanish. Cruz is transcendent; like a whirlwind, her presence alone redresses the balance of chemistry that originally only existed between Johansson and Bardem.
Penélope Cruz fully steps into the role of Maria Elena, a striking character that is by turns alluring, interesting, funny, unhinged, and moving. Indeed, as the film progresses and Maria Elena warms to Cristina, choosing to guide and nurture rather than verbally abuse her, the former begins to help the latter with her photography, and it is here that Cruz demonstrates the softer side of Maria Elena. Cristina, meanwhile, is drawn closer and closer to the fiery brunette, and, perhaps it is the talented cinematographers, the gorgeous Spanish guitar playing in the background or the simple fact that knowing it's set in Spain, but, the lesbian kiss between Johansson and Cruz isn't anywhere near as seedy as you would usually perceive these things to be. Indeed, the three of them (Maria Elena, Cristina, Juan Antonio) embark on a three-way relationship and whilst it does test the bounds of believability, Penélope Cruz is there to keep it just on the right side of sensuous.
The chemistry between Javier Bardem as Juan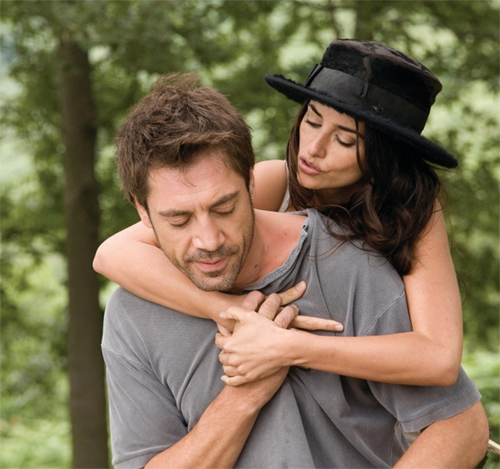 Antonio and Penélope Cruz is astounding. Even though the latter is so crazy in love that she once tried killing her ex-husband for simply looking at another woman, he is still inevitably drawn towards her. The scenes in which Bardem and Cruz argue in Spanish are a joy for the ears and the eyes. Although she is given just a few scatterings of appearances, Penélope Cruz dominates every scene she's in with her electrifying presence.
In the fine ensemble that Woody Allen has put together (even Scarlett Johansson manages not to irritate me as much as usual), Penélope Cruz wipes the floor with her co-stars. She's a joy to watch from start to finish, but there are three scenes in particular that she truly shines in – when Cristina tells her and Antonio that she plans on leaving and Maria Elena gets angry, her initial introduction, and, my personal favourite, "Chinese? You think that's beautiful?" and then proceeding to bitch about the Chinese language.
As unpredictable as she is dangerous, Maria Elena has been to hell and back for love (literally – she tried committing suicide), and that's how she likes it. Nattering away at 500 words per minute in Spanish, unbelievably beautiful, even when chain-smoking and direct to the point of brutal, Penélope Cruz's Maria Elena is someone grabs you by your (metaphorical) balls in this film and doesn't let go until the credits have rolled. I think I'd go lezz for that.