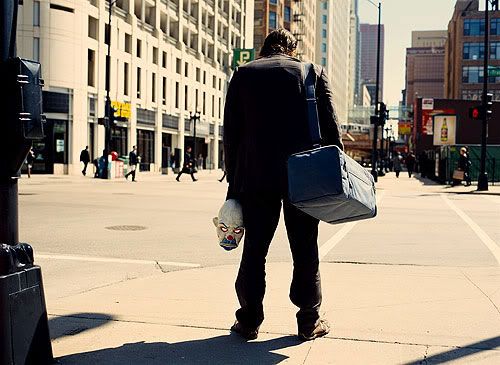 The Guardian
have listed their eight
most ridiculous plots
of 2008, with favourites of mine Iron Man, Hancock, Man on Wire and Sex and the City movie all making the cut. But perhaps the most predictable of their choices was their no.1, The Dark Knight. They've written –
Wait, so the Joker really orchestrated that big truck chase just so that he could get caught and go to prison, then he could kidnap that guard and grab his phone to make the call to set off the bomb he'd previously sewn inside the henchman in the next cell? That would kill the guy who stole the mobsters' money, thus enabling him to … er, what? Heath Ledger's Joker may have been a psychopath, but he had a nerdish capacity for forward planning.
Yes, well. They have a point. But still, it's a superhero movie; everything about it's far-fetched. Like, I really don't think anyone would have the time, patience or know how to make a tracking device based on the bluetooth in everyone's mobile phones, now, would they? And if we're at it, how come The Guardian didn't list the part where Heath Ledger staggers around for three hours wearing face paint? That's pretty ridiculous, is it not? Bottom line is
The Dark Knight
is what it is - a superhero movie with some twists and turns, and as such, it tests the belief a little. But that's what I was looking for in the movie, damnit!