I remember this day; this day last year was my last day of the winter term at Sixth form! And how do I know this? Because it was SAG nominations on that Friday, as it is on this Thursday! Whee!
Anyway, I thought I'd take a more hands-on approach to predicting this year, in terms of actually, er… predicting things (especially as I have now seen Milk and Changeling [and also The Tale of Desperaux, but no-one cares about that], so I'm in a more respectable position to be making comments.)
So, with 5 hours to until the nominations are announced, here are my predictions:
Best Actor
Leonardo DiCaprio,
Revolutionary Road
Clint Eastwood,
Gran Torino
Richard Jenkins,
The Visitor
Sean Penn,
Milk
Mickey Rourke,
The Wrestler
Sitting on the bench: Frank Langella
, Frost/Nixon
& Brad Pitt,
The Curious Case of Benjamin Button
I'm going out there and predicting Eastwood ahead of Langella, just 'cos I feel like it. (Incidentally, does Clint Eastwood ever sleep? Two films of his out this year, one of which he starred in, not to mention all that composing he does. What a guy!)
Best Actress

Anne Hathaway,
Rachel Getting Married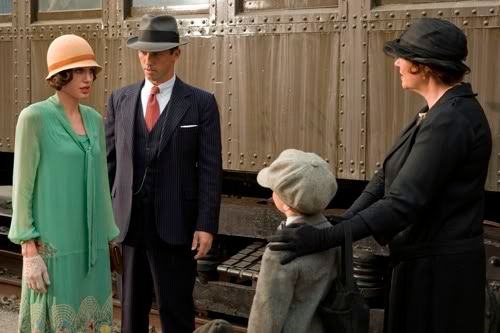 Sally Hawkins,
Happy-Go-Lucky
Angelina Jolie,
Changeling
Meryl Streep,
Doubt
Kate Winslet,
Revolutionary Road
Sitting on the bench: Melissa Leo,
Frozen River
& Kristin Scott Thomas,
I've Loved You So Long
I saw Changeling yesterday and whilst I didn't think the movie was ~all that~ (sorry Clint!), Jolie herself was very impressive, and I thought she outdid her performance in A Mighty Heart, where she had the accent, the crappy hair and darkened complexion. Here, she's more natural, and displays her character's sanity even when it is repeatedly questioned.
I've also seen Sally Hawkins' performance (lovely, my favourite female lead of the year) and Kristin Scott Thomas in I've Loved You So Long, which, despite being a bit Woodland Court-esque in its incessant smoking and rah middle-classness, Scott Thomas was wonderful, particularly in the scene where she's explaining why she went to prison in her job application.
Best Supporting Actor
Josh Brolin,
Milk
James Franco,
Milk
Philip Seymour Hoffman,
Doubt
Heath Ledger,
The Dark Knight
Michael Shannon,
Revolutionary Road
Sitting on the bench: Dev Patel,
Slumdog Millionaire
& Emile Hirsch,
Milk
Er, yeah, I'm going all out for Milk, really. Saw it yesterday and it is easily one of the finest films of the year, and, whilst Penn is indeed the star man, the supporting performances were all excellent too. Hirsch and Brolin were better in the more conventional sense, but James Franco's was my favourite supporting turn in the film. And no, it's not just 'cos he's cute. :P
Best Supporting Actress
Amy Adams,
Doubt
Penelope Cruz,
Vicky Cristina Barcelona
Viola Davis,
Doubt
Taraji P. Henson,
The Curious Case of Benjamin Butt
on
Marisa Tomei,
The Wrestler
Sitting on the bench: Kate Winslet,
The Reader
& Rosemarie DeWitt,
Rachel Getting Married
I HAVE JUST DOWNLOADED VICKY CRISTINA BARCELONA AND AM GONNA WATCH IT TODAY! YAY!
Anyway, I really want Lovely Amy Adams to get an SAG nomination, so I'm predicting her for one.
Best Ensemble Cast

Doubt
Milk
Revolutionary Road
Vicky Cristina BarcelonaThe Wrestler

Sitting on the bench:
The Curious Case of Benjamin Button & The Dark Knight

Milk is a wonderful movie. Doubt looks great, albeit stagey. Rachel Getting Married looks good but serious. Revolutionary Road reunites Kate and Leo. And… The Wrestler has that whiny Bruce Springsteen song.
Would love it if The Dark Knight got nominated, though.
--
In other news, my constant girl-crush Emily Blunt is
dating
John Krasinski, the fella that plays Jim in US's The Office (the equivalent of Tim in the UK version.) D'aww.
Here
they are, so cosy together. He'd better not mess her about like Michael Buble did, or I'll be round there, having words!
--
I shall be back to check how good/bad my predictions were!