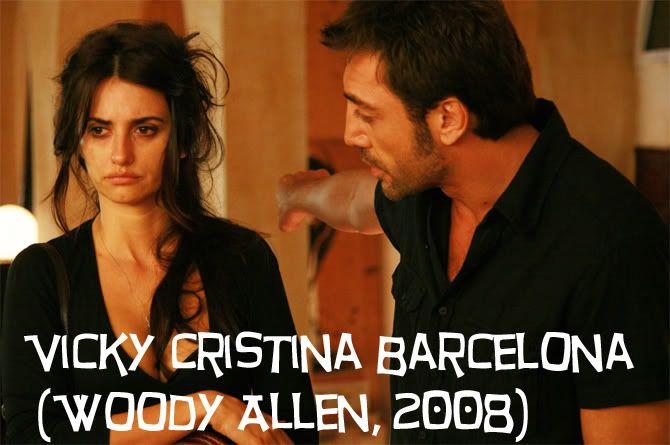 Love triangles. We've all been there. Whether it be two girls after the same guy, or two men loving the same woman, or a teenage girl fancying a teenage boy who fancies another teenage girl, the age old love triangle has been depicted again and again on celluloid. This year, Woody Allen has a go, with his story of two American girls who travel to Barcelona, Vicky and Cristina.
Vicky (Rebecca Hall), a student in Catalan Identity, is conservative and grounded, and is engaged to Doug, a secure but unexciting option. Cristina (Scarlett Johansson), on the other hand, has come to accept pain as part of love, and would sacrifice all for that one movement of passion, and has come to Barcelona to get over her last relationship, which ended badly. Together, they are staying at the picturesque villa of Judy (Patricia Clarkson), and her husband Mark. One day, at an art exhibition, the broody, red-shirted figure of Juan Antonio (Javier Bardem) catches the eye of Cristina. Later that night, the two girls bump into him at a restaurant, at which he bluntly invites them to come to Oviedo to him on a plane, go sightseeing with him during the day and to "make love" with him during the night. Vicky rejects his offer immediately, Cristina is tempted, and hence, the girls take up his offer. And so begins an extremely tangled love affair, which only becomes more complicated once the ex-wife, Maria Elena (Penelope Cruz), re-enters the picture.
Beautifully photographed with lovely sequences of Spanish guitar being played, Vicky Cristina Barcelona is Woody Allen's postcard to Barcelona, just like Match Point was with London. This is his fourth film in a row shot outside the US, and the change of scenery seems to be to his pleasure; you can tell he had a rollicking good time filming VCB, surrounded by the three actresses Hall, Johansson and Cruz (the latter of which he makes share a lesbian kiss in a later scene in the film.) The film itself is somewhat too episodic for my liking, epitomized by the voice over narration of Christopher Evan Welch, which, whilst helps to keep the story moving, does grate after a while, and contributes to a slightly cheesy tone of the film.
That said, there are some moment of fine comedy. Rebecca Hall has the neuroses of a younger, female, more vibrant Woody Allen, and she's amusing to watch throughout. Penelope Cruz is on absolutely sizzling form. From her entrance (post-suicide attempt by her character), she looks every bit the husband-attacking, tempestuous flame that she's described by others to be. Her facial expressions to Johansson in the "Say something in Chinese" scene are hilarious. Allen has written Maria Elena to be bitchy, bolshy, brash and a bit unstable, and she makes hilarious viewing. The interchanges between Bardem and Cruz wherein they throw Spanish about are amazing; I can't understand a word they're saying (and I studied Spanish), but never before has the language sounded so sexy. Their chemistry is terrific, and brings back memories of their Jamon Jamon days. It's later revealed that she tried to kill him for betraying her with another man's wife. Fair enough, you might say. Then it turns out that he only cheated "with his eyes." Easily, one of the most entertaining characters of the year.
In between the sightseeing, smoking, and sexy scenes, Woody Allen does manage to slip the odd bit of philosophising in. Themes of loving, but not being in love, of doing the right thing or the thing you want to do, and whether we'll ever really know what we want are all thrown about, never with any real conclusion. In the end, everyone is back where they started, better or worse for it, no-one really knows. Either way, Vicky Cristina Barcelona is a gentle, easygoing comedy with some great performances and maturely carries an underlying thread of melancholy throughout.
Nominations:
Best Supporting Actress – Penelope Cruz (win)
Best Original Screenplay – Woody Allen
--
From one Cristina to another, it's Christina Aguilera's 28th birthday today. Perfect opportunity to list my top 7 songs from her –
01. What a Girl Wants
02. Candy Man
03. Beautiful
04. Oh Mother
05. Hurt
06. Ain't No Other Man
07. Lady Marmalade