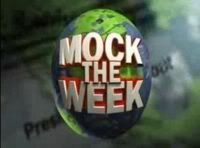 Thursday night signalled the return of one of my all-time favourite comedy shows,
Mock the Week
, (and Friday the return of a less-loved, but still entertaining,
Would I Lie to You
?) And thank God, because without the comedy shows, I do think that I would have started to go mad with the bad blood from Summer.
Mock the Week came back in rollicking good form, with guests Lucy Porter and Michael McIntyre (whom I had the pleasure of seeing live last year) in addition to the show's regulars Russell Howard, Hugh Denis, Andy Parsons, Frankie Boyle and the show's presenter Dara Ó Briain. I always learn quite bit about current affairs from watching MTW, and surely enough, one of the things I learnt this week was that inflation in Zimbabwe is 1 million per cent. However, that was only after a lot of banter encompassing topics from Amy Winehouse's constant state of drunkenness to the Media over-reaction to that 14-year-old Brit winning young Wimbledon. Then there was the creatively titled "Britain's Got Jokes", wherein four fo the contestants did a spot of stand up, before the caption round. In this week's round, the actual caption was "Church Decrees Women Bishops", with a photo relating to the outcry aagins the female bishops. Of course, the panel knew very well what the actual caption was, but that didn't stop them from having a bit of fun first. "Christ Didn't Wear Bras" was one suggestion. "Church Don't Want Birds" was another.
Finally, it was the familiarly brilliant round "Scenes We'd Like to See", which had me in total stitches. Despair at the state of society clearly exists in these comedians, but following the prescription that laughter makes the best medicine, they show us that all you can do is laugh.