Yeah, I know it's a half a week after the event, but I don't have Sky, OK? Blame them, not me!
The results:
Best Motion Picture: "No Country for Old Men."
Lead Actor: Daniel Day-Lewis, "There Will Be Blood."
Lead Actress: Marion Cotillard, "La Vie en Rose."
Supporting Actor: Javier Bardem, "No Country for Old Men."
Supporting Actress: Tilda Swinton, "Michael Clayton."
Director: Joel Coen and Ethan Coen, "No Country for Old Men."
Foreign Language Film: "The Counterfeiters," Austria.
Adapted Screenplay: Joel Coen and Ethan Coen, "No Country for Old Men."
Original Screenplay: Diablo Cody, "Juno."Animated Feature Film: "Ratatouille."
Art Direction: "Sweeney Todd the Demon Barber of Fleet Street."
Cinematography: "There Will Be Blood."
Sound Mixing: "The Bourne Ultimatum."
Sound Editing: "The Bourne Ultimatum."
Original Score: "Atonement," Dario Marianelli.
Original Song: "Falling Slowly" from "Once," Glen Hansard and Marketa Irglova.
Costume: "Elizabeth: The Golden Age."
Documentary Feature: "Taxi to the Dark Side."
Documentary Short Subject: "Freeheld."
Film Editing: "The Bourne Ultimatum."
Makeup: "La Vie en Rose."
Animated Short Film: "Peter & the Wolf."
Live Action Short Film: "Le Mozart des Pickpockets (`The Mozart of Pickpockets')."
Visual Effects: "The Golden Compass."
What I liked
: -

- Marion Cotillard's speech. It was heartfelt, teary, emotional, and the joy shone all over. The big bear hug she shone with Forest Whitaker after was utterly adorable too. I already own two pictures of that bear hug, because it's just so… aww!
- Jon Stewart presenting. Some of his jokes (Jolie's babysitter, for example) felt like they'd been said a couple of times before that night in some form or another, but he was still a darn good host with charisma and comic timing to boot. "Thank god for pregnancy" and his joke about Cate Blanchett were amongst the night's finest moments.
- Furthermore, letting Marketa Irglova come back on stage after Glen Hansard had hogged the limelight and Bill Conti's orchestra had cut her off was a really classy thing to do (did anyone notice that whilst he babbled away, she stood behind him, looking like there was gonna be trouble when they got home late?). Her speech was also lovely, really genuine and heartfelt, in such a short space of time.
- Daniel Day-Lewis getting "knighted" by Dame Helen. That was really amusing. His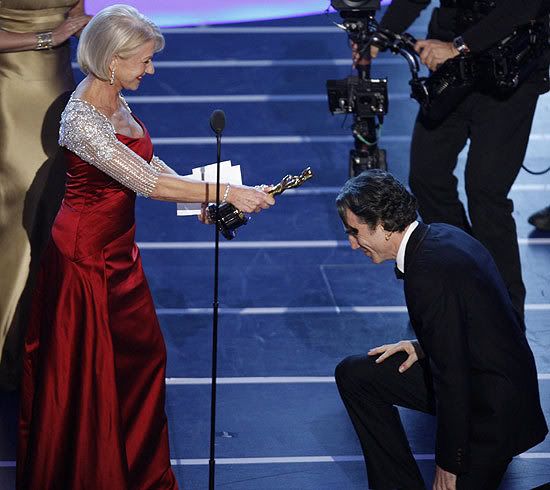 speech was pretty good too, thanking his grandfather, his dad, and the actor who played his adopted son in TWBB, but he loses marks for that bit about "springing like a golden sapling out of the mad, beautiful head of Paul Thomas Anderson." Bung?
- Tilda Swinton likening the Oscar to her agent.
- Javier Bardem speaking to his mother directly in Spanish during his speech. Men who still care for their mummies are total ♥.
- Audience reactions. Cate Blanchett's
look
at hearing Marion Cotillard's name called out was hilarious, and it was great watching Frances McDormand in the audience getting all excited and emotional about the Coen Brothers' win.
- Cate Blanchett truly cheering everyone throughout, like a real movie fan. I'd been ragging on her at the beginning of Oscar season because I was bitter about her taking Saoirse's Oscar (which didn't even happen… lol) but I guess having already won one, she didn't mind that others got it, and her reactions throughout the night were all spirited and great.
- Diablo Cody's speech, especially her calling Ellen Page "superhuman", and Jack Nicholson's blatant perving on her. Priceless.
- James McAvoy. He could have done with a shave, but... I still would. The glimpses of Saoirse Ronan rocked too, she looked young and naive, yet mature and classy. ♥ And she stayed so close to James McAvoy and Ann-Marie Duff at the Governer's Ball! Aww!
- The kissing! Whether it be kissing a trophy, kissing George Clooney or kissing arse, there was a noticable lot more of it this year than previously. I reckon it's all down to 4 Europeans winning the 4 acting prizes. A kiss on the mouth was quite continental.
- Just the all round good taste of the stars and everyone there. Sure, there were
duddy jokes, but on the whole, everyone had made a real effort and their star power shone throught. Ellen Page and Saoirse Ronan are destined to be stars.
What I didn't like
: -
- Atonement winning just one?!?!?!?! The score was integral to the film and I'm really glad Dario Marianelli got rewarded, but come on people!!! Its set! Its green dress! Saoirse Ronan!!!
- The performance of Happy Working Song, without Disney animals in the background.
It just… doesn't work without them, it's an interactive song! Whichever idiot decided that Amy Adams should stand up onstage on her own deserves to get punished thoroughly.
- The performance of That's How You Know, by Kristin Chenoweth. She just didn't exude any of Amy Adam's loveliness.
- The bee montage when Jerry Seinfeld's "Bee" of the non-entity Bee Movie gives out an award. How dare they cut Marketa's speech, and allow a crappy plug of a crappy movie?
- The Coens looking so utterly… unexcited about winning. I heard on Classical fm that one of them takes Oscars seriously and the other one couldn't care less, but to be honest, they both looked rather blasé about it all. When contrasted with Scorsese's delight, they seemed even more bored. (Still glad they won though.)
- DDL's earrings. He's a class act, but, no.
- The Diving Bell and the Butterfly coming away with nothing. nada. rien. Poop.
Final note
:
The Oscars apparently hit an all-time low with viewing figures this year. I would so have watched live if it was actually broadcast on terrestrial TV, people! Overall, with the exceptions of a few moments, I didn't find it a massively exciting ceremony, but it was still a "nice" one. I don't agree with a lot of the choices (heck, I feel quite strongly that
Transformers
got snubbed), but those that did win were so gracious and lovely that it would be churlish to complain.
Lovely images: