The nominees are:
-
American Gangster
(Arthur Max; Beth A. Rubino)
-
Atonement
(Sarah Greenwood; Katie Spencer)
-
The Golden Compass
(Dennis Gassner; Anna Pinnock)
-
Sweeney Todd
-
The Demon Barber of Fleet Street
(Dante Ferretti; Francesca Lo Schiavo)
-
There Will Be Blood
(Jack Fisk; Jim Erickson)
How I did: 80%, surprisingly. I was totally randomly guessing when predicting these, but I managed to get Atonement, Golden Compass, Sweeney Todd and, most impressively, There Will Be Blood. I predicted Elizabeth II instead of American Gangster.
And here are my rankings…
01.
Atonement
My personal fave of the bunch by a long way. Atonement's got it all – a beautiful country estate, to depict the luxurious lifestyle of an upper-class family in the sweltering summertime, as well as the less glamorous but still cosy little cottage in which Robbie and his mum live in. Then there are the sets which capture the horror of war, are full of dark despair, whether it be the nurse's office, the barren roads of England or the war sites themselves. In Atonement, the art direction shifts between, wistful (Briony at the swimming pool), beautiful and tragic, ending with that heart-rending bit by the cottage. Every picture in Atonement tells a story, and a very beautiful one at that. A.
02.
Sweeney Todd
B+
Dante Ferretti chose for a weird monochrome colour scheme, which worked fairly well. B+.
03.
The Golden Compass
B
Some parts of the art direction work exactly as I'd pictures in Philip Pullman's novels, the others, not so much. I liked the battle scenes and the differentiation between Lyra's Oxford a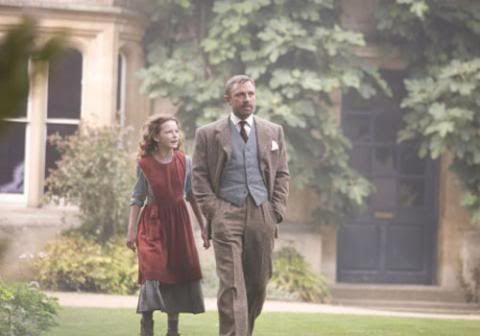 nd our Oxford. The lanscapes really are beautiful though, resembling something of a far-off world. B+
04.
There Will be Blood
B
There were landscapes, religious instituions and, but it completely captured the distinctive time and place that PT Anderson was trying to convey. B.
05.
American Gangster
Maybe I just can't remember, but I really don't think there was anything hugely difficult to recreate in this film? Alright, Ridley Scott had to show the dangerous and drug-riddled Harlem in the 60s and 70s. The fashion is pretty cool and accurate. The gang-life is portrayed quite well. There's a whole lot of dark hues of grey and blue, with the occasional lot of gold bunged in. But overall, it was so… blah! D.
Who will win:
Atonement
Who deserves to win:
Atonement
Who deserved to get nominated:
The Assassination of Jesse James, Harry Potter, Sunshine
(um…hello??? You picked a bunch of druggy night clubs over this?!?!?)