Clothes rock.
Here are the nominees:
Across the Universe
- Albert Wolsky
Atonement
- Jacqueline Durran
Elizabeth: The Golden Age
- Alexandra Byrne
La Vie en Rose
- Marit Allen
Sweeney Todd: The Demon Barber of Fleet Street
- Colleen Atwood
How I did: 60%. I correctly guessed
Atonement
,
The Golden Age
and
La Vie en Rose
. I did predict a slightly "out there" nomination in the form of
Hairspray
, but it really went to
Across the Universe
. (which I'm totally OK with, whilst I loved Pfieffer's wardrobe in
Hairspray
, most of the clothes in the film had were vintage pieces of clothing, whereas the wardrobe in
Across the Universe
had to be specially designed for the movie) And
Sweeney Todd
should have been obvious.
So, onto my rankings:
01.
Atonement
Keira Knightley's emerald dress has been voted the best movie costume of all time, and, whilst I don't think it eclipses Marilyn's white dress in The Seven Year Itch or Miss Hepburn's Givenchy dress in Breakfast at Tiffanys's, it's certainly up there. But more on that later, let's not ignore the rest of the costume work done by Jacqueline Durran, (who also provided the earthy, beautiful tones of clothing for Joe Wright's Pride and Prejudice and, in my opinion, should have won in 2006) – from Briony's white pinafore, to the nurses' uniform, to Robbie's soldier's uniform, dedication and attention to detail was required to capture the 30s atmosphere. The subtle line between classes are drawn in the clothing too - Robbie wears clean but simple blue collar type clothes when he's at the Tallis' house whereas Briony, even wearing just a plain white dress, looks superior to him. Another piece of costume
that I felt was fairly underrated was when Robbie and Cecilia were at the cottage house together. In that scene they were dressed like each other, as equals, nothing arty farty, just enjoying each other's company.
And now I will say a bit more about the green dress; Joe Wright wanted a green dress because of the symbolism of the colour, and he wanted a dress that made Cecilia look and feel naked. Despite being flowy and long, I think it did that. And it was pretty much perfect; the shade is stunning, the hemline is beautiful and the length perfect.
A sumptuous bunch of fabrics and materials that contributed greatly to the visual flair of Atonement.
A.
02.
Across the Universe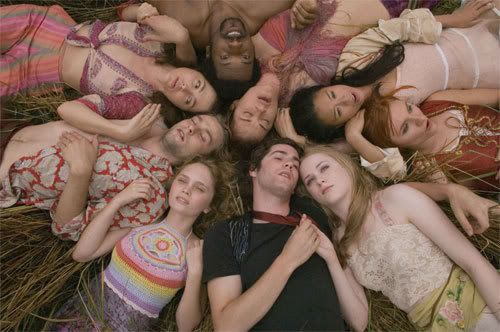 This exuberant musical had to have groovy 60s costumes, and most of the costumes here were designed from scratch. The clothes are bright and lively, totally eyecatching and they completely complement the songs which the character wearing them are singing, for example, the leather attire of Jude and Lucy's uptown girl. Though not officially nominated, surely some of the plaudits have to go to Gail Fitzgibbons, the costume supervisor, who had to hard task of kitting out all 10,000 people who appeared in Across the Universe. Lovely costumes, and thankfully not everyone looked like a hippie.
A-.
03.
Sweeney Todd
There's nothing we haven't seen before in Sweeney Todd that hasn't been us
ed in another one of Atwood and Burton's collaborations (I'm wearing Nightmare Before Christmas earrings today, by the way), but the colours work with the cinematography so perfectly that I really enjoyed looking at them anyway. Mrs. Lovett's dark dresses suited Bonham Carter excellently and totally captured her crow-like personality.
B+.
04.
Elizabeth: The Golden Age
Good, historical costumes, especially in the court scenes, were everybody looked exactly how you'd expect - to have spent ages on their clothes to impress a queen. The women's clothing is obviously more exciting than the men's in this film, although there is still a sort of elegance in the men's clothes too. Elizabeth's yellow dress was stood out for me. And lastly the feathers in this film were very cool, if overused.
B+
05.
La vie En Rose
Eh, although I can see that the costumes here were very GOOD, I just didn't find them that interesting. In La Vie en Rose, the costume design covers the likes of street-urchin rags to glamorous dresses. All very well then, just nothing new.
B-.
Who will win:
Atonement
Who should win:
Atonement
Who should have gotten nominated:
Juno
. I know the costumes were modern and therefore considered easier to supply but I loved them all, not least Cera's yellow headband and Juno's everyday clothes, which reflected what sorta person she was.