This post is in participation with StinkyLulu's Class of 2007 Supporting Actress
blogathon
. Join in and share the love!
Joe Wright's adaptation of Ian McEwan's popular tearjerker is, essentially, a story about the power of imagination. And the person who does the most imagining is Briony Tallis, t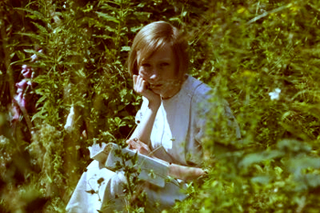 hirteen-year-old self-proclaimed "writer" and sister of Cecelia Tallis, whose life, as well as Robbie Turner's, she will have changed due to the dangerous power of her own imagination. Briony is represented on screen in Atonement by Ronan, Romola Garai and Vanessa Redgrave, as a 13-year-old, 18-year-old and seventy something. Before watching the movie, I thought that it would be the latter two that would be most impressive as Briony (and they do give excellent performances; displaying years of longing and regret in their limited screentime) but in fact, Saoirse eclipses them all. She is so good, in fact, that some people, unable to distinguish between truth and fiction, have sent her hate mail, for her breaking up Robbie and Cecilia.
The film begins with her completion of "The Trials of Arabella", a play she has scripted for the homecoming of her older brother Leon. Through her expectant watching of her mother read the play as well as her bossy directing of her cousins in performing the play, it is clear that Briony takes great pride in her writing. And the content of the play – passion, reckless moments and learning from ones mistakes, is an ironic prelude to her own experiences later that day.
One of the things that struck me immediately about Ronan was her expressive and piercing blue eyes. Blue eyes seems to be somewhat of a motif in Atonement, as there is a close-up of Robbie, standing on the porch, displaying his own beautiful blue eyes. Paired with her austere, almost surgical white pinafore and blonde bob cut, Ronan appears almost angelic. Yet we soon discover from her actions, and sheer stupidity, that Briony can be dark and daunting, anything but an angel.
Of course she isn't; she's a growing girl. At 13, Briony is a boiling pot of hormones, like all her age, only her outlet is different. Whilst her cousin Lola flirts blatantly with the greasy Paul Marshall, Briony has no interest in petty romances. Instead, she is the voyeur. One of the most amazing things about Saoirse's performance is how she is able to deflect attention from such big stars as Keira Knightley and James McAvoy onto herself. Take the fountain scene, for example. As Cecelia emerges, dripping wet, carrying the broken piece of the case, and Robbie watches her, Briony Tallis is watching them both. And what is behind that piercing gaze of hers? Jealousy? Fear? Ronan keeps us guessing.
Saoirse Ronan also brings a lot of tension to the film. In the build-up to her walking in on Cecelia and Robbie in the library, Briony first finds something shiny on the floor. She picks it up, stares at it for a while. And the audience, similarly, are drawn into her world. However, having seen what's happening in the library, we're also filled with dread. A dread that makes us want to giggle.
And there's that note. "Briony Tallis and the Four-lettered-C-word "could be an alternative title for Atonement, as that note is the catalyst for her causing Robbie's downfall. As soon as James McAvoy passes the envelope to Ronan, we know that it's going to get opened (and read) by Briony. And when she does read it, her reaction is subtly comedic. It's not laugh-out-loud funny, but a frustrating, nervous kind of funny. We're worried about what she'll do.
Saoirse resurfaces in the film in a flashback scene, retold by the older, more mature Briony, who is now training to be a nurse, having realised her huge error. In it, Briony catches the attention of Robbie before diving into a river, just so that he will rescue her. Robbie is furious that Briony risked her life; Briony is delighted that he saves her. Her happiness is juxtaposed with his anger and I found that scene cringe worthy to watch, not because it was bad, but because you almost felt sorry for Briony, for her stupidity, and how blatantly it is that she wants him to like her. Later, in Briony's (as Garai) confrontation with Cecilia and Robbie, her expression at seeing the two together is almost envious. And the final piece is put in place – Briony loved Robbie. She had a funny way of showing it alright, but that fact, which was placed into our minds with clues littered about the first act of the film (Briony spying on Robbie, her nosiness at what was in his note) adds another strand to the film, and Ronan conveys this to us excellently.
Priggish, nosy, and somewhat of a pretentious know-it-all, the young Briony has the capacity to be one the cinematic bitches of the millennium. But Irish actress Saoirse Ronan's performance is too good, too human for that to happen. She deserves the Oscar!!!!