In participation with Goatdog's William Wyler
blogathon
.
William Wyler's atmospheric drama has two teachers (Audrey Hepburn and Shirley MacLaine) be accused of lesbianism by a guileful schoolgirl, and then have that rumour ruin their job, their lives and their friendship.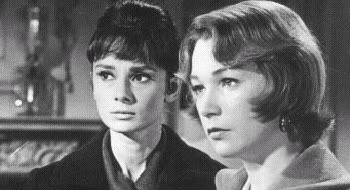 Somewhat of a taboo for the 60s, Wyler bravely tackles the subject with honesty and integrity, and his cast work well to bring the tense atmosphere to us. As the engaged, straight, Miss Wright, Audrey Hepburn suffers commendably, fighting always for the truth – as she sees it, and as a result, losing her fiancée. Shirley MacLaine is the more ambiguous character of the two. It is not on whether the allegations were true (it is clear from the off that they are just slander of the worst kind from a bored, vindictive little girl) that the mystery of the film lies, but in whether her character does secretly love Hepburns', as more than a friend.

The children are less apt in their roles. None of them have names worth remembering, but the main one who spreads the rumours does it with such exaggerated facial expressions that it is difficult at times of most intense drama not to laugh, and the other girl, who aids her in the spreading of lies, is also laughable in her "fear." However, if the intention was to make us dislike the children as much as possible, then they have succeeded.

But the message is clear – lies of such a powerful decree – even if they are spawned off what is guessed to be the truth, will damage others. It's a hefty topic, and one that lacks slightly, due to the censorship of the time, no doubt, but the behaviour and actions of the characters still ring true today – the hypocrisy of the kind aunt, the spreading of cruel lies just for fun, the boyfriend's abandonment, and how, at the end of the day, it is always the innocent that suffer, yet some, like Hepburn's character, are brave enough to walk out in the public, with their head held high in the air, because they know they were innocent.
B+