(I'm writing in a state of extreme depression due to how lol-inducingly my past couple of AS exams have gone, so, apologies about how crap this is. Just read.)
This post is in conjunction with the
Action Heroine
blogathon going over @ film experience.
Head on over there!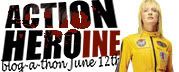 The Action Heroine I've picked is Pan's Labyrinth's Ofelia, not your archetypal action heroine, but, seeing as she does do her fair share of crawling, carrying out dangerous tasks that I would never have the guts to do in the movie, she does qualify as an action heroine of sorts. Played to perfection by newcomer Ivana Baquero, the character of Ofelia is one of the key factors that made Pan's Labyrinth my favourite film of 2006.
Ofelia is actually probably my favourite female movie character, along with the other "true" action heroine, The Bride in Kill Bill. What initially grasps the audience is Ofelia's penchant for reading. A bookish lead may not make for a brave one, but Ofelia's passion for reading lies in her love of fairytales, and when a faun asks her to carry out three deeds, whilst most of us sane humans would run a mile, she actually does them.
Her first involves putting stones in the stomach of a giant toad in the
Fig Tree
. It's gross, and the scene is shot and set against such an ominous backdrop that I felt genuine fear for Ofelia. Yet, bravely, she manages it, at the opportunity cost of ruining her dress, showing that this is a girl that has no time to mess with the minutiae.
The second challenge probably makes my choice for best film scene of 2006; the Pale Man. Ofelia is given the seemingly simple task of going down to the chamber where the Pale Man (a disgusting thing with eyeballs that he sticks into his hands) and retrieving a knife. One catch: there is plenty of sumptuous food in the chamber, and she isn't allowed any of it.
Yet she eats a grape, and in doing so, the Pale Man is awakened, and so sets up one of the scariest 90 seconds I've ever witnessed on film.
Having broken the rules by eating the grape, the movie seems to reach a dead end for Ofelia, as also, at the same point, the harsh pangs of reality strike as her mother dies in childbirth. But then her final challenge arises – to give her newborn half-brother to the Labyrinth, and eventually choose to sacrifice him.
It is this challenge that proves Ofelia to be more than an action heroine, much more than just a silly little girl with disregard for her own safety, but a kind, beautiful, human being.
The finale of the film brought tears to my eyes, not just because it was so utterly heartbreaking, but also, because in it's own way, it was so happy. For those who like their glasses half empty, what we see was her fantasy; for those who like their glasses half full, it really happened.
All I know is that Ofelia is a Goddess.