I seem to be in a world of my own nowadays. So caught up I was in the world of school (my exams begin next week, I'll come back to this later) and violin & guitar practice (and, let's not be coy about this, watching TV), that I was an entire fortnight late in buying the June issue of Empire! Anyway, I finally got round to buying it, I opened the "
Do not open, rated 18
" section, and all I can say is… I'm shocked.
Empire
(which, by the way, is the UK's best film magazine, here's their
website
), is a magazine which I have the same sort of relationship with that I have with the UK broadsheet
The Guardian
. On a good day, I marvel at their good writings and often find myself nodding in agreement with the canny things that they say. However, as with
The Guardian
(and most of all, their bitch in chief, Marina Hyde, a snooty little Madam with no knowledge whatsoever of the topics which she writes, yet prattles away with her Oxbridge-taught fancy words and very little substance), I also can find
Empire
often in my bad books. Their glory hunteresque, conformist behaviour in awarding 5-stars to the likes of
Lost in Translation
,
Lord of the Rings
and
United 93
leaves a lot to be desired, and some of their DVD reviews are rather scrappy too. Still, they did write one of the best reviews of all time in their superlative appraisal of my beloved
Shawshank
, and anyone who does that will remain in my favour despite all other shortcomings.
Anyway,
Empire
were celebrating their 18th birthday, and doing so through showing some shocking moments in 18-rated films. Most of them, I had actually seen before, but the see the images as a screenshot, followed by the critics discussing them in a matter-of-fact tone, but extremely disturbing.
So, just like Empire, I thought I'd try and list 18 of my favourite 18-rated films. None of which, of course, I'm legally allowed to see.
For non-Brits, 18 is the highest rating passed for films released in cinemas (there are also films rated R18, but they are only sold in Sex shops… 'nuff said.) In an 18-rated films, you may swear pretty much in any way you like, have very, very violent moments and strong sex scenes. Examples of 18-rated films are
Reservoir Dogs
,
The Shining
,
OldBoy
,
Clerks
and D
o the Right Thing
.
So, without further, my top 18 favourite 18-rated films
01.
American Beauty
The only 18-rated film to grace my personal top 20, this masterpiece came out in 1999, along with many other of my favourites – Not one Less, The Road Home, The Green Mile and All About my Mother, making the pre-millennial year one of the most memorable in cinema. Alan Ball's searing script encompassed such life-defining themes such as male empowerment and personal fulfilment, set to a sexy backdrop of a mature Lolita story, and featuring some once-in-a-lifetime performances from the untouchable Annette Bening and Thora Birch. Sadly, I didn't care for Spacey's performance at all (I'm really not a fan), but American Beauty is so incredibly deep and satisfying in all other aspects. And it would kick Fight Club's arse in a fight.

02. The Conformist
The favourite of two of my best buddies, Bernardo Bertolucci's multi-layered story of sex and politics sees a Facist agitator on a mission to kill his mentor, whilst his own wife is being preyed upon by his mentor's socialist spouse. Who happens to be a former flame. Actually not as confusing as it sounds, and absolutely capital filmmaking, featuring stunning cinematography from Apocalypse Now's Vittorio Storaro, that evokes the lush atmosphere of 1930s Europe through fantastic usage of camera angles and lighting (see below images.) Acting is top-notch, especially the hypnotic Dominique Sanda, who is by turns sultry, sexy, but oh so dangerous.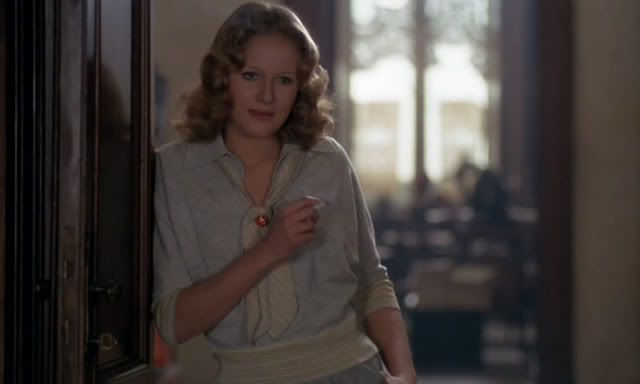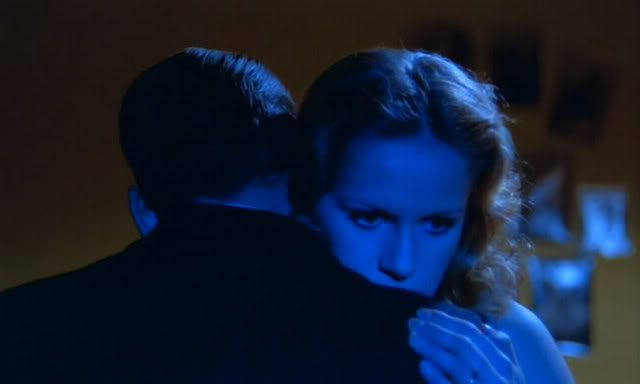 03.
Woman of the Dunes
Adapted from the ascinating novel by Kobo Abe (whose Kafkian influences led him to write several other good books), Woman of the Dunes is like nothing I have ever seen before. The director completely understands the writer, and together, they have made one of the most original and haunting films of the 60s – appropriately, the tagline readings: "Haunting. Erotic. Unforgettable." The cinematography is eye-openingly beautiful, and the erotically charged chemistry between the two leads suits the film perfectly. I shan't say any more at then risk of spoiling it, except that this movie has actually been re-rated 15 so perhaps I am cheating a little, but go see it!
04.
The Green Mile
Now everyone knew that Frank Darabont's second Stephen King-influenced prison movie was always going to suffer from living in the shadow of Shawshank, but this sweet darling of a movie is not without its merits. Michael Clarke Duncan stood out for me, which, similar to the Tim Robbins-in-Mystic Riveresque turn, perfectly captures how someone so Crouchingly tall can fee so small. Duncan's scenes alongside Hanks are the emotional core to The Green Mile, and it is their bond which adds to the movie's resonance (and caused me to cry my eyes out.) Thomas Newman's score was underrated in favour of his snazzy marimba-led work in American Beauty, but it is definitely worthy of a mention. But the true star of the show is Frank Darabont, whose direction is as careful, studied and measured as the classic filmmakers.
05.
Belle de Jour
Subtitled a little presumptuously by me as "the sexiest film ever, after Brokeback Mountain", Catherine Deneuve is the original desperate housewife in Luis Buñuel's surreal take on repressed desire and the bourgeoisie. The director stays detached from the proceedings, passing no judgement and coolly reserved, whilst we also get lovely colour cinematography and costumes by Yves Saint-Laurent. It's very nice.
06.
The Good, the Bad and the Ugly
07.
Persona
08.
Whatever Happened to Baby Jane
?
09.
Tampopo
10.
The Wild Angels
11.
Kill Bill
12.
Magnolia
13.
Face/Off
14.
Badlands
15.
The Departed
16.
Das Experiment
17.
Dead Man's Shoes
18.
Se7en
Least Favourite 18-rated movies
01.
Blue Velvet
02.
Requiem for a Dream
03.
A Clockwork Orange
04.
Fight Club
I'm also writing to tell you that over the next month and a half, there will be about 3 or 4 blog posts in total. This is due to the abomination that are AS-level exams, which I will have to work my socks off in, as they are a huge factor in deciding which Uni I'll get into. My first exam is the dreaded Physics practical next Wednesday, which will be a laugh and a half, as I still don't actually know how to set up a circuit. Zummer.
Yeah, so anyway, that's that. If you ever become truly desperate and miss me, you know where my old posts are. See me as I was. And of course, I'll be checking my e-mails.
Finally, I've come up with my list of top 5 Mika songs, with their corresponding images –
01.
Lollipop
02.
Happy Ending
03. Grace Kelly
04.
Love Today
05.
Billy Brown
So…. Wish me luck, my dears, and I'll be back soon!!!!!!!!!!!!!!!!!!!!!