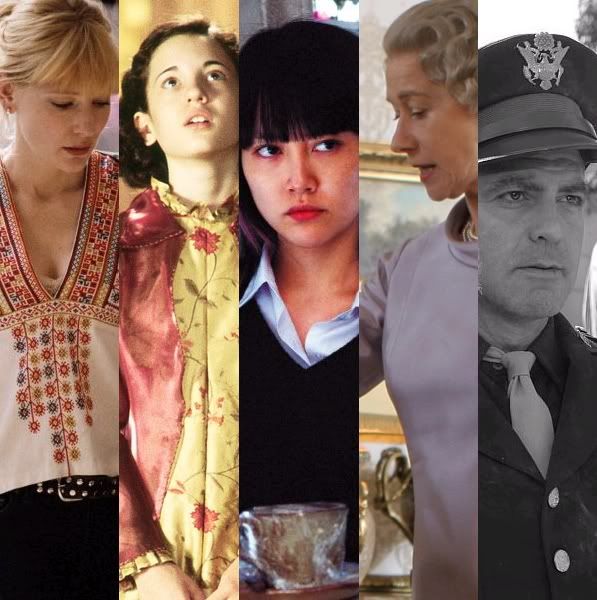 This will be the last of the technical categories that I shall evaluate, unless I can be bothered to do a Sound & Sound Editing double bill sometime next week. But so far in the series, I've done:
-
Animated
-
Make-Up
-
Visual Effects
-
Costume Design
-
Cinematography
-
Editing
-
Art Direction
(hehe)
Now. Score. My favourite category of the Oscars! Yippeee!
Babel
(
Gustavo Santaolalla
)
The Good German
(
Thomas Newman
)
Notes on Scandal
(
Philip Glass
)
Pan's Labyrinth
(
Javier Navarrete
)
The Queen
(
Alexandre Desplat
)
How I did: 50%. How can anyone get 50% out of 5, I hear you ask. Well, you see, I'd predicted Desplat already, just for his score to The Painted Veil. I'd predicted Hans Zimmer's score to The Da Vinci Code over Thomas Newman's score to The Good German, for the simple fact that Newman (my favourite film composer, ever, ever, ever) had gotten NO buzz. But I'm over the moon for him! And the other surprise – I'd predicted double nods for Glass – for The Illusionist and Notes on a Scandal, but the first of his scores didn't get in, but Javier Navarrete did, for his beautiful score to Pan's Labyrinth! Yippeee!
(music makes me giddy.)
OK, I've seen four of these films.
The Good German
is the one I haven't seen, but luckily I found some tracks from the score littered about over the Internet. So all is good.
Oh, and in the spirit of all things musical, I've included excerpts from the scores to Babel, Good German, Notes on a Scandal and Pan's, so you can listen along and judge for yourself. [Click on the film title for the downloads. :)]
Babel (Gustavo Santaolalla)
Last year's winner for Brokeback Mountain puts forward another haunting score this year, though I personally feel that there was a little less effort put in this time round. The highlight - Deportation/Iguazu, uses part of Santaolalla's previously developed, improvised score to give the film some character and identity, but sadly, that is the one track that isn't original. The rest of the score fits in well with the film, but ultimately, a lot of it are just sound effects on the guitar. Very babbleish, but not great listening.
C.

The Good German

(Thomas Newman)
Well, from what I've heard, this is a far deviation from the usual Newman stuff. He lends a hand to brass and strings, giving the work an edge of fanfare. As I'm yet to see the film I can't comment on how it fits in with the images, but the music is certainly great, haunting, and grand, and marginally better than his other score of '06 for Little Children.
B.

Notes on a Scandal

(Philip Glass )
I'm at two minds about the score to this film. On one hand, I thought it captured the melodramatic, claustrophobic style of the film perfectly, through the minimalist uses of themes and encores. Also, a masterwork in how to fit strings and clarinets alongside each other – something many a composer can't accomplish, is shown. Yet sometimes, the score feels a little overwrought, even for the intensity of the film. B+.
Pan's Labyrinth
(Javier Navarrete)
A score that I can listen and listen to again and again and not tire of. The use of a single lullaby, on several different instruments works amazingly. The OST nearly reaches the maximum listening time for a CD – 80 minutes, and Navarrete's score risks becoming an repetitive listening experience, but every minute of the score charms, and there is something in it for everyone. Like The Wings from Brokeback Mountain, the lullaby can invoke tears in me. Music was meant to be that powerful. A.
The Queen (Alexandre Desplat)
Alexandre Desplat is one of my favourite composers, so obviously any way in which he shall receive an Oscar nomination shall please me. His score to The Queen I feel is one of his lesser works, not anywhere near as rich to his (ironically), sparse scores to Syriana or Girl with a Pearl Earring, though it is effective in capturing the grandness of the Royal family with all its usages of timpani and pizzicati, as well as some slower, more melancholic passages reflecting the emotional frailty of The Queen. B-.
Who will win:
Notes on a Scandal
(Philip Glass)/
Babel
(Gustavo Santaolalla) [haven't decided yet.]
Who should win:
Pan's Labyrinth
(Javier Navarrete)
Who deserved to get nominated:
The Fountain
(Clint Mansell) &
Volver
(Alberto Iglesias)
P.S. It doesn't look like I'm going to have time to analyse Best Orignal song, so, for my sins:
I Need to Wake Up
, one of the nominated songs.