Okay, so, for fun, I've decided to individually look at each Oscar category, and seeing as quite a few of the Oscar nominated films are still yet to come out in the UK, I'll examine them as soon as I've seen all the films in each category. And I shall start with
Best Animated Film
.
Here are the nominees:
Cars
Happy Feet
Monster House
How I did: 67% - I correctly predicted
Cars
and
Happy Feet
, but I tricked myself into believing that Flushed Away would get in.
So now I shall talk about it.
I'm pretty pleased with this category, though I'm generally pretty pleased with animated films. About 60% of the animated films I see make me feel all warm and fuzzy, which sadly cannot be said for cinema overall. And I really liked all three of these films. Rankings.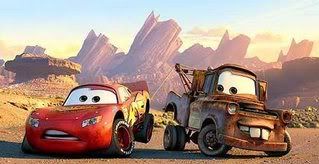 01.
Cars
I saw this in the Summer holidays with a couple of my 8-year-old brother, and I had just as much fun as he. Visually, it's only behind Finding Nemo in terms of Pixar – the red-sunset filled hues of the American backdrop, the careful attention to detail in livening the cars, etc. There are a wide range of fun and colourful characters, which redeem the slightly annoying main character of Owen Wilson. The usage of the ever classic tune Route 66 is genius, and Randy Newman's cute, winsome score plays winningly throughout. My only slight foible with the movie was its script, which I must admit must be Pixar's worst. Some of the jokes were regurgitations from ones from other Pixar films, and the dialogue was a little rusty. But children don't notice that, and when I was watching this movie, I felt like some of my childhood had indeed been restored. A-.
02.
Monster House
Heehee, now here's the film that a teacher at my brother's school wouldn't allow the kids to watch because she thought it was "too scary for young children." Well, parts of it even scared me, and I thought it was really pushing it for as PG so there you go. The animation here isn't as good as that in Cars, but suits the film well, and the fun mixture of horror and adventure works a treat, even if most kids are likely to be disturbed a bit by it. B+.
03.
Happy Feet
Penguins are indeed cute creatures. I really loved the usage of music in this film, and, I liked some of the penguins. Certainly one of the better Christmas films that came out last year, and the message of how it's OK to be different was lovely. But still, a little over ambitious for an animated film, to be honest. B.
Who will win:
Cars
.
Who deserves to win:
Cars
.
Who deserved to be nominated:
Flushed Away
.
And that's that. I like Animated Films. :)
Tags:
Monster House
,
Cars
,
Happy Feet
,
animated films
,
Oscars
.