This post is in participation with the Supporting Actress blogathon that is going on at StinkyLulu's blog. Check out and join in with the fun! :0)
My pick for the Best Performance by an Actress in a Supporting Role in a 2006 i
s Emily Blunt as the bitchy Emily in
The Devil Wears Prada
. Emily Blunt's been an actress I've been noticing for a while now, from her breakout turn as wealthy towngirl Tamsin in Pawel Pawlikowski's
My Summer of Love
, as well as her several TV appearances over the years. But her fantastic work in this film, where she manages to steal the show from Streep's good-but-slightly-overhyped performance, trumps anything I've seen from her.
She plays Miranda Priestley's fashion-savvy first assistant, who lives for her clothes. Her portrayal is spot-on and the blunt one-liners from Emily (ugh, crap pun alert) offers a good variation with Hathaway's more wide-eyed, naïf. You can tell that Emily had enjoyed doing this movie, because in her performance she just totally lets her hair down and has fun, and in doing so is comedic heaven. I do love it when you can see an actor having fun with their role.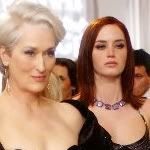 But, amazingly, she is able to bring a level of depth to the caricaturish character of Emily, by varying vitriol and desperation. She veers from Priestley-esque cattiness to genuine desperation in the short space of a few scenes, meaning that whilst we don't adore Emily as a character, the film is simply lacking in magic when she's not on screen.
So, FYC: Emily Blunt for Best Supporting Actress!