This is a review part of a huge,
brilliant
film criticism blog-o-thon at
No More Marriages
.
My review of Claude Chabrol's Le Boucher (1970)


Amongst the guests at a wedding are a Helene, a lonely teacher, played by Stephane Audran, and an ex-army butcher (Jean Yanne). Against their differences, the two develop a friendship. However, in the town there lurks a serial killer, and that killer may or may not be the butcher himself. Plagued with feelings of doubt and fear, Helene finds herself constantly at tenterhooks regarding her new friend (of sorts), and surprises and shocks are placed intricately until the very last frames.

At 90 minutes, this mystery feels longer than it is, and that may be due to some of the stylistic techniques adapted by director Chabrol, such as the languid and very sparse use of camera movement, and shots of the bells to contribute to a sense of time. Content-wise, he borrows from Hitchcock, using themes of shared secrets, obsession and moral ambiguity. These themes are used well, creating appropriate amounts of suspense and anticipation in the viewer, and Chabrol plays with his audience deftly, placing surprises and non-surprises in sequence so that we are every bit as nervy as Audran. He is less concerned with explaining the motives for the killings than just presenting them, and for that, and chilling atmosphere of indifference is created throughout the film.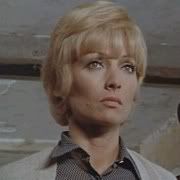 The two leads are strong in their performances, and the slow, fragile romance between them is as credible as it is integral to the plot. In particular, Stephane Audran shines, as a woman who begins, poised, content and assured, only to finish ruffled and perhaps, as the ending shot shows, a little ruined by the events that she has witnessed. The film is carried along by an eerie, quasi-apocalyptic score by Pierre Janse and Domonique Zardi, which haunts long after the film has ended.
If the ending does feel like somewhat of a copout, that may because we as the audience have viewed one plot twist too many, and the frequency and slightness at which each twist is revealed diminishes its impact somewhat. But for the most part, this is good filmmaking; quite unpretentious, coolly aloof, and the subtle delivery only works to its advantage.
B+