I think the last time I reviewed soundtracks, I was in China. It's been that long. (
Read
'
em
and
weep
.) So be kind to me if I'm a little ring rusty. I'll get there eventually.
To redeem my crappy writing, I've uploaded some of the songs from the soundtrack (the ones I consider best) for your listening pleasure. So you see, it's not all bad.
Vanilla Sky
(various)
Tom Cruise's playboy lifestyle gets a hip, eclectic soundtrack with "All the Right Friends" from REM to the melancholic, wistful
Everything In Its Right Place
by Radiohead. Many of the songs here stand out for their random lyrics, and I speak chiefly of Paul McCartney's Oscar nominated song, Vanilla Sky. But who needs sense when his vocals are so sublime, the guitar so perfect? The tonal modulations that feature in the film echo in the music too, as Salsbury Hill switches to the freaky "I Fall Apart" by Julianna Gianni. Overall, the OST is of high quality, though some of the songs which featured in the film did not really deserve a running time on the CD. That said, Mondo '77 has a funky beat, Have You Forgotten is a nicely laid-back track and one of my favourites, Jeff Buckley even makes an appearance, with his song Last Goodbye. But, like with Cameron Crowe's other film, Almost Famous, the song which dominates for me is sung by the incomparable Todd Rundgren, in his rendition of one of my favourite songs of all time,
Can We Still Be Friends
. Sing along, everyone.
B+.The Virgin Suicides
(Air)
Ah, Air. Air, Air, Air. One of the few things I could abide about the cringeworthy Lost in Translation, this French, blissed out dream band is too good to be true, and their score to Sofia Coppola's debut transforms it from a well-delivered story about alienated schoolgirls to a near-masterpiece, effortlessly cool, and one of the sexiest films of the 90s. The soundtrack opens with Playground Love, an ode to 10CC in its cheesy-slow chords and vocals, but one that sets the tone for the movie, with a tune so hummable that it reoccurs later in the soundtrack, sin vocals, in Highschool Lover. Along the way, there are some oddities that even I can't endorse (The Word Hurricane and Afternoon Sister come to mind here), but overall, this is coolness in the making. And yes, I realise I've said that word too many times already, but it just… is. What other way is there to describe
Clouds Up
, a melody so, well, cool, that it's been pinched for the advert to Spooks? :P
A-Volver
(Alberto Iglesias)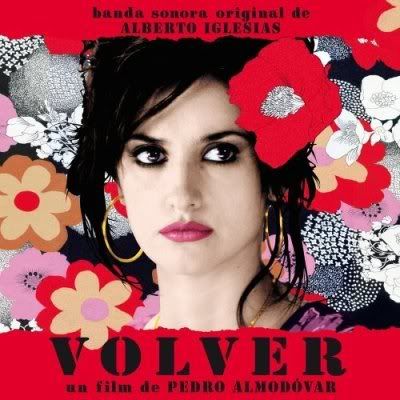 In my review of the score to
The Constant Gardener
, I spoke of how that film didn't feature his best work, and it was Almodovar's Hable Con Ella that this man's strength was shown. Well, where Almodovar found his niche in Volver, so has Iglesias. Being a violinist and a guitarist myself, I was obviously highly orgasmic when I heard the pizzicatos in the background, and it resonates throughout the score, because this is actually my sixth favourite film score to feature pizzicato of all time. And whilst it would have been easy for Iglesias to just bung in random plucks for the sake of it, the score here accompanies the film and the mindset of the characters together, crescendos and diminuendos and all. No instrument feels out of place and every note accompanies the other perfectly, and this is accentuated in the lovely Comida Casera, where clarinet, cello and pizzicato dance around beautifully. The reason terms like "eargasm" were created, you just never want it to end. What a pity it is, then, that the album has to end on two non-Iglesias tracks, Las Espigadoras and a Good Thing, the latter sounding so cheap and un-Almodovar that you wonder how the hell it got onto the soundtrack.
A-.Best of these OSTs…
01.
Highschool Lover
(Air, The Virgin Suicides OST)
02.
Comida Casera
(Alberto Iglesias, Volver)
03.
Can We Still Be Friends
(Todd Rundgren, Vanilla Sky OST)
04.
Clouds Up
(Air, The Virgin Suicides OST)
05.
Vanilla Sky
(Paul McCartney, Vanilla Sky OST)
06.
Volver
(Estrella Morente, Volver)
07.
Where Do I Begin
(The Chemical Brothers, Vanilla Sky OST)
08.
Playground Love
(Air, The Virgin Suicides OST)
09.
Everything In Its Right Place
(Radiohead, Vanilla Sky OST)
10.
Las Vecinas – Variacion
(Alberto Iglesias, Volver)
Tags:
movie music
,
music
,
Tom Cruise
,
score
,
free
,
Virgin Suicides
,
Air
,
cool
.