He has been hailed the master of suspense. He said that "Drama was just life with the dull bits left out." And, despite the uber-elitist AFI hailing him one of the best directors of all time, I still greatly enjoy his work. For me to overlook that huge problem (I loathe AFI like I loathe They Shoot Pictures, Don't They?), is a true testament to his good work. I thought I'd revisit the master as part of
Pasquish
's blogathon.
There was a short space of time before my 14th birthday when I really started noticing Alfred Hitchcock's genius. I had watched a couple of films before and enjoyed them, but never really loved them. It was around this time that I started getting into classic films, and I thank Hitchcock for introducing me to them.
The first one that I took an immediate shine to was his adaptation of Du Maurier's novel
Rebecc
a
, in which Laurence Olivier and Joan Fontaine take the leads. Though an early effort from Hitchcock, this masterpiece was every by the sophisticated, glossy audience-manipulator that Hitchcock would later go on to make. Hitchcock has consistently coaxed good performances out of his cast, and here, Joan Fontaine is superb in her jittery twitchiness. Hitchcock personally told everyone on the cast to treat her cruelly so her performance would be more "real," and though this was somewhat mean, the results are clear.
Slickness ensued with his first colour film,
Rope
, an ingenious little invention where it has the appearance of all being shot in one long, shot. The acting from the two men/boy was not as great as it possibly could have been (though Farley Granger did great work on Hitchcock's
Strangers on a Train
), but James Stewart gave one his best performances, thus making the slightly-surreal situation more realistic, and the film a rewarding experience.
Two of Hitchcock's earliest films,
The 39 Steps
and
The Lady Vanishes
, are two that I feel are criminally underrated. Both were made in England, before he went to America with plans of taking over.
The 39 Steps
was an endlessly entertaining thriller-comedy, and whilst it may not have had the big-name casts and expensive locations that would later be present in his work, this film does feature the themes of loss of assumed identity and betrayal, two very Hitchcock-esque themes, and the quick, lively pacing works only to its advantage.
The Lady Vanishes
, which was made on a very low budget, has effects that were ahead of its time, and featured an extremely charming performance from Margaret Lockwood as the feisty heroine.
An early film of his own that Hitchcock was less pleased with,
The Man Who Knew Too Much
, would later go on to be remade by himself in Technicolor with James Stewart and Doris Day. The first had been too quick-paced and snappy, with a rather odd performance from Peter Lorre, but this one entertained perfectly, with a nice little song (Que Sera, Sera), thrown in. With a larger scale, the Albert Hall scene truly shone in this film.
Hitchcock is a very consistent director. Like anyone, he makes mistakes (
Under Capricorn
,
Stage Fright
and
Frenzy
didn't impress me at all), but of all my favourite filmmakers, he has made the most films that I rate 8/10 or more. Sometimes he might resort to use his crowd-pleasing formula, as in
Shadow of a Doubt
or
Suspicion
, to produce, atmospheric, jumpy thrillers, but sometimes he'll fancy a challenge and create a film that sets the standard in cinema.
James Stewart and Cary Grant are Hitch's two key collaborators. The former uses his "Aww shucks" demeanour perfectly in each of his performances, balancing good-guy innocence with what is relatively rare for Stewart in anything other than Hitch films, intensity. In
Rope
, he played a very un-Stewartish role, as a cynical intellectual, but witness the passion behind his little monologue in the final act. He would visit this type of on-screen persona again in 58's
Vertigo
.



Cary Grant is in Hitchcock's films as more of romantic model. In Notorious, he had appropriate coldness as Ingrid Bergman's heartbreaker, slowly falling in love with her but unwilling to show his feelings. And in the light To Catch a Thief, Cary Grant was basically playing himself. He was twice Grace Kelly's age at the time, but Hitchcock did the wise thing of pairing the two together, and together, they deliver escapism at its most fun.


1954 was a great year for Hitchcock, where he collaborated with leading lady Gracy Kelly twice. First was smart men-getting-what-they-deserve Dial M for Murder, which sported an excellent premise and a genuinely dislike villain in the scheming husband. Then came Rear Window, which, on top of being completely thrilling, featured some of the best chemistry in a Hitchcock film between Stewart and Kelly, and was also beautifully shot. This time, Hitchcock was not afraid to make his viewers think, and Rear Window has been deemed voyeurism, and poses the question, are all humans, like L.B., just voyeurs into other people's worlds? Who would have thought that a film set in just one room could be so rousing and intelligent? All the experience from doing this with Rope and Lifeboat came together, and Hitchcock invents his best film, sophisticated, compelling, and the work of a master.




Two popular Hitchcockian themes are secrets and obsession. These feature heavily in his well-crafted masterpiece, Vertigo, which features the best dream sequence in the history of cinema. Kim Novak plays the mysterious female lead with conviction, and haunts, even though she does not say a word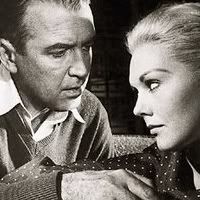 for the first 50 minutes of the film. Being Hitchcock, nothing in the film is as it seems, but all the better for it, as he weaves tension, deliria, human emotion as well as visual style.

As far as the 60s went, Hitchcock wasn't on his amazing form, but still managed to make two films that I enjoyed – The Birds, and Psycho. The Birds was eerie, quite beautifully, and managed a few scares, and Hitchcock's influence on cinema is evident even today, if you compare this film to the likes of say, Signs. I'm not as big a fan of Psycho as the AFI are, but it was genuinely creepy, and nobody could make a better Psycho than Anthony Perkins. Though I still maintain that the book was better.

Sadly, the greatest film director to live is no longer with our. But his influences still are. Spielberg, Shyamalan, and various other thieves name him as an influence. But they will never match his masterworks, because I know for a fact that this man, someone who can make you think, be entertained, feel and be afraid all at the same time, is in a class of his own.

Best Films
01. Rear Window
02. Rebecca
03. Dial M For Murder
04. Vertigo
05. Strangers on a Train
06. Spellbound
07. Notorious
08. The 39 Steps
09. I Confess
10. The Lady Vanishes

Best Direction
01. Vertigo
02. Rear Window
03. Psycho
04. North by Northwest
05. Rebecca
Reviews of Hitch's films:
Dial M for Murder