Sorry I haven't written a decent film review for so long. Blame School. That, and the fact that I just haven't bothered. :)
It's Sheffield, early 1980s, and eight talented students have achieved top grades at A-level and have Oxbridge in their sights. The problem? "They're clever but they're crass." So along comes Stephen Campbell Moore, a radical History teacher to change their manners, style, and even teach them to change History... Sadly, the boys' new found adoration for History and the musings of Nietzsche mean that their interest in the lessons of homosexual teacher Hector (Richard Griffiths, excellent) is displaced, and this film, with its many themes lined up, examines the school, its students and learning History.
The History Boys is a film I connect and love for many reasons. The performances are stellar, and Stephen Campbell Moore and Samuel Barnett are standouts in the film, for their portrayals of the creative, innovative teacher and the sweet, sensitive gay teenager respectively. Samuel Barnett especially; he basically owned this movie, and every scene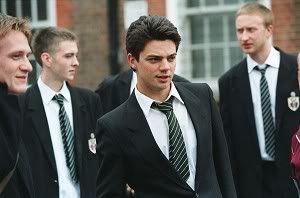 that he was in, I adored. He gives his gawky character such a tenderness of spirit and kind soul that it's impossible not to love him.
But every member of the cast is a treat to watch; Dominic Cooper embracing the lead with vivacity, charm, and that raffish charm of an 80s teenager. Richard Griffiths is also excellent, and lends some warmth to his potentially disturbing portrayal of a man with an unnatural penchant for groping his students in return for a student-led lesson such as "How to use the present subjunctive in a French brothel". The cast bind the wonderful Alan Bennett script together beautifully, and the chemistry and rapport between all the characters is unmatched, natural, and a total delight to watch. This by-the-book adaptation of Bennett's play doesn't add anything to the play, but that's simply a good thing, because the genius and vibrancy of the play is fabulous already.
Though depicting a High school in the 80s, I could still connect with this movie with my 21st century ideals. The teacher/student frictions and development of their relationship and respect is well-drawn and intelligent. The wit in which the process of getting into Oxbridge is shown, is reflective of nowadays, and there are one-liners here that are bound to raise a smile ("History? It's just one f-cking thing after another, isn't it?). Lastly, a cool 80s soundtrack guides our protagonists through the story with ease and warmth.
A fantastically enjoyable, uplifting experience, The History Boys can be enjoyed by everyone, from a Cambridge-educated boffin to someone who just wants a laugh. You'll end up being drawn in by each character, hoping for their successes, and being moved by the relationships depicted in the movie. The best film of the year so far; it even makes you remember the good things about History...