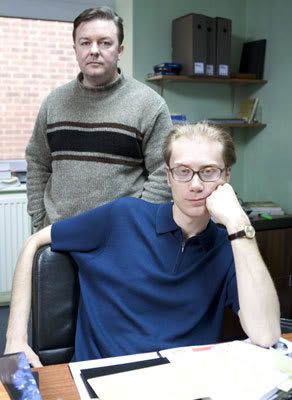 This September, Extras returned to our BBC 2 screens. It fitted in great on Thursday evenings at 9 pm, so that every Thursday, I had something to look forward to. In Season 1 we had Patrick Stewart as a dim nudity-obsessed fool, Kate Winslet playing herself very naughtily, and Les Dennis as an insecure, desperate fool. Basically, a lot of foolery, and an excellent, wittily observed first season, where people who did play themselves very much got into the public's good books.
With all the good plaudits won for Extras season 1, there were more stars queuing up to send themselves up here, and what better way to start than with Orlando Bloom? My choice for one of the
Worst Actors of All Time
was surprisingly good here, which leads me to believe that he was definitely just playing himself - an insecure pretty boy who constantly disses Johnny Depp, attempting to hide his own feelings of insecurity about the man. Inconsistency aside (Maggie shows no interest in Bloom, but in season 1, she had had a poster of him in her room), this episode was absolutely hilarious, the highlight being when Bloom "accidentally" stumbles across the Top 10 Sexiest Film Star list in Heat, and lo and behold, he happens to be at one. The desperate loserness in which Bloom represents in that scene is just hilarious.
The running story of the season follows Andy as he climbs from bit-part extra to star of his own BBC sitcom,
When the Whistle Blows
. Trouble is, the show is completely, and utterly awful, with silly wigs and a stupid catchphrase "Are you havin' a laugh?" to try and get laughter and only the lowest of tastes actually find it amusing. This is highlighted in the second episode, where, in an attempt to feel special, Andy, Maggie, his agent, and that bloke who played Barry off Eastenders, attend an up-market club, and Andy tries to network his way into David Bowie, only to have Bowie sing a song about how fat and useless he is, whilst everyone else joins in. This surprising act of cruelty is drenched further in malaise when the episode ends with Andy returning to the pub where he found his idiotic, low-class fans, because, he realises, that they are at least fans.
The show then reaches a sort of dip, as Andy finds the good, bad and ugly of being famous, all this cumulating in a BAFTA nomination, where Stephen Fry (now retired BAFTA host) gamely appears. However, one of the funniest appearances is by the tosser who attempted to bring us, Harry Potter, Mr. Daniel Radcliffe, as a horny, sex-obsessed teenager, yet, can't handle a condom. His attempt to chat up everyone he meets (including Maggie) is brilliant, made even more so when he can't handle "being a man," and runs to his mummy to avoid getting in trouble. Haha.
Now. Ricky Gervais had made clear that after this, there would be no more
Extras
, as he "didn't want to outstay his welcome." So I was a little worried about how they were going to end it. After episode 5 (BAFTA episode), things were looking pretty bleak for the character of Andy. But things took a better turn in the final episode, where Jonathon Ross, that's right, my idol, Jonathon Ross, guested, as well, himself, and his character took quite an interest in Andy's. This was when Andy actually gets "famous", gets invited to hang out with the likes of Vernon Kay and Tess Daily and shrugged Maggie's plans aside. You were left wondering if their friendship would last. And then Andy does a ridiculous thing, and snubs Robert de Niro, to go and hang out with Maggie. And you know things are OK.
Overall, I think I liked Season 2 as much as Season 1, if a little bit more. Long-time Gervais collaborator and writer and director Stephen Merchant (who played Peter Crouch pre-England Vs. Portugal for Match of the Day to lessen the fear a little, hum), takes a more active role as Andy's awful agent, who would rather perv over a pen with a naked lady than actually do some work, and that man who played Barry from Eastenders sends himself up wonderfully, exuding hopelessness and pure lardiness. The guest stars all shine, highlighting the low aspects of fame and fortune as well as delivering hilarious one-liners which will go down in history books forever.
But I still prefer
The Office
. So there.