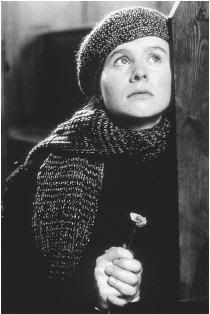 I can't say I liked this film. Ok, to be honest, I absolutely, 100% loathed it. I wanted, so often, to shut this pretentious, self-important, demoralizing piece of turd off. Except I didn't, and for one thing:
Watson's performance
. As the unbalanced Bess, a woman deeply devoted to her husband and her religion, she makes one of the most memorable debuts in film history, and breaks my heart completely. Veterans, you should be ashamed that someone so new on the scene could do so, so much, with her eyes, playing the naivety… Her performance is what kept me watching this film, through all the unsettling scenes and sour plot developments. She has all kinds of scenes, including some that are even funny, but throughout, she is the model of sweetness, showing that her pureness is at the core of all her doings (remember the rabbit scene?). Emily's sincere, gut-wrenching, and utterly transcendent performance will go down in my books as one of the greatest of all times.