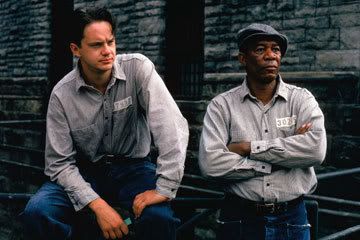 Come on, guys. Don't tell me you didn't expect this. The signs were all there that I was going to choose this dude, the most recent hint being me comparing him to
Peter Crouch
. It was coming.
My deep, unnatural love for this performance is one of the Jake-over-Heath cases. Everyone prefers the one performance (in this case, Freeman), and, whilst I do realise the power and beauty in that work (Freeman comes third for me, so he must have done something right), my heart still belongs to the other performance. For Jake, many had the nerve
to blame it on my hormones, saying I choose Jake as better because he's better looking. But here, they can't do it. Unless they want to accuse me of having a thing for Timmy Robbins (which I actually did after watching this movie). But no. I just... totally connected with this performance. You know how you can watch a movie and connect with it in every possible way? Well, few films strike that chord with me, but The 400 Blows, Not One Less, and this film, my favourite of all time, did. And it is mainly due to Robbins and the character of Andy.
His character, the innocent Andy, is jus
t so interesting and hapless that you're taken in by him immediately, especially how, like I mentioned with Crouch, he is absolutely gorgeous in how different they are. I always have a soft spot for characters who stand out. And in every scene he does, whether he's reading a book, or playing the Mozart LP, or that masterful, searing, majestic prison break, one of the most powerful movies scenes of all time.

Anyway, Robbins didn't pick up any major nominations for his work here except an SAG nomination, which in my eyes is one of the biggest crimes known to man. He is perfect. Nuance, subtlety, smarts. In short, he is perfection in a perfect character, in a perfect film, and is really, really, something. Amazing.
So, the series has finished. Hope it was as fun for me as it was for you. If you're interested, browse through my blog for my picks for the other 99 great performances of the 90s. But for now, why not tell me yours?
Tags: Tim Robbins, best, Morgan Freeman, movies, Shawshank, acting, amazing, masterpiece, favourite, classic, adoration.